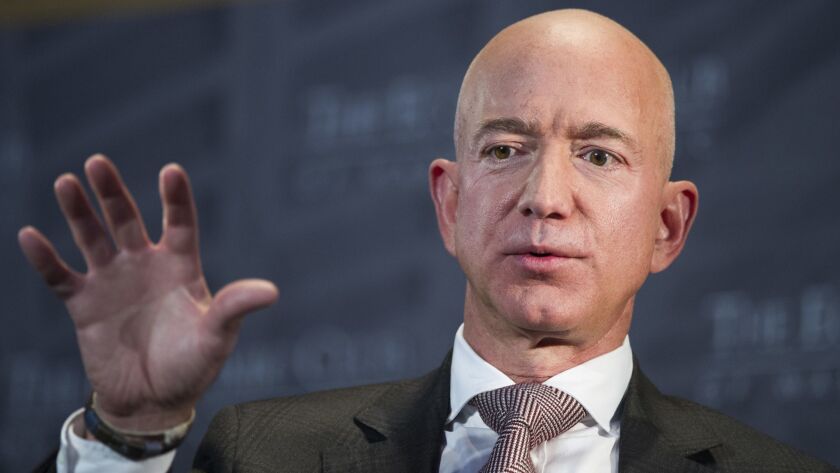 A short, elegant letter to the world from Jeff Bezos, the world's richest man and the founder and chief executive of Amazon, came across the transom (via the website Medium) Thursday.
I suspect Bezos' fixer — the eccentric philosopher, bestselling author and security titan Gavin de Becker — had a hand in the writing.
It's first-rate clickbait. It mentions Bezos' "manhood" and his girlfriend's "cleavage." That Harlequin bodice-ripping jive is not Bezos' or De Becker's handiwork. Those words are taken from an unusual request Bezos received from David Pecker's American Media Inc., owner of the National Enquirer.
In Trump times, learning to defuse fear is a civic lesson for a populace that has just been through the president's brinkmanship over the border wall.
Bezos' post should also be of interest to historians. In a supernova flash, the post illuminated Trumpworld's whole modus operandi. There it is — the daft gangsterism, the tabloid ribaldry, the media attacks. And less amusingly: deals by Americans to cover for unseemly foreign powers.
The Amazon CEO hired De Becker to find out how the National Enquirer got its hands on emails between him and his girlfriend a few weeks ago. De Becker runs Gavin de Becker and Associates, a fearsome "threat assessment and security firm" that protects those who can afford it from cyberbullying and meatspace predation. He's the author of "The Gift of Fear," a high-toned manual for those looking to slip the knot of social, professional, domestic or government abuse and violence.
And while almost no one can afford, or needs, the level of security and protection De Becker peddles, everyone on this planet should be able to afford, and needs, freedom from fear.
In Trump times, learning to defuse fear is a civic lesson for a populace that has just been through the president's brinkmanship over the border wall: "If your elected representatives don't give me $5.7 billion to prosecute my xenophobic fantasies, I'll shut the country down."
For Bezos, De Becker's coaching would have been about how to best a bad guy making noises that sound a lot like blackmail and extortion over sexual "kompromat." Bezos must have had a heck of a day on Wednesday. That's when it seems lawyers from AMI tried to make him the offer he couldn't refuse.
They wanted Bezos and De Becker to stop asking questions about AMI's commitments to Trump, with whom Pecker is friends, and Saudi Arabia, where Pecker has business deals. And to say nice things about the journalism of the National Enquirer, presumably in the Washington Post, which Bezos owns but doesn't edit.
Bezos was supposed to read their script, and otherwise shut up. Or else the Enquirer would publish some very, very, very embarrassing photos of Bezos' penis! Sorry: his manhood.
As Bezos' Medium post pointed out, AMI has already been caught dabbling in goofy goon stuff: trying to silence Karen McDougal, allegedly one of Trump's girlfriends, by buying and then burying her story — "catch and kill," as AMI calls it.
In McDougal's case as well as Bezos', if the silencing had worked, AMI would have taken on and taken out someone considered to be an enemy of Trump's. McDougal posed a threat to then-candidate Trump because she could have spilled some scandalous beans just before the 2016 election. The president dislikes Bezos because he hates the reporting on his administration delivered daily by the Post, not to mention that he's jealous of Bezos' billions.
Bezos and the Post were also AMI and Trump targets because of the Post's relentless coverage of the killing of Jamal Khashoggi, the American resident and Post journalist who appears to have been ordered assassinated by Trumpworld and AMI buddy Mohammed bin Salman, crown prince of Saudi Arabia.
Jared Kushner, the president's son-in-law and close advisor, reportedly helped Mohammed "weather the storm" of outrage following Khashoggi's death. AMI published, no doubt for big bucks, a glossy 100-page publication that called Saudi Arabia the "Magic Kingdom," made Mohammed out to be the dashing savior of the Middle East, and sold the warped claim that Saudi Arabia is, as one headline read, "Our Closest Middle East Ally Destroying Terrorism."
The exact demand on Wednesday, according to the Medium post, was that De Becker and Bezos would claim to "have no knowledge or basis for suggesting that AMI's coverage was politically motivated or influenced by political forces."
Enter the Fray: First takes on the news of the minute »
But Bezos with De Becker didn't blink. "Any personal embarrassment takes a back seat because there's a much more important matter involved here," reads the Medium post.
De Becker is surely not motivated by a desire to uplift mankind, but taking money to teach people how to trade fear for bravery isn't a bad surrogate for doing good. In his post, Bezos acknowledges that he uniquely has resources — security and money — that others under the thumb of emotional, physical or financial extortionists don't possess.
But Bezos' bombshell post does demonstrate the power you derive when you can distinguish between empty bullying and mortal threats. The capacity to discern — and to respond with principle and imagination to the extortionate actions from Trumpworld and its foreign allies — is useful to all concerned citizens, who can't afford for even a day to be pinned down by fear.
Twitter: @page88
Follow the Opinion section on Twitter @latimesopinionand Facebook
---