Column: We're coping with a president and his voters who are racked with status anxiety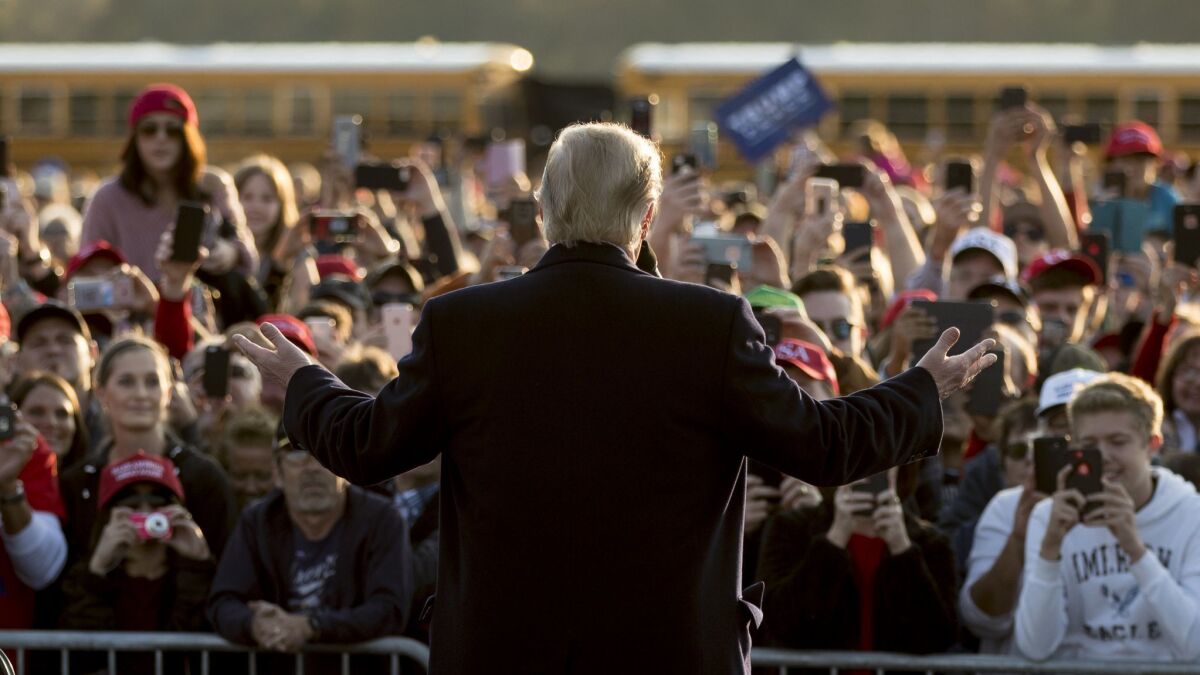 The one and only compelling season of "The Apprentice," in 2005, pitted self-taught young people against a group with college degrees. This showdown was known as "Street Smarts v. Book Smarts." Among the 15 seasons of "The Apprentice," this one alone cracked the top 20 in the Nielsen ratings, and earned an Emmy nomination.
In an NBC website poll, almost three-quarters of the season's viewers said they were rooting for the street-smart contestants. The oleaginous host, Donald Trump, clearly did too. Who doesn't love a story of native firepower triumphing over schoolroom priggery?
Anti-intellectualism is still a key component of Trump's persona.
Instead of education — Trump doesn't read books and by all reports doesn't listen at briefings — the president falls back on what he claims is his own intrinsic genius. He clearly believes his gift is street smarts.
But what are street smarts? As the 2005 season of "The Apprentice" wore on, it became harder to tell the collegians from the nons and vice versa. They all had the same pharma rep, always-at-the-gym, Reality Repertory Company look.
Trump is the president of the United States, as he often reminds himself. And yet his status anxiety is deafening.
The degree-holders were no richer than the degree-free. In fact, the average net worth of the street-smart team was three times that of the book-smart one. Were the college kids more intelligent? No again. Time after time, a dandruff-club nerd puzzled over something that a cool smart-aleck ended up accomplishing with one hand tied behind his back.
But then one challenge threw the difference into relief. The contestants were charged with renovating motel rooms. The book-smart people chose to host a pool party for prospective guests. The party was fun. The street-smart players started to flail.
Finally, one street-smart player observed that the book-smart crowd had an unfair schmoozing advantage. They had been to college, he said. So naturally they knew how to do ... cocktail parties.
Why take on student debt and study special relativity, ladies and gentlemen? What's college for? You heard it here first: cocktail parties.
On "The Apprentice" this goofy idea almost seemed true. The street-smart people saw themselves as hopeless at parties, and thus became hopeless. The more they decided they couldn't hang, the more tongue-tied they got, and the more they ceded schmoozing honors to the book-smart crowd. After the pool party, the street-smart group took a dive and finally Kendra Todd (B.A., University of Florida) won.
Now you can see something of the same sort of status anxiety feedback loop in the "Apprentice" host, and in his voters. (College graduates voted for Hillary Clinton, 52% to 43%. Those without a degree voted for Trump, 52% to 44%.)
Trump is the president of the United States, as he often reminds himself. And yet his status anxiety — about his intelligence, his competence, his attractiveness, his health, his net worth and his victory in 2016 — is deafening. Perhaps his voters, because they fear they lack education or small talk or grace with hors d'oeuvres plates, also feel left out of some mythic cocktail party. Maybe they identify with his impulse to overcompensate.
But what the heck does college really provide people that so decisively affects their worldview?
That's the wrong question: It's what not having a college degree does to you. Without a degree, you spend a lot of time thinking about what people with a degree have that you don't: the keys to some fabulous kingdom. And it messes with your mind.
A component of the paranoid resentment that many Trumpites have for "libs" may be part and parcel of the grudge kindled by the fear that, without a college diploma, they must always prove themselves.
Enter the Fray: First takes on the news of the minute »
Perhaps that's why some Trump voters undertake a self-directed online education. Where many without college degrees pride themselves on their clear moral vision and straightforward horse sense, these folks perform a rococo form of scholarship. They're willing to talk people's ears off about chemtrails and the Illuminati, and fill their Facebook feeds with "research" so intricate no Nobel laureate in the world could understand it. Uranium One. Pedo-gate. Crisis actors. False flags.
Their madness seems to reflect two things: A desire among those who feel shut out at college cocktail parties to make the people who exclude them seem sinister. And a craving to "prove" whatever suits their purpose.
On Saturday morning, Trump was a case study in resentment and disregard of educated expertise. A shooter had just killed worshipers gathered at the Tree of Life Synagogue in Pittsburgh. When reporters asked him whether the government ought to revisit gun control — framed by Trump not as an issue susceptible to investigation and research but as pure political ideology — he scoffed and proposed that the shul should have employed armed guards. If only, he said. And, he added, if only lawyers hadn't slowed down the death penalty.
"Book smarts," on "The Apprentice," was supposed to sound weak. And education was dismissed as just a pose at parties. But it was erudition and learning that Hazzan Jeffrey Myers, the rabbi at Tree of Life, called on in a blog post — about gun control — in July. Criticizing the lack of action by Washington, Myers cited Rabban Gamliel, of the 2nd century: "Be wary of the authorities! They do not befriend anyone unless it serves their own needs. They appear as a friend when it is to their advantage, but do not stand by a person in his hour of need."
Twitter: @page88
Life is stressful. Our weekly mental wellness newsletter can help.
You may occasionally receive promotional content from the Los Angeles Times.