Op-Ed: At graduation, put the spotlight on students, not celebrity commencement speakers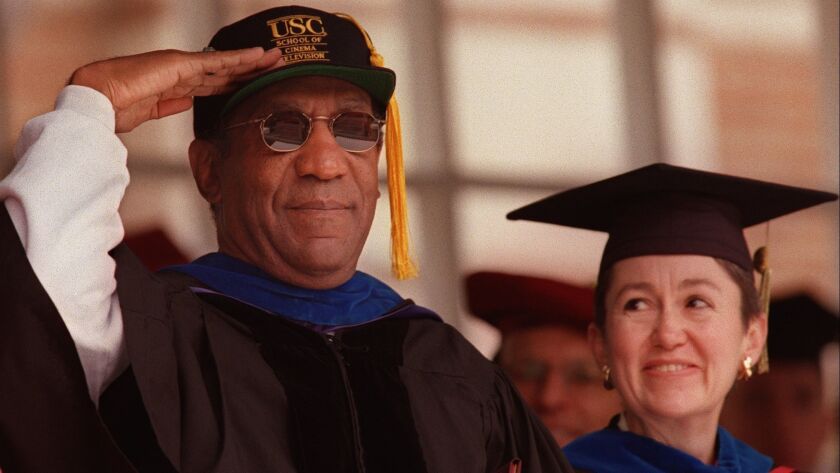 With great fanfare every spring, the national media announce a star-studded lineup of college commencement speakers. Stars make headlines, and headlines help bring in the endowment-replenishing donations known as "major gifts."
But a fair number of star commencement speakers end up being tied to controversy — if not outright scandal — as I learned firsthand years ago when North Central College, the Illinois liberal arts college where I teach, invited former U.S. House Speaker J. Dennis Hastert to be our commencement speaker. He later became a convicted felon.
Commissioning costly celebrity commencement speakers sends the wrong message, especially in an era of record student debt. Star speakers also invariably bring a cult of celebrity to what should be a humanistic rite of passage. The focus should be on the students, not the stars.
Today's college graduations are often held in stadiums and arenas to accommodate large crowds and perhaps an outsize interest in a star speaker who sometimes inadvertently ends up grabbing the headlines — and the spotlight by shifting the focus away from the achievements of students.
Commissioning costly celebrity commencement speakers sends the wrong message, especially in an era of record student debt.
Hiring the famous doesn't necessarily come cheap either. According to Inside Higher Education, journalist Katie Couric was paid $110,000 to speak at the University of Oklahoma in 2006 and lawyer Rudy Giuliani received $75,000 to address the 2005 graduates at High Point University, a private school in North Carolina.
When Inside Higher Education reported on the $135,000 fee the University of Houston planned to pay actor Matthew McConaughey to deliver its 2015 commencement address, many readers thought the "very real news seemed worthy of a joke issue." The school again courted controversy in 2017 when former California Gov. Arnold Schwarzenegger was asked to speak at graduation despite accusations by several women of inappropriate behavior by him over several years, which The Times wrote about in 2003. He was to be paid $40,000 for his speech, but waived the fee after the media reported on it. The school stopped holding university-wide commencement ceremonies in 2018.
By inviting celebrities to campus and granting them honorary degrees, colleges make themselves vulnerable to future criticism. A must-see politician could always be one step away from political scandal.
Academe's embrace of Hastert as a commencement speaker abruptly ended after his 2016 felony conviction in a hush-money case connected to alleged sexual abuse of students when he was a high school wrestling coach decades ago. Northern Illinois University rescinded the honorary doctor of laws degree presented to Hastert in 1999, and Wheaton College removed his name from its public policy center in 2015. North Central College, where Hastert spent his freshman year in 1960, revoked his honorary degree in 2016.
In Los Angeles, where celebrity and elite higher education mingle in uniquely close quarters, scheduling a name commencement speaker is that much easier — as are the odds of being scandal adjacent.
Enter the Fray: First takes on the news of the minute from L.A. Times Opinion »
When Elizabeth Holmes gave the commencement address at Pepperdine University in 2015, she was regarded as a biotech guru. Three years later, the founder of the blood-testing company Theranos was facing fraud charges related to promoting technology that allegedly never worked as billed. And then there's Bill Cosby, an entertainer who was a regular on the commencement circuit until he was accused of sexual misconduct by more than 50 women and eventually convicted of sexual assault in one case. USC and Cal Poly Pomona are among the dozens of universities that have taken back Cosby's honorary degrees.
A successful commencement ceremony should shine a light on the students, the institution of higher learning and the local community that envelops them. In choosing graduation speakers nearer at hand we reject the consumerist idea that bigger is always better, and that what celebrities say is somehow more meaningful.
Instead of inviting a CEO whose purse strings the university may badly hope to loosen, why not ask the executive director of a local nonprofit to share hard-won wisdoms, as my college did last year when it honored Ryan Dowd, an alum who runs the second-largest homeless shelter in Illinois.
By resisting the temptation of celebrity speakers in favor of more relatable achievers, such as entrepreneurs, volunteers and community leaders, we reaffirm a life lesson likely to serve new graduates far better than celebrity platitudes: Meaningful success can be found far beyond the headlines.
Zachary Michael Jack is an associate professor of English at North Central College in Naperville, Ill., where he is a faculty member in the Leadership, Ethics, and Values program.
---
Life is stressful. Our weekly mental wellness newsletter can help.
You may occasionally receive promotional content from the Los Angeles Times.