Op-Ed: How Olympian Shani Davis closes the gap between blackness and Americanness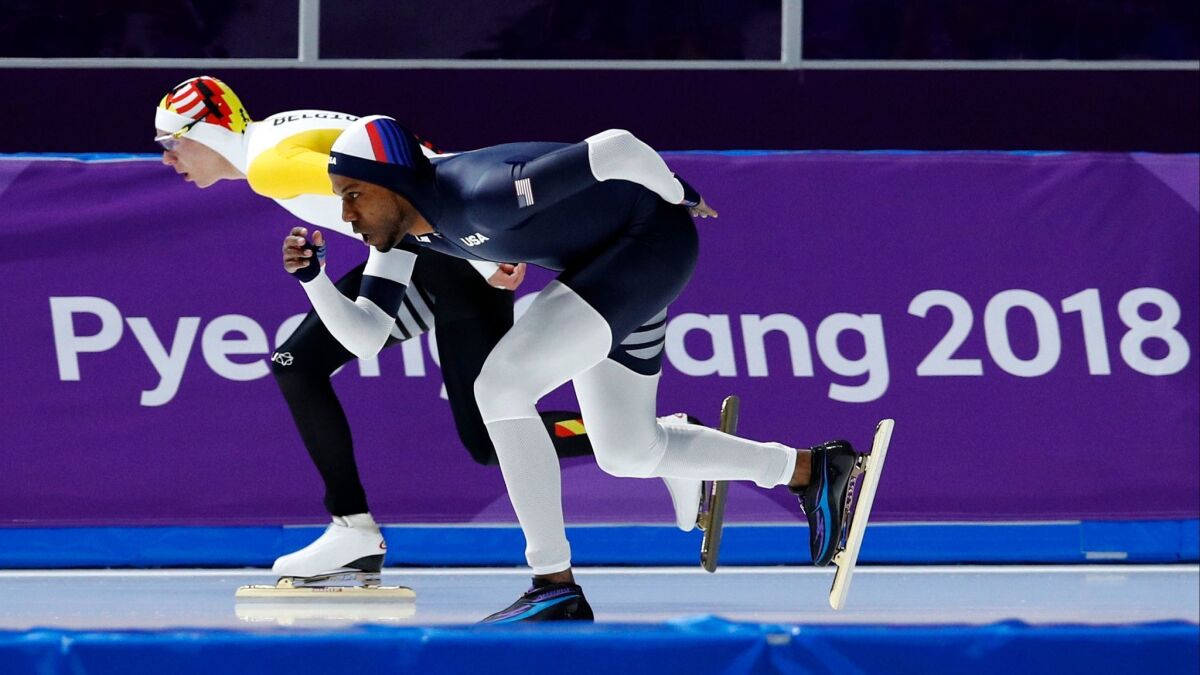 Now that we're almost at the end of it, I can confess that I was dreading February and Black History Month. President Trump, his ruthless Republican acolytes, his immovable base, and the unhinged far right minimize or openly mock the achievements of so many black folks — notably the latest addition to the pantheon, President Obama. So why celebrate? Why even pretend that in the United States, black progress matters?
I got an unexpected answer from Shani Davis. The veteran speedskater and bona fide black history maker, wrapping up his fourth Olympics at Pyeongchang on Friday, ignited some controversy just before the Games when he tweeted his displeasure at not being chosen to carry the flag for Team USA at the opening ceremony. In the athletes' vote for flag carrier, Davis polled even with Erin Hamlin, a luger who won bronze in 2014, and then lost to her in a coin toss. Davis was put out by the flimsiness of the procedure, and by the fact that it was even that close. His tweet had the pointed hashtag #BlackHistoryMonth2018.
Black athletes' considerable physical gifts do not grant them unequivocal cultural resonance and broad identification with fellow Americans.
At first I flinched at his candor. I feared the inevitable white blowback. And then after that smoke cleared, it dawned on me: Davis was right to speak out. He was the better choice. He had more than earned the right to carry the flag, no one was more qualified, more fitting. He is a touchstone in speedskating, the first black athlete to win a gold medal in an individual Winter Olympic sport (the 1,000 meters, in Turin, Italy, in 2006). He repeated the win in 2010, garnered two silver medals and "a bunch" of World Cup titles, as the Associated Press put it.
But he had something bigger than the medal count on his mind. "I am an American" is how Davis started his unhappy tweet. This declaration startled and then moved me. Davis was arguing not just for his significance as a black history maker and barrier breaker but as an embodiment of the best traits of the country — excellence, perseverance, a certain badass-ness. He was claiming the "we" of black resistance and the "I" of rugged individualism. The stubborn gap between blackness and Americanness, still so unbridgeable, got a little bit smaller.
This feels heady, and new, and especially welcome during Black History Month. Since its inception in 1926 as Negro History Week, the annual nod to African Americans has functioned mostly as a modest corrective, counteracting the racism that keeps black folks marginalized in mainstream history. But it also separates black people from the rarefied sphere of unqualified U.S. heroism. Rosa Parks and Martin Luther King Jr. are "great Americans," but they are recognized chiefly for their noble and necessary opposition to white oppression, as icons of a black narrative, not the nation's main story. For example, King has a national holiday, but it's ignored or subverted in some states; it's optional in a way the Fourth of July is not.
That Davis demands recognition simply as an American is downright radical. And yet that sort of overarching recognition is typical for great athletes. We wholeheartedly cheer current Olympic superstars like snowboarder Shaun White and Chloe Kim, a Southern Californian whose Korean roots animated the classic American immigrant story in Pyeongchang. But black athletes do not automatically resonate in the same way. Their considerable physical gifts do not grant them unequivocal cultural resonance and broad identification with fellow Americans. Despite being widely admired, they are still outsiders. Just ask Colin Kaepernick.
Davis is having none of that. With his unapologetic stance he does have a forebear in Muhammad Ali, the heavyweight champion who dubbed himself "The Greatest" (not to mention the prettiest and the most humble). But unlike Davis, Ali wasn't demanding to be valued like any other American sports hero; his self-aggrandizing was political, a theatrical (and effective) form of resistance.
Davis is perhaps more directly descended from the writer James Baldwin, who fully understood his outsider status but who also declared his authority as an American without asking anybody for permission. Davis' assertion of his unimpeachable right to carry the flag is similar to Baldwin's insistence, most famously in the essays "The Fire Next Time" and "Notes of a Native Son," that black people are quintessentially American, though in ways the mainstream refuses to recognize.
Davis is seizing the kind of cultural significance accorded to those whose accomplishments and life stories speak to and for all of us. It's a thrilling attempt, and perhaps suddenly inevitable. His claim overlaps the unprecedented blockbuster success of the movie "Black Panther," which is putting the whole complicated idea of black equality — not just social equality, but psychological, aesthetic and spiritual equality — on a global stage, complete with dazzling Afrocentric sets and costumes
A good friend of mine summed up the moment this way: "There will always be struggle, but right now, we're winning." With any luck, Black History Month will never be the same.
Erin Aubry Kaplan is a contributing writer to Opinion.
Follow the Opinion section on Twitter @latimesopinionand Facebook
---
Life is stressful. Our weekly mental wellness newsletter can help.
You may occasionally receive promotional content from the Los Angeles Times.