Op-Ed: Accept it, haters, Tom Brady is an all-time great. Enjoy his genius while it lasts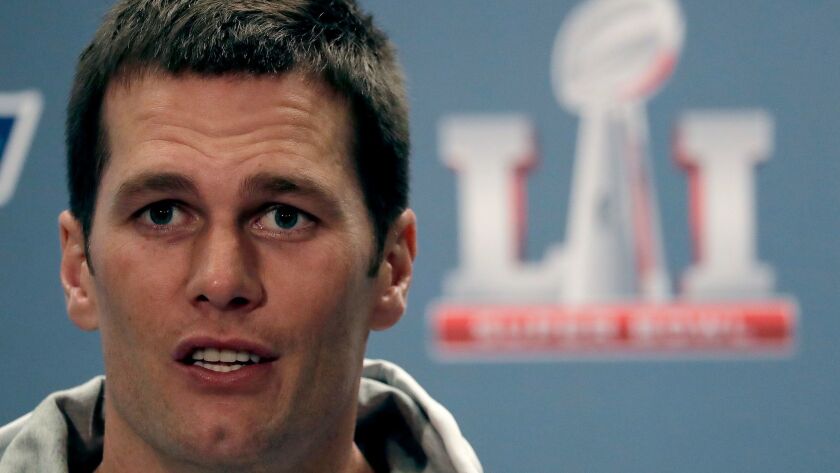 When I was a kid, the best player I never saw, but my father did, was Stan Musial. I'd ask him what it was like to watch an all-time great at the peak of his talent, and he'd tell me about line drives into the right-field corner, or describe that casual, amiable, shambling gait that made my father feel like this superhuman was, in fact, just like everyone else. His eyes would light up. He saw Stan the Man in his prime. He knew how lucky he was.
Someday, our children are going to ask us, "What was it like to watch Tom Brady?" And we're going to say, "Well, kids, we screamed at our televisions every time he came on screen. Oh, and drew penises on his head in Photoshop and posted it to Twitter."
At the age of 39, Brady has had one of the best seasons of his career, leading the Patriots to a 14-2 record . On Sunday he may well become the first quarterback in the history of the NFL to win his fifth Super Bowl, passing Terry Bradshaw and Joe Montana. And that's after NFL Commissioner Roger Goodell suspended him for the first four games of the season, a harsh punishment for the Deflategate scandal. Brady never admitted wrongdoing. He has made it clear, however, that forcing Goodell to hand him a Lombardi Trophy in front of the whole world has been his driving force this entire season.
There is all-time genius happening right in front of us, but apparently we'd rather vent.
We have watched Brady compete for nearly 20 years. He's better right now than he has ever been. He's doing things no other quarterback has ever done. We are watching sports history in front of us.
And yet, outside of Boston, our response is to boo, hiss and extend our middle fingers. An ESPN survey last year found that Brady was the fourth most hated athlete in football; a Sporting News survey, also last year, ranked Brady as one of the five most hated NFL players of all time. Or if you don't trust polls — who does these days? — just try typing "Tom Brady douche" into a search engine.
Look, I get it. There's a lot to dislike beyond Deflategate, including Brady's decades-long association with dark Sith lord Bill Belichick — who taped opposing coaches' signals — his goofy shirtless photoshoots, and that Make America Great Again hat in his locker. (When reporters ask Brady about his politics, he generally just smiles and evades the question.)
But aren't these rather small infractions for the most hated athlete in sports? Brady has never been arrested for a crime, has never tested positive for performance enhancing drugs, has never even been photographed smoking weed at a party. Adrian Peterson was indicted by a grand jury on charges of negligent injury to a child; Ben Roethlisberger — who Brady defeated in the AFC East championship game two weeks ago — was accused (twice) of sexual assault. And we're furious at Brady?
When you take a step back, our supposed righteous anger at Brady for Deflategate in particular — which, I underscore, involved the amount of air in a football – looks more and more like misdirected envy of a guy who just won't stop winning. With his good looks and shiny teeth, his unfairly attractive model wife and and generally perfect life, Brady represents the sort of All-American quarterback we secretly hate: The guy who has it all who reminds us that we do not.
Of course social media — in which excellence exists solely to be torn down by those just barely paying attention — only exacerbates the problem. There is all-time genius happening right in front of us, but apparently we'd rather vent.
I bet someday, though, we'll appreciate Brady; it wouldn't be the first time we collectively forgot the real-time vitriol we once felt for our superstars. Americans loved to hate Ted Williams and they thought Reggie Jackson was an egomaniac. Now Williams is immortal — perhaps literally, and cryogenically, so — and Jackson is that guy from "Naked Gun" who also hit three homers in a World Series for the Yankees. Ten years ago, there were no two more polarizing athletes than Randy Moss and Alex Rodriguez. Now they both have their own television shows and, hey, whaddya know, are actually likable. You've got to work hard to hate those guys. Meanwhile, the thing that made them famous, the thing they were better at than anyone else? We can't watch them do it anymore. Back when we could, we were too busy yelling at them.
I'm not asking people to go cheer for Brady. (I suspect he'll be fine either way.) But he might be the best football player any of us has ever seen, and on Sunday, he's got a chance to make history. It's a moment we'll be talking about for the rest of our lives. It doesn't have to be a big terrible moment that makes you angry. Because in 20 years … I bet you don't even remember what you were angry about. And then it will be too late.
Will Leitch is a senior writer at Sports On Earth, contributor to Sports Illustrated, contributing editor for New York magazine, film critic for the New Republic and the founder of Deadspin.
Follow the Opinion section on Twitter @latimesopinion and Facebook
---
A cure for the common opinion
Get thought-provoking perspectives with our weekly newsletter.
You may occasionally receive promotional content from the Los Angeles Times.