Op-Ed: If Democrats sweep the House this fall, blame Paul Ryan's rich-on-poor class warfare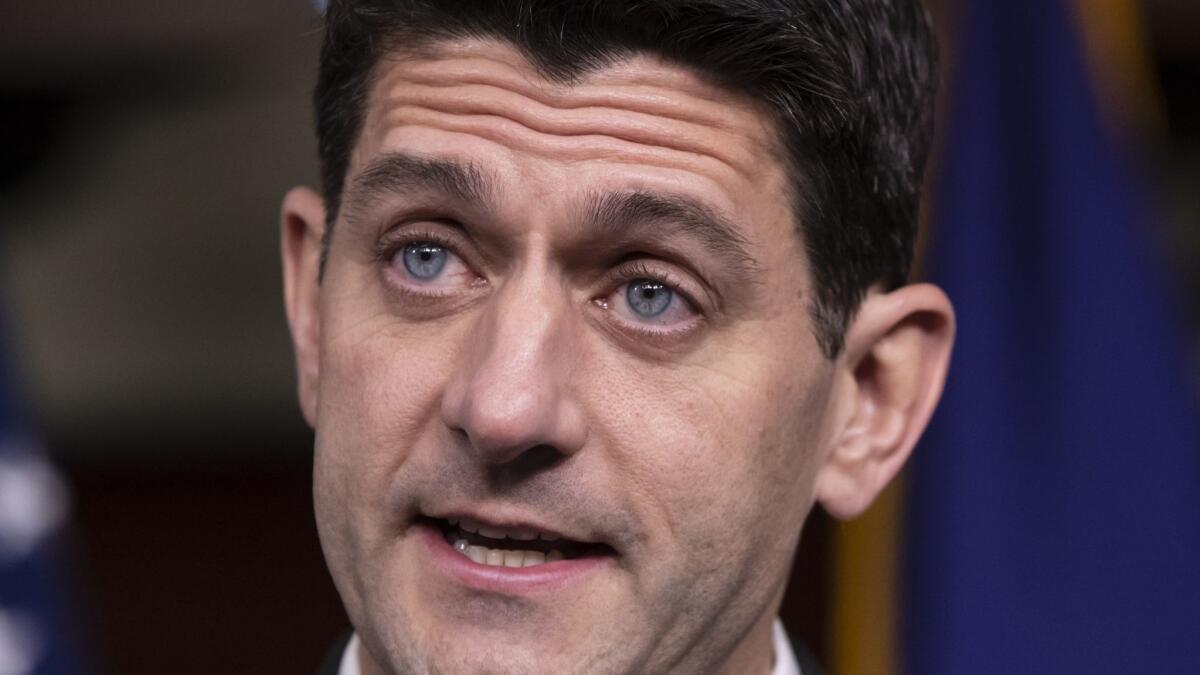 The not entirely unexpected announcement that Speaker of the House Paul D. Ryan would not seek reelection in November reveals major weaknesses in the Republican Party. In the short term, it's the latest indication that the Republicans may be swept out of the House by a Democratic wave this fall. And in the longer term, it reflects a Republican Party that maintains enough institutional advantages to win some elections, but will have an increasingly difficult time passing a legislative agenda when it controls Congress.
Ryan's "more time with my family" motive for quitting isn't even half the story. It seems highly likely that he sees the writing on the wall for November. His speakership, had he decided to try to retain it, would have been in serious peril. Since President Trump's triple-bank-shot win of the electoral college, Democrats have been consistently over-performing in special elections by huge margins. Traditionally, Republicans can count on out-mobilizing Democrats in off-year elections, but for the last 15 months it's been the opposite.
Ryan aggressively covered up Trump's unprecedented corruption and unfitness for office just to further his agenda.
Admittedly, the GOP has structural advantages in the form of gerrymandered districts, which means it's not certain the party would lose the House even if it badly loses the national popular vote (as is probable). At least some of these structural advantages are being attenuated: the Pennsylvania courts struck down that state's very pro-Republican congressional map and replaced it with a fair one, and the Supreme Court may well do the same in Ryan's home state of Wisconsin. And Ryan joins an already long list of incumbents who aren't running again. If his retirement sends a signal to other wavering House members that this may not be their year, it will further erode another GOP advantage.
Whatever the pressures on congressional maps and GOP turnout, Ryan himself bears plenty of responsibility for his speakership's peril and his party's precarious position.
In one of the more impressive cons in recent American political history, Ryan managed to generate a lot of fawning profiles portraying him as a humble wonk committed to bipartisan solutions on deficit spending. It was pure fiction. It is all too appropriate that Ryan announced his retirement the same week the Congressional Budget Office estimated that the federal deficit in 2020 would exceed almost a trillion dollars. It would be one thing if these deficits were being used for much-needed public investments, but instead the exploding deficits will largely be the product of the massive upper-class tax cut Ryan shepherded through Congress this year.
One could object that it's unfair to blame Ryan for the compromises necessary to keep a relatively narrow majority together. But Ryan had the same priorities as an obscure House backbencher. He argued during this period that President George W. Bush's debt-funded tax cuts should have cut deeper and his debt-funded defense spending increases should have been larger. Ryan has never cared about the deficit. His priorities have always matched the contemporary Republican priorities: relieving the financial burden on the rich and inflicting as much suffering on the poor as is politically possible.
Even more than the tax reform that Congress passed this year, the definitive Paul Ryan achievement was the American Health Care Act, the attempt to repeal the Affordable Care Act that the House voted for and the Senate nixed. The AHCA was a reflection of Ryan's worldview so pure it almost reached the level of self-parody. It cut healthcare savagely; the CBO estimated 23 million people would lose their health insurance. The money saved was transferred to, you guessed it, the well-to-do.
The AHCA bill reflected Ryan's leadership in other ways too. It was rushed through an undemocratic process, with only three hours of debate and voted on before a public version of the bill was even made available.
This is Ryan's legacy: a single-minded campaign of rich-on-poor class warfare. Worse, he aggressively covered up Trump's unprecedented corruption and unfitness for office just to further that agenda.
Ryan's colleagues have been quick to praise him since his retirement announcement, but he will be leaving a problem in the lap of his successor — whether it's House Majority Leader Kevin McCarthy (R-Bakersfield), House Majority Whip Steve Scalise (R-La.) , or a dark horse candidate: The agenda he presided over is popular with donors, but it has very little support among voters (including Republican ones). Ryan is getting out just before the bill comes due for the Republican Party in November.
Scott Lemieux is a lecturer in political science at the University of Washington.
Follow the Opinion section on Twitter @latimesopinionand Facebook
A cure for the common opinion
Get thought-provoking perspectives with our weekly newsletter.
You may occasionally receive promotional content from the Los Angeles Times.