Op-Ed: The Christmas suit: The year addiction blew in for the holiday like a crazy uncle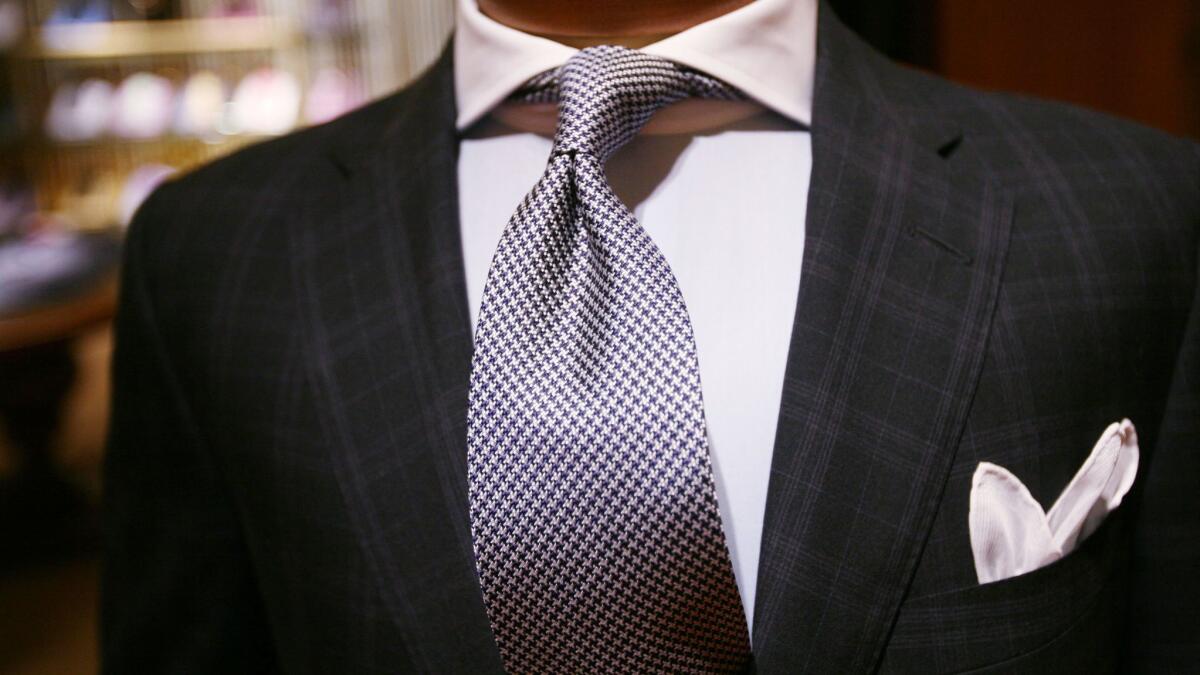 On Christmas morning many years ago, I put on a man's suit. I looked at the cotton dresses in my closet, all weepy woman frocks, and knew I would cry if I put one on. I wanted to throw up but decided to man-up instead. I reached for my husband's suit. Armor.
I'd like to say I swam in it, but I'm taller and fatter than him. The jacket fit, but the pants were tight around the waist. I could button them, barely, and later I unfastened them, but kept the coat on.
My husband helped me tie the Van Gogh "Sunflower" tie… a splash of color on an otherwise dark morning.
After a pause, he asked, "Want me to wear a dress?"
I'd been up most of the night before, checking my phone, trying to remember what Christmas Eve was supposed to feel like.
"Staying awake all night isn't going to keep your son alive," a friend had told me. She'd been through it before with her own family, but I just didn't want to listen. We were good parents. We'd choreographed Christmas Eve to make it magical for our three kids. My husband climbed atop the roof to ring sleigh bells, stomp around and even toss reindeer (dog) poop in the yard. The kids and I left cookies and carrots for Santa and the reindeer.
Surely, this was a phase. I stayed awake.
In the early morning, I heard a key in the lock. He was home. That was enough. But he was angry and said his "job" had fallen through when the man he was going to apartment-sit for attacked him with a fork at dawn. He was uninjured, but claimed to be cast out just like Mary and Joseph with no room at the inn on Hollywood and Vine.
I wanted to throw up but decided to man-up instead. I reached for my husband's suit. Armor.
I didn't want to hear anymore. He was still alive. I went to bed and got a few hours of sleep before rising to begin Christmas day in the suit.
My son sized up the outfit a few hours later. "You look like Patti Smith, Mom," he said. "Let's do a quick interview." He was already in character, his M.O. for the holiday. So far he'd been a raging dad from Palmdale, Errol Flynn and a Swedish troll catcher, sprinkled with Jimmy Stewart impersonations by our giant Christmas tree. Addiction had blown in for the holiday like some crazy uncle.
Still I held fast to the idea we were the creative loving family we'd always been, the family who delivered meals for Project Angel Food and took presents to teen moms in East L.A. We pulled off the faux Patti Smith interview and I left for church with my middle daughter.
At church, as the priest talked of his childhood in Italy, I thought back to Mass at St. Teresa's in Pittsburgh. On the occasional Wednesday, sixth-graders got out of math class to sing at funerals. Sister Matilda conducted the funeral choir and yelled at us when we sang flat. She waited until the casket was wheeled out, and then she singled out the tone-deaf kids: "You're a wedge. You're a wedge too! Move your mouth like you're singing but I don't want to hear a sound!" I sang alto with the boys, but at least I wasn't a wedge.
At the Christmas morning service, nobody looked at me in my man's suit and my daughter in her pretty outfit. It's L.A., I told myself. My daughter had been baptized in this very church two decades earlier. Her godfather, Uncle Jimmy, had arrived at the altar drunk. The priest patted his arm and said, "Take it easy today, my friend."
After Mass, we walked together, arm in arm. My daughter told me about college, her friends, and the impending trip of her boyfriend.
We ate fish tacos as a family before getting on the road to San Diego to visit the grandparents, which had also been our tradition for years.
On the way down on the 5 Freeway, I sat in the backseat behind my husband, who drove. The dogs were with us. The cats were not. It was quiet in the car. All three kids fell asleep and I was glad, because I could pretend they were babies again.
Later, in San Diego there'd be a choppy sea of dinner preparations, wine, music, jokes, dogs and kids. My mother would insist we sing "Happy Birthday" to Jesus, a new and awkward tradition that thankfully wouldn't stick. Presents would be opened. My nephews, beautiful little boys, would love their marshmallow shooters and eat the ammunition.
Enter the Fray: First takes on the news of the minute from L.A. Times Opinion »
I would wear the suit into the night. The next morning, our son would leave on the train before family pictures could be taken. I would uselessly plead with him to stay. My begging, cajoling, arguing — my mouth was moving but now I was a wedge.
He left. We haven't been back to San Diego as a family since.
But earlier in that southbound quiet car of sleeping kids, I looked at the passing ocean for answers.
What was happening to our family? Hadn't we eaten dinner together nearly every night? Hadn't I hung their artwork on the wall? Hadn't we given them sports, music, theater, and tried to be present and listen? I had thought, naively, that we were shielded from the claws of addiction, because who would choose that path?
I felt the man's suit heavy on my body, but my eyes remained hot and dry. The suit had worked. I had not cried once.
"Do you think I could wear this suit forever?" I asked my husband.
He said nothing but reached his hand into the back seat to hold mine and kept driving.
Kerry Madden-Lunsford is the director of creative writing at the University of Alabama at Birmingham. She is the author of eight children's and young adult books.
Follow the Opinion section on Twitter @latimesopinionand Facebook
A cure for the common opinion
Get thought-provoking perspectives with our weekly newsletter.
You may occasionally receive promotional content from the Los Angeles Times.