Op-Ed: Things could be worse. A lot worse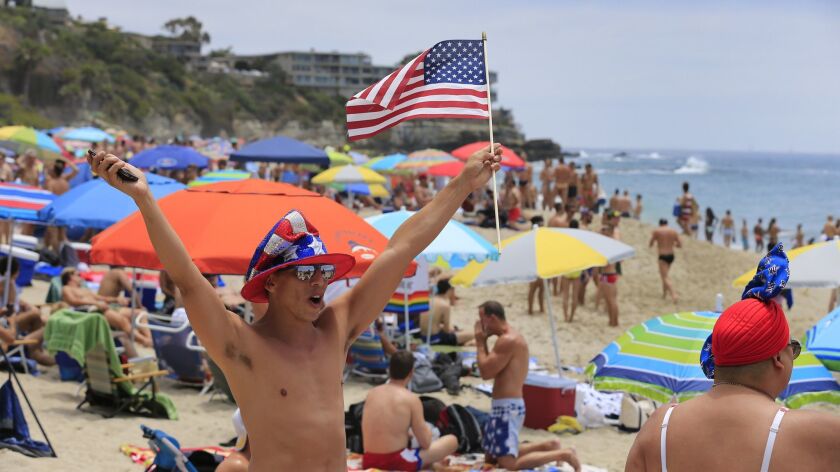 Has there ever been a time when America was more divided? Probably yes. Maybe several times, even. Still, it's hard to shake the feeling that things are terribly, terribly wrong and won't get better. And when that feeling comes, we like to take stock and count our blessings.
In the 1990s, we wrote a book called "What's Right With America." It was just a list of things we loved about this country, plus a Color Me Badd reference for the kids. But today, we're compelled to take another look at the greatness emanating from our nation.
What's right with America 2018
We can put anything in a Hall of Fame.
We stopped using fidget spinners before most countries even started.
If you don't count military or religious garb, we invented cosplay.
Beautifully composed Instagrams of abandoned gas stations.
It was not the "original intent" of the framers of the Constitution that Americans can major in sports marketing, but we went ahead and did it anyway.
Our commitment to diversity in ways of pronouncing "GIF."
We turned meditation and breathing into a strategy for business success.
"Bless your heart."
Gyms on the ground floor of buildings that once were sweatshops.
Greatest mom blogs on the planet.
TV shows about fish tank installers.
The entrepreneurial spirit that enables Go Fund Me campaigns to pay for healthcare.
The many levels of heat in our chain restaurant sauces.
People who are annoyed when their city doesn't top the "Worst Drivers in America" list.
A willingness to try Euro-style bike lanes.
So many mountains.
Our arts institutions never stop trying to be relevant to the under-50 set.
Lawless desert communities populated by grandparents.
Ramen is not just for college students anymore.
Skyjacker D.B. Cooper might be your neighbor.
"[Any random thing] is everything"
Puffy coats.
Gluten-free Communion wafers.
Hollywood might make more money on imaginary dystopias than the actual one will cost.
Fossil fuel-powered cars named after endangered animals.
Those little merit stickers on football helmets.
Kids who dressed up as Supreme Court justices.
Territorial surfers.
Stick and poke tattooing.
The right to protest with a funny sign.
Pencil fetishists.
Great rivalries: Dodgers vs. Giants, Yankees vs. Red Sox, Emo vs. Goth.
Not many other countries where you could get attacked by a shark and a mountain lion on the same day.
Young men jumping from roofs onto folding tables.
Horror movies set in great houses.
The optimism of Gmail's auto-reply AI.
Pet-rescue fanatics at farmers markets.
LED vintage light bulbs.
Right turn on red: an experiment that has worked!
Ditto the 19th Amendment.
Still no sashes at our presidential inaugurations.
Sam Johnson and Chris Marcil write for television.
Enter the Fray: First takes on the news of the minute from L.A. Times Opinion »
Follow the Opinion section on Twitter @latimesopinionand Facebook
---
A cure for the common opinion
Get thought-provoking perspectives with our weekly newsletter.
You may occasionally receive promotional content from the Los Angeles Times.