Op-Ed: How to improve California's emergency alert system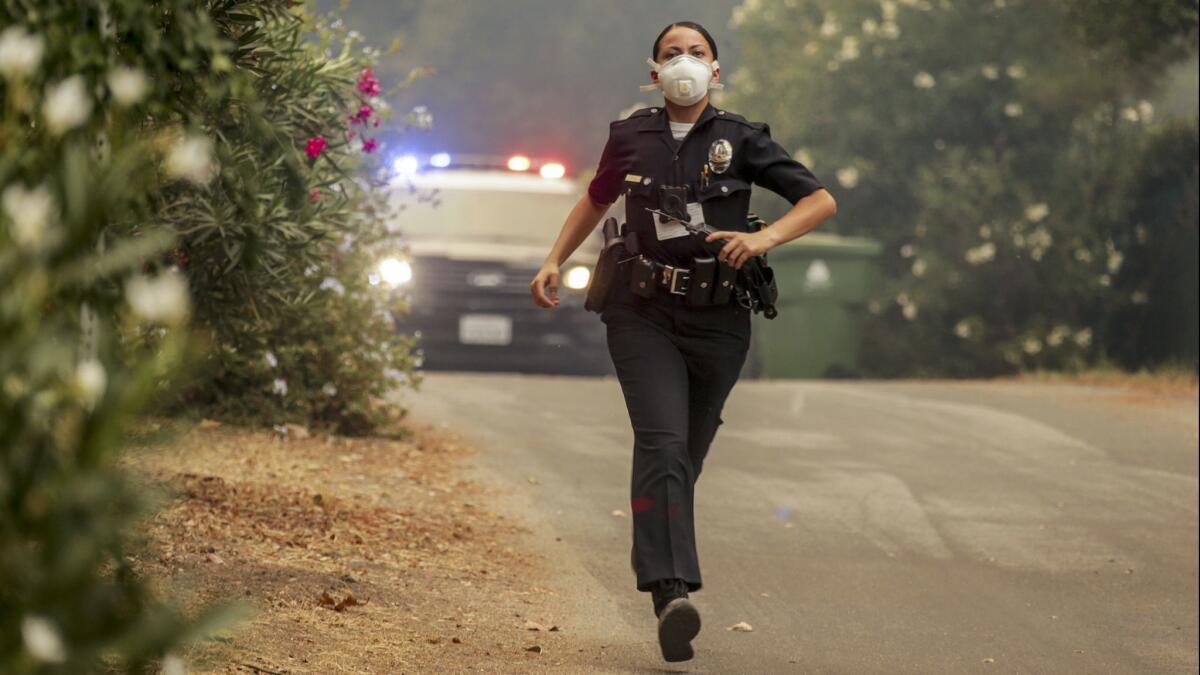 The aftermath of every catastrophe includes a period of finger-pointing. In California, this has already begun.
With firefighters still battling the remnants of devastating wildfires, questions about public warning — what the people in the path of the fires were told, and when they were told it — loom large.
Some residents of Butte County are saying that officials should have done more as the massive Camp fire roared up the Sierra foothills toward Paradise.
The Butte County sheriff says his department did adequately notify citizens of the danger: More than 10,000 emails and text messages were sent, and more than 25,000 phone calls were made.
California's alert system is, in reality, 58 county alert systems duct-taped together, with 58 different processes and capabilities.
But only residents who had opted into CodeRed, the county's alert system, had any chance of knowing what was happening. A much more powerful system — the Federal Emergency Management Agency's Wireless Emergency Alert, or WEA — could have pushed an immediate alert to every cellphone in the danger zone. It wasn't used.
While local officials scrambled to get resources to the scene, predict the future of a fast-moving wildfire and simultaneously control a complex evacuation, others could have been doing more. The state ought to have ensured that all residents near the fire's path were warned.
California's alert system is, in reality, 58 county alert systems duct-taped together, with 58 different processes and capabilities. The problem with this set-up, as we learned last month, is that local officials are inevitably overwhelmed in the early minutes of a catastrophe.
As the frequency of extreme weather events increases with climate change, California and the rest of the country need to bring more order to the chaos of our sprawling and fractured public warning systems.
It was another wildfire season, one very much like the one California is currently experiencing, that taught us how to organize emergency response teams during a disaster.
In the fall of 1970, someone set a match to tinder-dry grass in the Oakland Hills east of the UC Berkeley campus. Within minutes, the flames, feeding on dry coyote brush and pine trees and whipped by hot winds, swept up the hills and leaped onto homes.
In less than two hours, 36 homes burned down. By the end of the 1970 fire season, 600,000 acres had burned, 16 people had died and 700 homes had been destroyed across California.
Despite the herculean efforts of firefighters, the public was stunned by the scale of the devastation, and the fire services were criticized for what was widely perceived to be a mismanaged response. Formal investigations found that a series of mistakes had compounded the disaster, mostly stemming from a failure to coordinate the dozens of teams from around the country and from all levels of government that had come to help.
Congress ordered the U.S. Forest Service to fund a five-year research program called the Firefighting Resources of Southern California Organized for Potential Emergencies, or Firescope. The Firescope team, in turn, created a new management system, called Incident Command System, or ICS. It's a structure for managing crises in which different agencies are integrated into one organizational order and chain of command.
ICS is now standard practice not only in the United States but also in many other countries around the world. It is simple to learn and use, and versatile enough to bring order to the chaos of any king of disaster. It is also scalable, meaning it can be applied to a car accident or a catastrophic earthquake.
Enter the Fray: First takes on the news of the minute from L.A. Times Opinion »
Although ICS is used to organize various first-response teams during a disaster, the structure is not applied to emergency alert systems, which remain fractured across the country. We need a new Firescope program that applies the ICS process to our public warning systems.
A unified warning system could leverage all of our monitoring and forecasting assets — including resources from the National Weather Service and the National Oceanic and Atmospheric Administration. Based on ICS principles, it could connect our watch centers and all levels of government together, in California and across the country, with our various alert systems.
The aftermath of any catastrophe may bring a period of finger-pointing, but it also brings a period of opportunity — a brief window of time for us to diagnose problems and fix them. That window of opportunity is now.
Kelly McKinney is the senior director of emergency management at NYU Langone Health and the author of "Moment of Truth: The Nature of Catastrophes and How to Prepare for Them." He was previously deputy commissioner at the New York City Office of Emergency Management and chief disaster officer at the American Red Cross in Greater New York.
Follow the Opinion section on Twitter @latimesopinion or Facebook
A cure for the common opinion
Get thought-provoking perspectives with our weekly newsletter.
You may occasionally receive promotional content from the Los Angeles Times.