Op-Ed: The Kavanaugh hearings are hollow, but they aren't vapid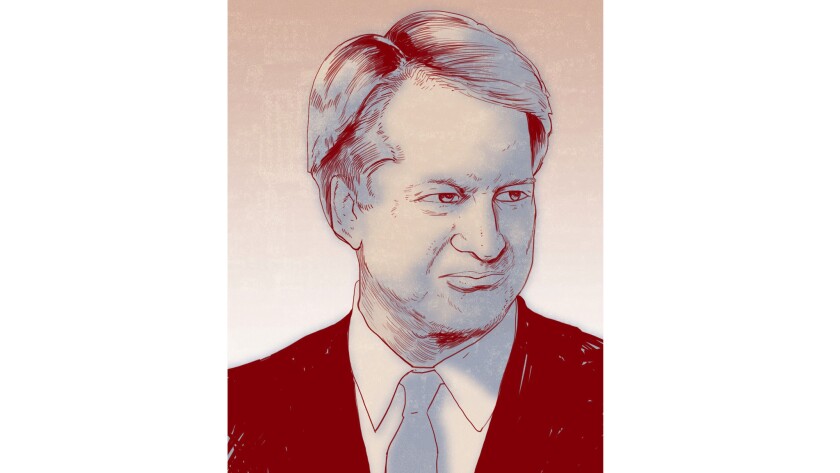 The Supreme Court confirmation hearings for Brett Kavanaugh began at least a three-day run on Tuesday, and just as detractors warned, it was the congressional version of kabuki drama: plenty of ritual but not much suspense.
Each side played its assigned role. Democrats demanded that the proceedings be suspended until the Senate Judiciary Committee had more documents about Kavanaugh's political career. Republicans denounced the Democrats as obstructionists. Pink-clad protesters shrieked until they were led away. Sen. Charles E. Grassley of Iowa, the dyspeptic chairman, lost his temper (as usual). Amid it all, Judge Kavanaugh sat silent and stone-faced, except for the occasional trace of a smile.
It was the kind of day that led Elena Kagan, when she was a law professor, to call judicial confirmations a "vapid and hollow charade."
But Justice Kagan was only half right. This week's hearings, like the entire confirmation process, are hollow: The outcome is in no doubt. The Senate will confirm Kavanaugh on party lines; the only question is how many endangered red-state Democrats will join the Republican majority.
If nothing else, we will get a fair idea about whether Republicans can effectively use Kavanaugh's ascension to mobilize their voters in November.
But the debate along the way will still be well worth watching, not only on the substance of the issues but on the political fallout as well. If nothing else, we will get a fair idea about whether Republicans can effectively use Kavanaugh's ascension to mobilize their voters in November, or whether Democrats will find that the new justice adds oxygen to the fire fueling their base instead.
And which of the many rising stars on the Senate committee, including at least four potential Democratic presidential candidates, will succeed at using their turn on the hearings' national stage to audition for higher office? (Tip sheet: Amy Klobuchar of Minnesota, Cory Booker of New Jersey and Kamala Harris of California made good use of their time on Tuesday, but keep an eye on two brainy dark horses, Richard Blumenthal of Connecticut and Sheldon Whitehouse of Rhode Island.)
The substantive stakes are high. If — when — confirmed, Kavanaugh will replace Justice Anthony M. Kennedy, the court's unpredictable swing vote. Kavanaugh is a far more reliable conservative. He will push the court well to the right. The hearings should prepare Americans for significant changes in important legal questions.
Abortion: Last fall, Kavanaugh praised one of his mentors, the late Chief Justice William H. Rehnquist, for his dissent against Roe vs. Wade. Rehnquist believed that court decisions "had to be rooted in the traditions and conscience of our people," Kavanaugh said, and "given the prevalence of abortion regulations … [Rehnquist] could not reach such a conclusion about abortion." So does Kavanaugh agree that Roe was a bad decision — even though he has also reportedly called it "settled law"?
Guns: In 2011, Kavanaugh, as an appeals court judge, voted to strike down a District of Columbia law banning military-style semiautomatic rifles because, he said, such guns "have not traditionally been banned." The majority on the U.S. Court of Appeals for the District of Columbia Circuit disagreed with his ruling and his reasoning, and so did nine other appeals courts.
Enter the Fray: First takes on the news of the minute from L.A. Times Opinion »
Regulation: This one is wonky but important: Since 1984, under a decision involving the Chevron oil company, courts have generally allowed regulatory agencies to determine the bounds of their powers as long as their interpretations are reasonable. Kavanaugh doesn't like it. "The Chevron doctrine encourages agency aggressiveness on a large scale," he said in a speech last year. Democrats fear he would turn the courts into a tool for wholesale deregulation. ("This is what corporate capture of the courts looks like," Whitehouse said on Tuesday.)
Presidential immunity: After working for the independent counsel who investigated President Clinton, Kavanaugh concluded that no president should be subjected to criminal prosecution while in office. He has even questioned whether a president can be investigated at all, except by Congress under its impeachment power. He may not believe a prosecutor has the power to compel a president to hand over evidence in a criminal inquiry — as the Supreme Court unanimously decided Richard M. Nixon must do during the Watergate inquiry in 1974.
Democratic and some Republican senators will struggle to force Kavanaugh to reveal his legal thinking on these issues. The nominee will claim that he shouldn't be asked such questions, but a skilled questioner can sometimes elicit useful clues. There won't be a Perry Mason moment, but viewers who pay attention will get a preview of where the Supreme Court is headed. Last week, Variety called the hearings "must-see TV." I might not go that far, but even though we know how the plot turns out, the drama is worth watching. There's nothing vapid about the process at all.
Doyle McManus is a contributing writer to Opinion. mcmanus.columns@gmail.com. Twitter: @DoyleMcManus
Follow the Opinion section on Twitter @latimesopinionand Facebook
---
A cure for the common opinion
Get thought-provoking perspectives with our weekly newsletter.
You may occasionally receive promotional content from the Los Angeles Times.