Op-Ed: Kevin de León personifies the Trump resistance. He should run for governor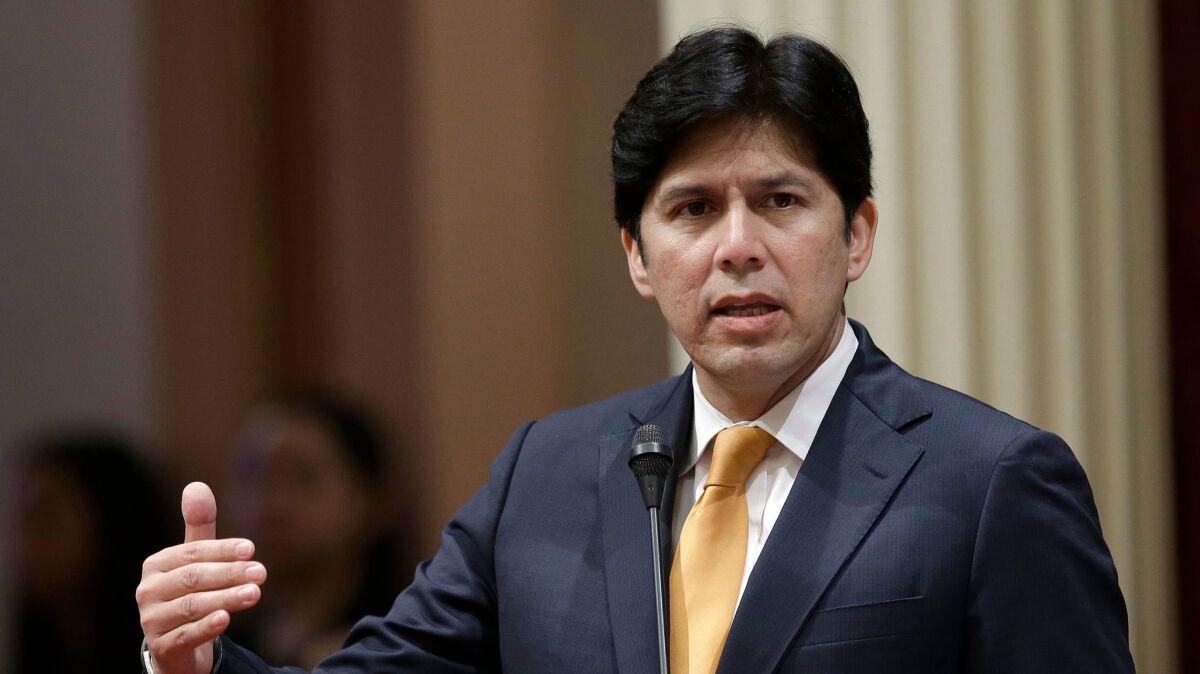 The California elected official who has most personified the state's resistance to President Trump and all his works is Kevin de León, the Los Angeles Democrat who's president of the state senate. So why isn't this guy running for governor?
On the morning after Trump's election, De León and Assembly Speaker Anthony Rendon (D-Paramount) released a statement that spoke for millions of their fellow Californians.
"Today, we woke up feeling like strangers in a foreign land," it began, and declared that the election results were "clearly inconsistent with the values of the people of California."
Since then, no one has worked harder than De León to turn California into a sanctuary state. Nor is this a new cause for him. In 2013, he authored the Trust Act, which restricted local police departments' ability to turn undocumented immigrants over to federal immigration officers. (They can only do so in the case of serious, violent offenses.) Last summer, De León saw to it that the state budget increased funding for legal services to the undocumented. This year, he's authored a Trump-era follow up, Senate Bill 54, which would further limit police cooperation with the feds. He's also sponsored town halls and tutorials bringing together local police, attorneys, and immigrants in the country illegally, to inform those immigrants of their rights and to bolster those police departments' commitment to treat them as they would anyone else.
But it's not just on immigration policy that De León has pushed the state onto a collision course with Trumpism. Widely regarded as the leading legislative advocate for clean energy, De León authored the state's landmark legislation that requires California to generate half its electricity from renewable sources by 2030.
De León authored the state's landmark legislation that requires California to generate half its electricity from renewable sources by 2030.
He also conceived and steered to passage a bill that provides IRAs to the nearly 7 million low-wage California workers who aren't offered retirement benefits on the job. Starting next year, the act would require those workers' employers to make small deductions from their paychecks that would go into a state-managed retirement fund, unless of course the workers opt out. Since De León's bill passed, seven other states have adopted similar policies — and congressional Republicans, at the behest of giant banks that don't want public investment funds to charge lower fees than they do, have been busily changing the federal regulations that allow California's plan to go forward.
Working both the halls of Sacramento and the court of public opinion, De León is the most accomplished progressive legislator, and one of the more accomplished progressive leaders that California has seen in many years.
He's also termed out of office in 2018.
So why isn't this guy running for governor?
In California, the low-visibility Legislature may be a springboard to down-ticket statewide offices like lieutenant governor (which De León apparently concluded would be a title without much power), but not to the top rank of governor or senator. The only legislative leader even to come close was Assembly Speaker Jesse Unruh, who was the Democratic gubernatorial nominee in 1970, losing to Ronald Reagan.
Besides, throughout 2016, De León had what looked to be other compelling options. Had Hillary Clinton been elected president, there was a better than even chance he'd have been her nominee to head either the Environmental Protection Agency or the Department of Energy. In the meantime, the Democratic 2018 gubernatorial field was taking shape. Lt. Gov. Gavin Newsom, Controller John Chiang, and former Los Angeles Mayor Antonio Villaraigosa were fundraising and building support; current L.A. Mayor Eric Garcetti and progressive mega-donor Tom Steyer were thinking it over. Villaraigosa and Garcetti have claims to the L.A. vote and to Latino support as well. Amidst this traffic jam, is there room for De León?
There should be. Despite the achievements of the Democratic candidates and proto-candidates, none has a record of effectively championing human rights, environmental protection and economic justice that matches De León's. None embodies California's resistance to Trump as viscerally and thoughtfully as De León, either. If De León's friend Steyer decides not to run, he might help fund a De León candidacy — and mega-funding is something any candidate emerging from the obscurity of the Legislature badly needs.
At a moment when California progressives are mobilized as never before, they should consider the possibility of a De León governorship. No one is better positioned to advance the state's standing as a model for a progressive America.
Harold Meyerson is executive editor of the American Prospect. He is a contributing writer to Opinion.
Follow the Opinion section on Twitter @latimesopinion or Facebook
---
Life is stressful. Our weekly mental wellness newsletter can help.
You may occasionally receive promotional content from the Los Angeles Times.