Op-Ed: The Aliso Canyon gas leak was a disaster. There are 10,000 more storage wells out there just like it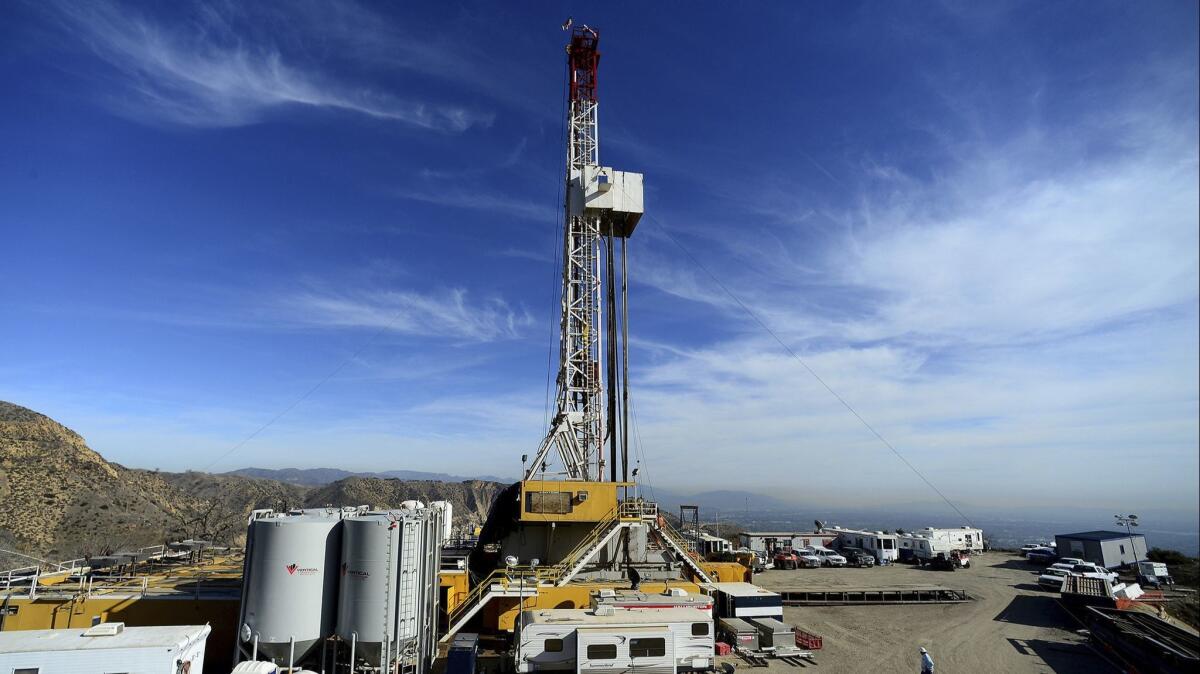 The blowout at the Aliso Canyon natural gas storage well was one of the worst environmental disasters in U.S history. It went on for 118 days in 2015 and 2016 — 25 days longer than the Deepwater Horizon oil leak in the Gulf of Mexico. More natural gas escaped from that single leaking 10-inch-diameter pipe than 80,000 homes would use in a year. Thousands of residents in Porter Ranch evacuated after complaining of headaches and nosebleeds. Estimates peg costs at nearly $1 billion. Continuing restrictions on storage at Aliso Canyon are still disrupting gas delivery to power plants.
The key thing about the failed well at Aliso Canyon is that is wasn't originally designed for high-pressure gas storage. It was an oil well drilled back in 1956 that had been repurposed. Because of its vintage, at certain depths, it had only one layer of pipe separating the gas from surrounding rock. Wells built today use multiple concentric pipes, and only the innermost pipe transports gas so as to reduce the risk of a blowout.
Aliso Canyon, though, wasn't unique or even rare in having that single-pipe design.
Last year, my colleagues at Harvard and I tried to figure out how common these Aliso-style wells are. Based on the best data we could get about the age of wells, we estimated that out of the approximately 14,000 storage wells nationwide, about 2,700 might be Aliso-type wells.
That was worrying. But in truth, the picture is much worse.
Thanks to a new Department of Transportation rule, gas companies that operate storage facilities must now disclose information about the design, monitoring, leaks and repairs of their wells. That data released April 4 show that more than 10,000 wells have gas flowing through only a single unprotected pipe. Of the nearly 400 natural underground storage facilities in the United States, 296 of them have one or more of these wells. They are in 32 states.
The system we have now is endangering the climate, the health of those who live near gas storage fields and the stability of our power grid.
More than two-thirds of these wells are currently doing a job they weren't designed to do — withstand countless cycles of high-pressure gas injection and withdrawals — without backup safety valves to prevent blowouts. It's also important to remember that a gas storage field is only as safe as its weakest well: Aliso Canyon had 114 wells, but it only took one failure to cause a disaster.
After the Aliso Canyon leak, a survey of California's 12 natural gas storage fields uncovered 229 wells leaking at 11 facilities. Eight of the leaks were bad enough to be considered an "existing or probable hazard to persons or property."
California responded to all this by outlawing the operation of wells that have only a single pipe with no extra barrier. Federal regulators, however, have not done that. And now perhaps we see why — because more than two-thirds of U.S. gas storage wells would need to be fixed or replaced.
And yet, ignoring this problem poses serious risks to our energy system. Because natural gas has largely supplanted coal for power production, underground storage is at record-high levels. If the storage and delivery of natural gas to power plants is disrupted, that leaves the electric grid vulnerable. Last Monday, regulators, power companies and grid operators again warned that Southern California may not have enough power to meet peak demand this summer or next winter because of what happened at Aliso Canyon.
People rightfully concerned about climate change may balk at the suggestion that we should drill new natural gas storage wells or replace pipes. But the Aliso Canyon leak made clear that there are immediate human health risks to neglecting this aging infrastructure. We also now know that Aliso-style wells are everywhere. There shouldn't have to be another major blowout before the rest of the country makes gas infrastructure safer.
Drew R. Michanowicz is a research fellow at the Center for Climate, Health and the Global Environment at the Harvard T.H. Chan School of Public Health.
Follow the Opinion section on Twitter @latimesopinionand Facebook
A cure for the common opinion
Get thought-provoking perspectives with our weekly newsletter.
You may occasionally receive promotional content from the Los Angeles Times.