Op-Ed: Cancer taught me that getting old isn't something to fear — it's a privilege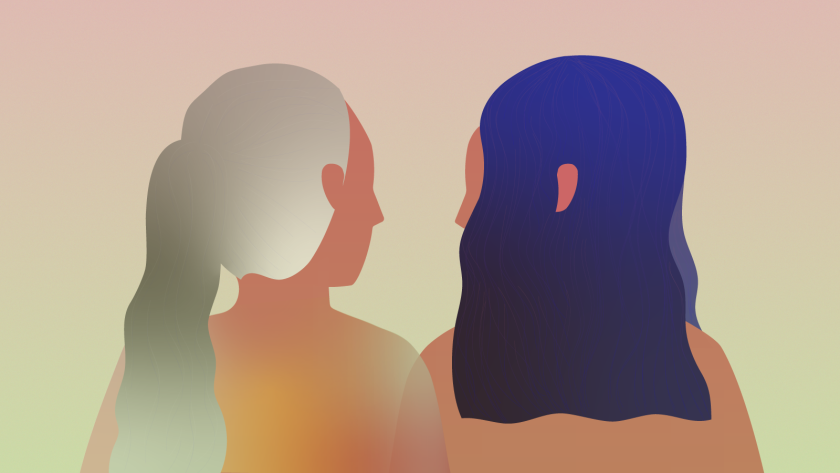 In a two-week period doctors told me that I had a small tumor in my breast and that my Hodgkin's lymphoma had come back, for the third time. I was 36. As I waited for test results I found that in addition to the two cancers, I'd developed something else: a rare case of geriatric envy.
I began daydreaming about the prospect of growing old. The sight of an elderly woman would bring me to tears.
I may never get to be you, I thought.
My preoccupation wasn't entirely out of character. Growing up, I was close with my grandmother. She was classy, funny and cool. I remember watching her methodically reapply her lipstick when we'd go out to eat. She'd teach me Yiddish phrases: insults, for the most part — but now and again words of wisdom, like "Mann tracht, un gott lacht," or "Man plans, and God laughs."
What if instead of dreading aging, we continued to idealize it?
Once, when I was a teenager, she asked if I knew any jokes. I turned beet red and said, "I do know one, but it's kind of X-rated." She lowered her sunglasses to look squarely at me. "I'm over 18, dear," she said. "Try me." I understood then that older people are not static or outdated, the way most kids see them.
It wasn't too long after that that I got cancer for the first time. Instead of a college orientation session with other 18-year-olds, I found myself in a chemotherapy treatment room where the other patients were four times my age. It wasn't the peer group I'd planned on, but there was a comfort in sharing that sort of space as we confronted the pain and uncertainty of life.
I was fortunate to get through it, each time: at 18, in my 20s and again at 36. Now, with the cancer behind me, as my 40th birthday approaches I'm wondering why other people my age are so hung up on getting older? Personally I'm going to be celebrating.
What if instead of dreading aging, we continued to idealize it? As children, after all, we champ at the bit to do grown-up things: stay up late, drive a car, fall in love. But as we get older, we romanticize youth, and lose that craving for maturity. We fixate on external decline instead of inner growth in spirit and discernment.
Enter the Fray: First takes on the news of the minute from L.A. Times Opinion »
A few months ago on a flight to Los Angeles, I sat next to a 75-year-old woman. She exuded sophistication but also a calm contentment. "I was focused for so long on what I would become: a wife, a mother, a success. But now I can just be," she just told me. "This is the best time of life. I don't know why nobody told me it would get this good."
I'm glad she told me.
At a dinner party marking a friend's 40th recently, the group of us — all college friends — went around the table discussing how we pictured our future older selves.
"I've been counting down the days to grow a long, gray braid."
"I'm going full bohemian. Tie-dye till I die."
"Two words: Eileen Fisher."
What kind of old lady do I want to be? I envision myself with a high pony tail, blue jeans and a simple (but expensive) white T-shirt. I want to be a good friend, and good company, like my grandmother, someone who can be trusted to show up.
I don't know what I'll get. Man plans, and God laughs. But I do know that I'll be aging gratefully.
Rachel Moscovich is a writer and urban planner in Los Angeles.
Follow the Opinion section on Twitter @latimesopinionand Facebook
---
A cure for the common opinion
Get thought-provoking perspectives with our weekly newsletter.
You may occasionally receive promotional content from the Los Angeles Times.