Op-Ed: Cancer warnings for coffee may be overkill, but Proposition 65 is not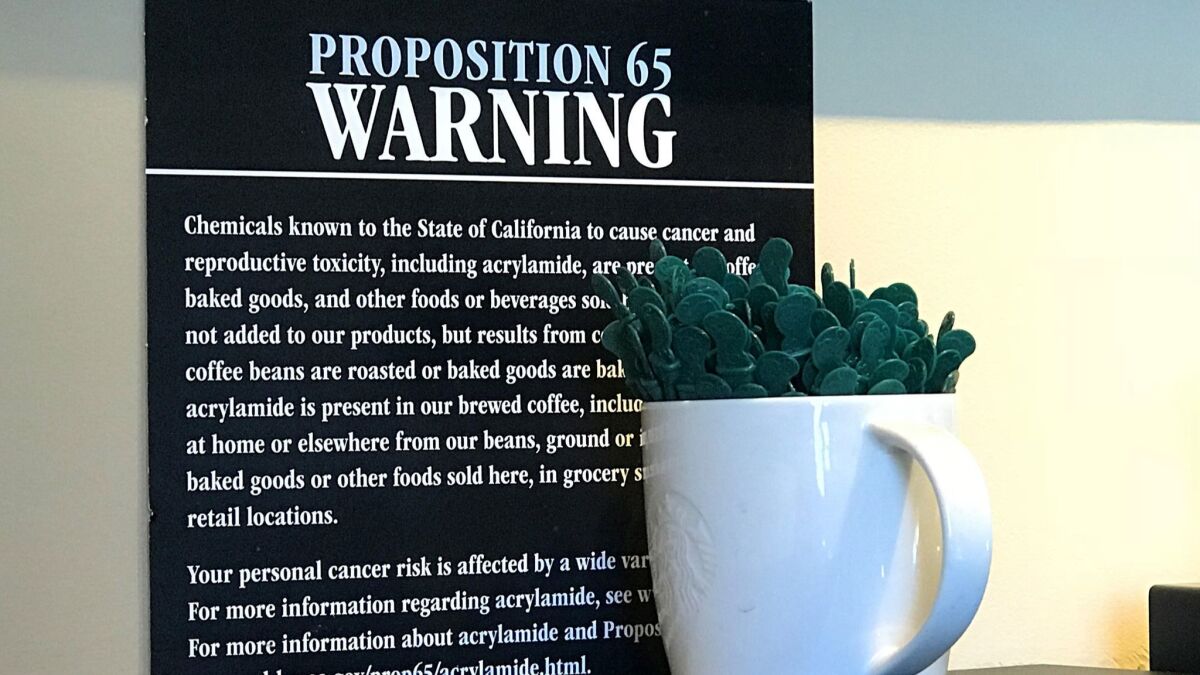 It's official: Coffee sold in California must carry cancer warnings, a Los Angeles judge ruled this week.
The warnings are required by California law, Superior Court Judge Elihu Berle said, because of the presence of acrylamide, a chemical that is formed when coffee beans are roasted and that remains in the final beverage.
The decision finalized a tentative ruling Berle had made in March. Since the initial ruling, an outpouring of commentary has suggested that, as one opinion writer put it, California has gone off the "deep end." There is no evidence that coffee causes cancer, many pointed out, and warnings about trivial risks could cause more serious notifications to lose resonance.
We agree that there is little gain, and possibly some harm, in issuing cancer warnings that don't convey relative risk. But much of the reaction has overlooked a crucial detail: The California law behind such warnings, Proposition 65, has been the single most effective tool for spurring American companies to eliminate toxic chemicals from processed foods and consumer products.
California voters approved the Safe Drinking Water and Toxic Enforcement Act, commonly known as Prop. 65, in 1986, by a margin of 2-1. Since then, companies have been required to warn the public of any exposure to hundreds of chemicals known to cause cancer, birth defects or reproductive harm. If a company fails to provide a warning or remove a chemical from its products, that business will be vulnerable to litigation.
Prop 65 has prompted manufacturers to remove lead from children's products; arsenic from playground structures; and formaldehyde from portable classrooms.
The chemical in coffee, acrylamide, has a variety of industrial uses, and it has been on the Proposition 65 list of dangerous substances since 1990.
But while acrylamide on its own is designated a "probable" human carcinogen, coffee in beverage form is most likely not a carcinogen, according to the International Agency for Research on Cancer.
The less than crucial coffee warning, though, is a small price to pay for all that Proposition 65 has accomplished. It has protected consumers from countless hazards.
Proposition 65 has prompted manufacturers to remove lead and other heavy metals from children's products; arsenic from playground structures; and formaldehyde from portable classrooms.
When federal regulators faced difficulties regulating chlorinated tris, a flame retardant linked to cancer, Proposition 65 litigation caused manufacturers to remove it and other toxic fire retardants from furniture and children's products.
Proposition 65 ensures that retail giants like CVS and Target stock their shelves with safer products. It also informs the purchasing practices of many large institutions. Kaiser Permanente, the country's largest healthcare group, followed Proposition 65's guidelines and eliminated plasticizing chemicals associated with developmental disorders from their neonatal and pediatric intensive care units.
Moreover, because the law affects products that get sold nationwide, Proposition 65 protects all Americans from dangerous chemicals, not just Californians.
Now is a particularly critical time for state leadership when it comes to regulating toxic substances. Under administrator Scott Pruitt, the Environmental Protection Agency recently backtracked on banning the toxic pesticide chlorpyrifos. Soon after, California listed chlorpyrifos under Proposition 65, and this has paved the way for limiting its use.
Pruitt's EPA has also postponed bans on three toxic chemicals used in consumer products — methylene chloride, N-methylpyrrolidone and trichloroethylene. Thankfully, all three chemicals are subject to regulation under Proposition 65.
A number of groups are working to ensure that Proposition 65 targets significant public health threats rather than trivial ones. Our research team has a state-funded grant to identify potential improvements to Proposition 65 that could reduce exposure to chemicals that cause breast cancer.
California's toxicology agency, the Office of Environmental Health Hazard Assessment, recently issued new regulations to make Proposition 65 warnings more informative. And regulations to curb abusive litigation under Proposition 65, issued by former Atty. Gen. Kamala Harris, are beginning to have a positive impact.
Coffee may not cause cancer, but Proposition 65 remains a critical public health tool. As the federal government abdicates its responsibility to regulate toxic substances, California's law is an example from which other states can learn.
Dr. Jennifer Liss Ohayon is a research fellow at the Silent Spring Institute and Northeastern University. Claudia Polsky is an assistant professor at UC Berkeley's law school and director of its Environmental Law Clinic.
Follow the Opinion section on Twitter @latimesopinion or Facebook
Our six-week newsletter will help you make the right decision for you and your property.
You may occasionally receive promotional content from the Los Angeles Times.