Op-Ed: For 30 years, California Republicans in D.C. worked to protect the coast. Where are they now?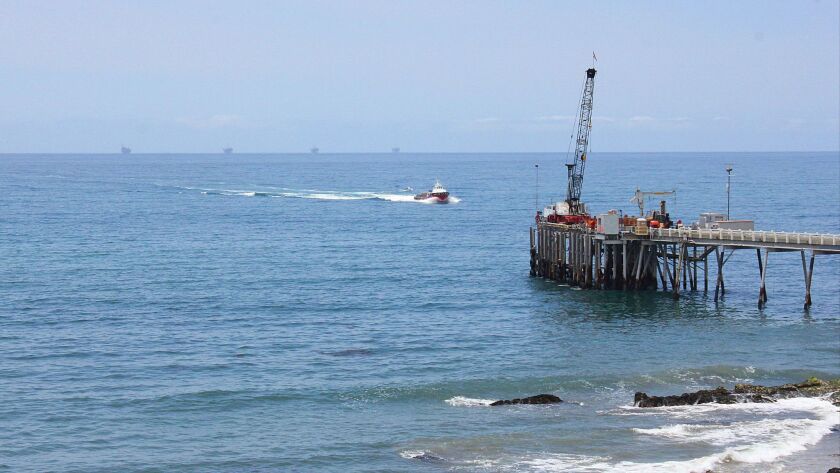 More than 35 years ago, I worked with my Republican colleagues in both houses of Congress to impose a moratorium on offshore oil drilling in federal waters along the California coast. We understood that drilling posed too grave a threat to the state's coastline, one of the nation's greatest natural and commercial assets.
Now that moratorium is at risk. In January, U.S. Interior Secretary Ryan Zinke proposed opening up nearly the entire outer continental shelf of the United States for oil and gas exploration, including seven potential leases in the Pacific, six of them off California's coast. He had the temerity to suggest that the leases would provide billions of dollars "to fund the conservation of our coastlines, public lands and parks."
Californians know better.
We remember the 1969 Santa Barbara oil-rig blowout that unleashed millions of gallons of crude oil, killing seabirds, poisoning seals and dolphins, and coating 35 miles of coastline with up to 6 inches of oil. More recently, a 2015 pipeline leak fouled Refugio State Beach and forced the closure of commercial and recreational fishing for weeks. Cleanup costs topped $90 million.
In 2017 polling, 69% of Californians opposed drilling, and substantial majorities agreed with that position no matter where they lived in the state (inland or beach), or their political party. Many of those voters will be in Sacramento on Thursday to make their views known to Washington at the single public hearing scheduled in the state on Zinke's proposal.
Opposition to drilling is as much about the economy as it is about the environment: Tourism, fishing and ocean recreation sustain tens of billions of dollars of economic activity and hundreds of thousands of jobs in our state annually. It makes no sense to risk damaging that economic vitality with catastrophic oil spills and pollution, especially with the rise in renewable energy sources.
It defies logic that shortly after proposing new leases, Zinke said he would exempt Florida's offshore waters from the drilling plan. He agreed with Gov. Rick Scott that Florida's tourism and beaches should be protected from spills, while ignoring the same consequences in other states. At least 15 coastal governors, one-third of them Republican, have publicly opposed Trump's offshore oil drilling plan.
The United States has clean, renewable energy alternatives; there is simply no need for new oil drilling now.
Since the 1980s, California congressional representatives of both parties have reflected their constituents' views and united to defend our coast. Unfortunately, at the end of January, when 36 Democratic members of Congress from California signed a letter to Zinke urging him to withdraw his proposal, no Republicans joined the effort. I urge all the members of the delegation to align themselves with the wishes of the state.
Our elected representatives also should strongly oppose efforts by the Trump administration to roll back the boundaries or regulations that protect California's national marine sanctuaries. In an April executive order, the president directed the secretary of Commerce to weigh the "opportunity costs associated with potential energy and mineral exploration and production" in these ecologically rich zones, among the most biologically diverse in the world.
I am familiar with the "opportunity costs" that interest the president. In the 1990s I worked with then-Gov. Pete Wilson and San Diego Rep. Bill Lowery to establish the Monterey Bay National Marine Sanctuary. Congress agreed with us that this "Serengeti of the Sea" was a national treasure that should be protected from the perils of drilling.
There have been no new oil leases in federal waters along California's coast for more than 30 years and none in state waters for more than 50 years. Existing leases are reaching the end of their viability and at the same time, California is aggressively — and successfully — reducing its dependence on fossil fuels. The United States has clean, renewable energy alternatives; there is simply no need for new oil drilling now.
In the past, when California has been threatened with offshore oil drilling, Democrats and Republicans in Washington fought successfully to protect the coast. It was a bipartisan responsibility in the 1980s, and it remains a bipartisan responsibility today.
Democrat Leon E. Panetta, former director of the CIA and former secretary of Defense in the Obama administration, represented Monterey in the U.S. House of Representatives from 1977 to 1993.
Follow the Opinion section on Twitter @latimesopinionand Facebook
---
Life is stressful. Our weekly mental wellness newsletter can help.
You may occasionally receive promotional content from the Los Angeles Times.