Op-Ed: A visit from The Donald is the last thing England needs right now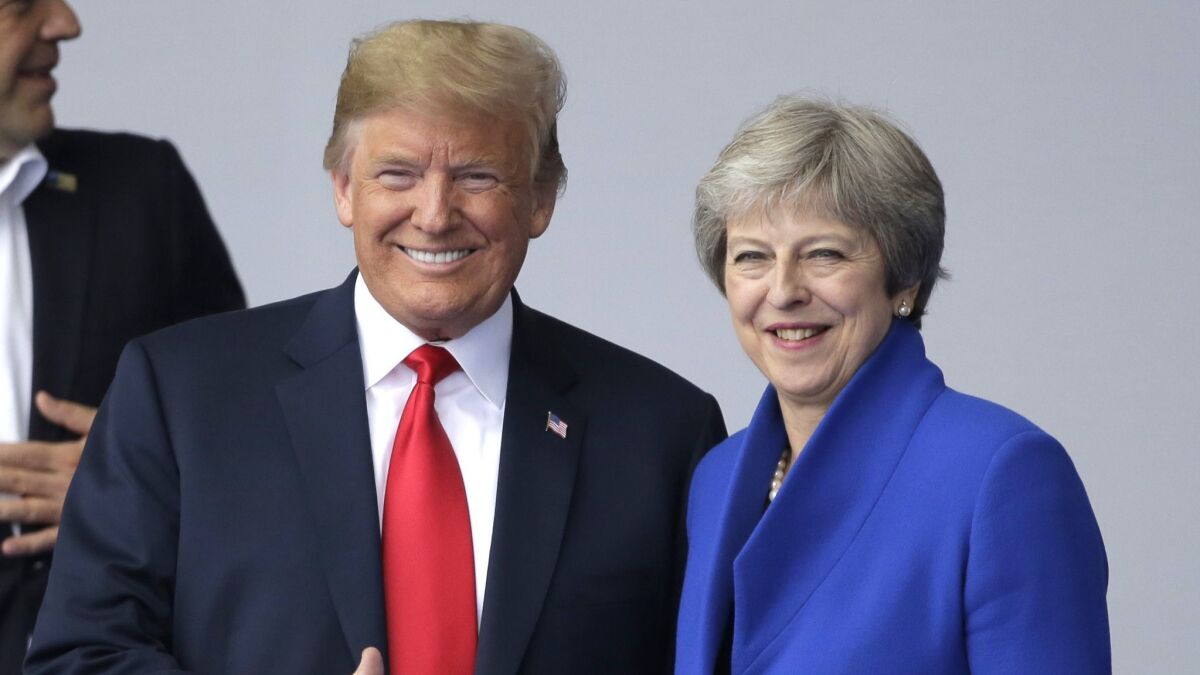 At his final press conference following the NATO summit in Brussels, President Trump was asked some questions about the next leg of his European tour, and he replied, "I'm flying into a hot spot, right?" Sitting here in the hot spot, awaiting the first of Trump's incendiary remarks to be uttered on British soil since he gained office, I can feel the temperature already rising.
It doesn't help that there's been a heat wave in Britain for the past fortnight, one that's seen wildfires burning on the moors above Manchester. Whereas such conflagrations are de rigueur for California in the summer months, they're almost unprecedented in our rainy little northern fastness. And it doesn't help either that the English national side was knocked out of the World Cup on Wednesday evening, plunging this proud nation still further into self-piteous gloom.
But most of all, it's the ongoing turmoil over Britain's departure from the European Union that will set the backdrop to the Descent of the Donald; an event which, for our embattled prime minister, Theresa May, must seem distinctly hellish.
Widely criticized here in the U.K. for not just figuratively, but literally holding hands with him during their first meeting, it's altogether unclear what, if anything, May can do to appease Trump, whose two days in Belgium have seen him lashing out at other NATO members for not paying their full 2%-of-GDP subscriptions to the West's gun club. Oh, and there have been his swipes at Germany for its pipeline deal with Russia. And, most destabilizing of all, his remarks on the resignation of the British foreign secretary, Boris Johnson. Johnson is, according to Trump, "a friend of mine" who's been "very supportive," and it's rumored that the two will meet during the president's sojourn.
For years now — in Afghanistan, in Iraq — Britain has gamely played the role of Little Satan to America's big one.
Johnson's resignation — and that of his erstwhile Cabinet colleague, David Davis, the former Brexit secretary — came earlier this week in response to yet another attempt by May to shore up the consensus in her government for at least some sort of deal with the European Union, before Britain crashes unceremoniously out next March. May's government remains in danger of falling more or less any day, if yet more so-called hard Brexiteers join Johnson and Davis on the back benches. This is hardly a strong position from which to negotiate with the real estate shyster-turned-leader-of-the-free-world that you must, perforce, call your president.
Listen, we feel your pain over there — your pain and your humiliation at being represented abroad by this man. But in return, perhaps you should feel our pain and humiliation, too?
There's a memorable line in Danny Boyle's movie "Trainspotting," when one of the scuzzy Scot junkies produces this acute apercu about his nation's character: "Some hate the English. I don't. They're just wankers. We, on the other hand, are colonized by wankers."
As it is in respect of the Scots and the English, so it is with the British and the Americans. We feel ourselves, each time a Trump or a Bush Jr. arrives on our shores, to have been colonized by wankers, and so our national self-esteem takes a nosedive.
Of course, I don't expect that much sympathy for the British, given that, most of the time, we're only too happy to be colonized by our own former colony. It is the determination of successive British governments to cleave to a relationship they never tire of describing as "special" that has arguably gotten us into this mess.
In fact, it was the last incumbent of the Oval Office who made it perfectly clear that, far from the U.S.-U.K. relationship being special, having broken our ties with the European Union, we'd have to go to "the back of the queue" when it came to preferential trading arrangements. Trump's only making manifest former President Obama's latent threat.
Enter the Fray: First takes on the news of the minute from L.A. Times Opinion »
But what can May do? For years now — in Afghanistan, in Iraq — Britain has gamely played the role of Little Satan to America's big one. In the process, the British military has become a mere auxiliary force, so "inter-operable" does its equipment have to be with that of U.S. Army.
With no independent foreign policy of its own — a situation perfectly exemplified by Johnson's bumbling about on the world stage over the past 18 months — the British government has no realpolitik worth sacrificing its principles for. And sacrificing her principles is what May will be doing over the next couple of days, because there's no spoon long enough when it comes to supping with this particular devil, who demands of his hosts that they brazenly flatter him, while he roundly abuses their hospitality.
As for the demonstrators who'll be filling the streets, and the "baby Trump" blimp, which will wobble overhead, plus ca change is the only possible response. I've seen U.S. president after president burnt in effigy by Britons, but — surprise, surprise — they never seem to get round to canceling their Netflix subscriptions, or otherwise resiling from American hegemony.
Really, the British should be concentrating their ire on their own wankers .… Sorry, I mean "leaders."
Will Self is a novelist and professor of contemporary thought at Brunel University in London.
Follow the Opinion section on Twitter @latimesopinion or Facebook
---
Life is stressful. Our weekly mental wellness newsletter can help.
You may occasionally receive promotional content from the Los Angeles Times.