Op-Ed: Trump has taken a personal interest in freeing American hostages. What's he giving the hostage takers?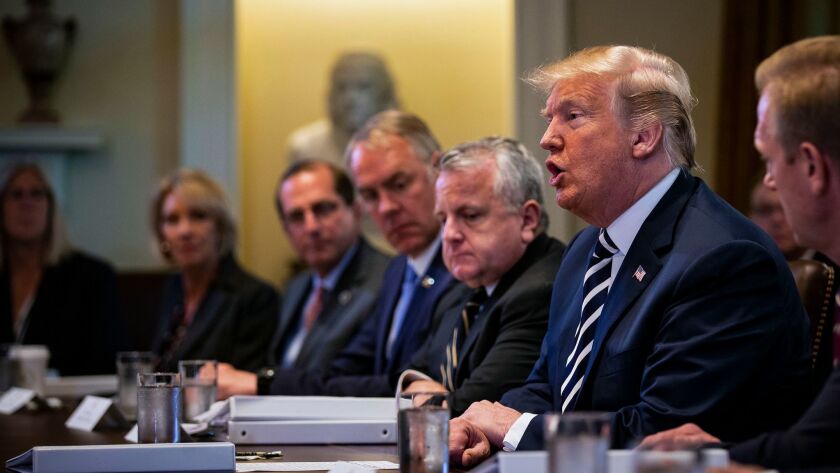 In his first two years in office, President Trump has made the recovery of Americans held hostage or unjustly imprisoned overseas a top priority.
At least a dozen Americans have been freed, including three UCLA basketball players who were detained in China, and Caitlin Coleman, who was rescued along with her family after being held captive by the Taliban for five years.
Trump's approach represents a departure for the United States. Although many European countries routinely pay ransom when their citizens are taken hostage, the U.S. has a no-concessions policy, meaning that it does not negotiate with terrorist groups that take Americans hostage. Washington will engage with hostile governments that unjustly jail Americans, a kind of judicial hostage-taking. President Trump has taken a strong personal interest in both kinds of cases.
Families of American hostages say they are pleased with the responsiveness of the Trump administration. And the photos of freed hostages arriving at Joint Base Andrews or smiling in the Oval Office are certainly political gold for the president.
But when governments negotiate for hostages, there is always a strategic cost. So what exactly is Trump giving up in exchange?
The president has largely flouted the institutional expertise that informs such decision-making.
It is easier to see what Trump is gaining: A stark and largely symbolic contrast with President Obama that, conveniently, can be documented in a photo op.
In the wake of 9/11, a surge in hostage-taking posed a challenge to Western governments around the world. One series of incidents proved particularly trying for the Obama administration.
In 2013 and 2014, Islamic State took dozens of Westerners hostage in Syria. The European hostages were eventually released after their governments made generous ransom payments. The American and British hostages, including the journalists James Foley and Steven J. Sotloff, were murdered.
The families of the Americans were outraged by the lack of support from the Obama administration. They said they felt abandoned by their government. In response, the administration carried out a review of its policy on hostages. As a result of the review, Obama announced in 2015 that, while the no-concessions policy would remain, the U.S. would adopt new protocols to better support families and coordinate responses.
The Trump administration hasn't actually changed the official U.S. policy on hostages. In fact, according to Tom Bossert, who served as homeland security advisor during the first year and a half of the Trump administration, it was one of few Obama policies that incoming officials deemed sound. "There are not a lot of policies from President Obama that I would accept without change," Bossert told me recently. "But the hostage policy is one of them."
Although the continuity in official policy is a good thing, it also indicates that Trump's deviation stems from his personal anti-Obama obsession.
For his part, Obama struggled with hostage cases partly because he was focused on the strategic considerations. He wanted to ensure that foreign governments did not use American prisoners to extract political concessions, and that terrorist groups did not view hostage-taking as a viable means of financing their operations. As a result, Obama was sometimes blind to the humanitarian considerations and the needs of hostage families.
By contrast, Trump grasps the political benefits of securing the release of American hostages and seems to give little thought to the broader strategic considerations.
Consider the case of Aya Hijazi, a children's rights activist who was imprisoned in Egypt in 2014. Hijazi, a citizen of both the U.S. and Egypt, remained in captivity through the last 18 months of the Obama administration despite concerted efforts to win her freedom.
Trump was able to secure Hijazi's release in 2017 by granting Egyptian President Abdel Fattah Sisi a meeting at the White House. "I just want to let everyone know, in case there was any doubt, that we are very much behind President Sisi," Trump declared as the two men sat for the cameras.
Hijazi was immediately acquitted of the ludicrous child-trafficking charges against her and flown out of Egypt on a U.S. military plane. The cost of her freedom, Hijazi learned, was a meeting of her own with Trump at the Oval Office the following morning. At that meeting, Trump gloated that he was able to free Hijazi while Obama was not.
Trump's photo op with Hijazi served the interests of Sisi, since it enabled the Egyptian government to portray Hijazi as an American spy. Sisi was also relieved of any U.S. pressure to temper his brutal crackdown in Egypt.
"As an individual, I'm grateful to be free," Hijazi told me recently. "But the larger foreign policy is compromised. It sends a really dark message to the Middle East."
Enter the Fray: First takes on the news of the minute »
Other cases raise similar concerns. For instance, was the American college student Otto Warmbier released from North Korea as part of Trump's agreement to hold a summit with Kim Jong Un? If so, did that deal make it more difficult to hold North Korea accountable for its treatment of Warmbier? When he was released in September 2017, Warmbier was in a coma. He died shortly after.
And last October, the Turkish government freed the American pastor Andrew Brunson, who had been detained for 24 months. What did Turkey get in exchange?
As Brian Jenkins, an expert on counterterrorism and hostage policy at Rand Corp., recently told me, hostage cases are "political dynamite." Governments need maximum flexibility to resolve these situations. Because of the complexity of each case, and because decision-making is often based on classified information, we have to trust our elected leaders to do what's right, balancing strategic interests and humanitarian concerns.
The Trump administration should be commended for its efforts to win the freedom of American hostages. But the president has largely flouted the institutional expertise that informs such decision-making. The result is a personalization and politicization of hostage recovery that is inherently dangerous.
Joel Simon is executive director of the Committee to Protect Journalists and author of "We Want to Negotiate: The Secret World of Hostages, Kidnapping and Ransom." He will be speaking at the Los Angeles Central Library on Jan. 31.
Follow the Opinion section on Twitter @latimesopinion or Facebook
---
A cure for the common opinion
Get thought-provoking perspectives with our weekly newsletter.
You may occasionally receive promotional content from the Los Angeles Times.