Op-Ed: National Republicans say they care about Roy Moore's sex abuse scandal. What about all his other offenses?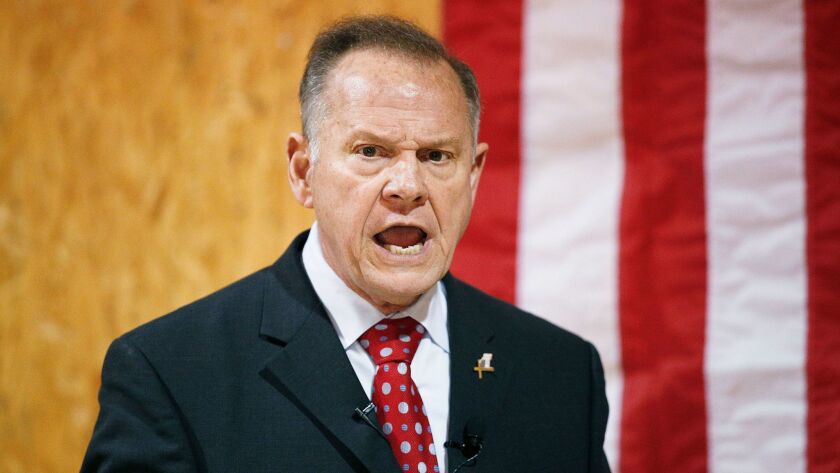 Trent Lott was the second-ranking Republican in the U.S. Senate in 2002 when his reputation tanked. His downfall began with remarks he made at a 100th birthday celebration for Strom Thurmond, the former Dixiecrat senator from South Carolina whose 1948 presidential platform was too racist even for 1948. Lott, a Mississippian, reportedly said at the event: "When Strom Thurmond ran for president, we voted for him. We're proud of it. And if the rest of the country had followed our lead, we wouldn't have had all these problems over the years, either." He apologized and resigned his Senate leadership position about two weeks later. He left his seat in five years' time.
If he'd known what his party would become, he might have stuck it out. Alabama Republican Roy Moore's U.S. Senate campaign, which will end on Tuesday, one way or another, signals that the GOP isn't pretending anymore on matters of race.
Race? You might have been expecting the word gender. But that's the thing. What's really telling about the Moore situation is not just that Alabama Republicans have rallied behind him through thick and thin. It's what the national Republicans who've condemned one of their own have considered beyond the pale (sex assault accusations), versus what they've implicitly shrugged off as acceptable (racism).
[Moore] is not only an accused sexual assailant, but also a bigot.
Moore's transparent bigotry is a matter of public record. In September, a black man at a Florence, Ala., rally asked Moore the last time America was "great." Moore replied, "I think it was great at the time when families were united — even though we had slavery — they cared for one another."
In a 2011 radio interview, Moore said that striking all Constitutional amendments after the 10th — including those that guaranteed citizenship to people who look like me and gave the vote to women — "would eliminate many problems."
In 2006, Moore said Muslims should not be allowed to serve in Congress.
Some conservatives were outraged by those statements. Those conservatives did not, however, create an organized, official movement to keep Moore out of office. What set off the GOP leadership was that Moore has been accused of molesting a 14-year-old girl, attempting to rape a 17-year-old and pursuing several other teenagers romantically, all while he was in his thirties.
I'm not trying to minimize Moore's sexual offenses. They're horrific. I'm merely pointing out that he's not only an accused sexual assailant, but also a bigot — and the latter should have been enough to shame the GOP leadership into condemning or even abandoning Moore. It wasn't.
President Trump got the same treatment during the 2016 campaign. He called Mexicans "rapists" and proposed a Muslim ban. Republicans shook their heads. Only the "Access Hollywood" tape, in which Trump bragged that he'd sexually assaulted women, caused Republicans elected officials to withdraw their endorsements en masse — temporarily.
Democrats follow Republicans in focusing on sexual offenses above all others.
New Jersey Sen. Cory Booker is one of a few Democrats who, in recent days, has called for Trump to resign due to the credible allegations of sexual abuse against him. Fine. But what about the brutal immigration enforcement activities that he has instigated? The abandonment of police reform efforts by his Justice Department? How about Trump's history of housing discrimination and racist remarks?
Admittedly, the fight for accountability is already an asymmetrical one. Democrats seem insistent upon living up to character standards that Republicans have no intention of meeting. It would be better, though, if Democrats were more consistent — if they did not wait to raise a fuss until a certain kind of disqualifying act took place.
Perhaps the late Democratic push for black votes will work, the voter suppression will not, and Alabama will shock the world by electing Moore's Democratic opponent, Doug Jones. But if Moore wins that vacant Senate seat, as most expect he will, he should take to the podium at his celebration party and thank his lucky stars that times have changed since the days of Trent Lott. The sex assault allegations almost did him in, but the racist comments were never much of a problem.
Jamil Smith is a contributing writer to Opinion.
Follow the Opinion section on Twitter @latimesopinion or Facebook
---
A cure for the common opinion
Get thought-provoking perspectives with our weekly newsletter.
You may occasionally receive promotional content from the Los Angeles Times.