Op-Ed: Beyoncé's Grammy snub and the glass ceiling on black art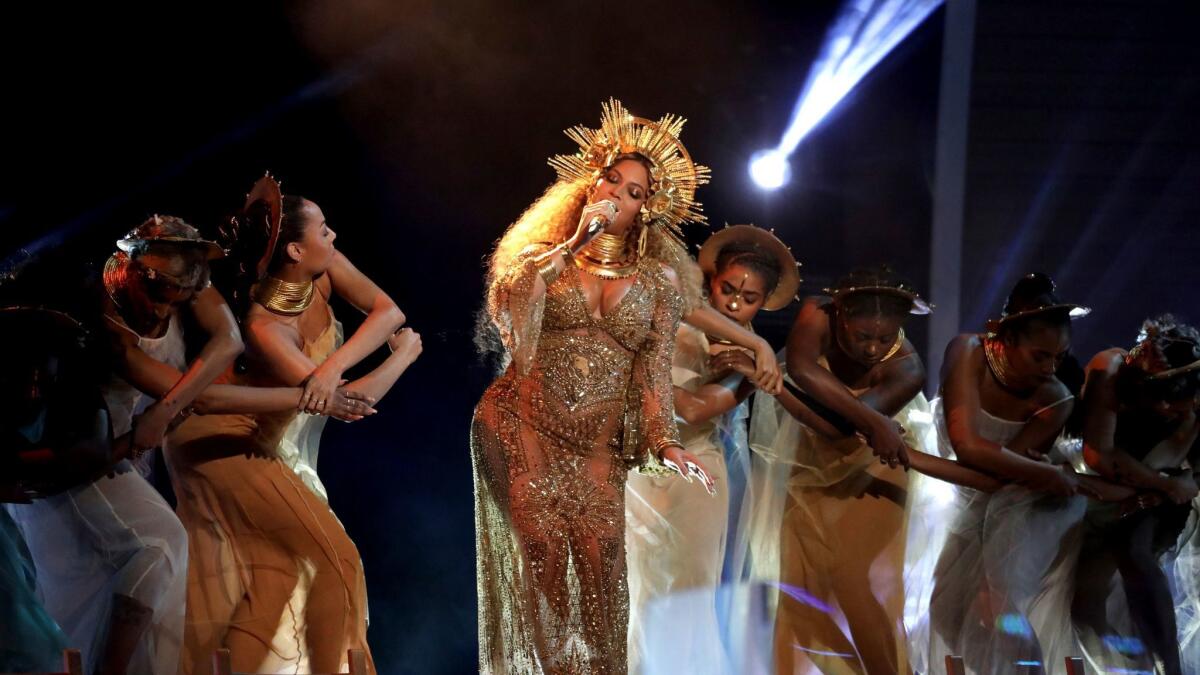 Beyoncé and Adele went head-to-head four times at the Grammy Awards on Sunday night. Both were nominated for album of the year, song of the year, record of the year, and best pop solo performance. In every category, Adele was awarded the Grammy. Every time, Beyoncé, the peerless pop music icon of our time, was told she came in second at best.
This should be a shock. While Adele's singular voice, talent, and devotion to her craft are undeniable, Beyoncé's "Lemonade" was as complete an artistic statement as we have seen in our fractured pop moment — a one-of-a-kind visual album comprised of genre-crossing track after track, conceived and produced on a scale unrivaled by any artist, living or dead. It was also a pitch-perfect rallying cry for black women to get in formation, their allies behind them, and forge a way forward despite the human imperfections of the men in their lives.
And yet, sadly, it isn't. Unequaled artists have long bumped up against the glass ceiling that awards shows impose on black excellence.
This happened last year, of course, when Kendrick Lamar lost to Taylor Swift for album of the year. Lamar had won for best rap album and best rap song for his masterwork, "To Pimp a Butterfly," but despite higher critical acclaim and an undeniable political relevance, the album did not win in the mainstream category. The message was clear: Making the cut into the nominations for album of the year should be perceived as victory enough for artists of color, even if they go on to lose to white artists.
It happened the year before that too, when Beyoncé lost the Grammy for album of the year to Beck.
Like many people of color unsurprised by the election of Donald Trump, Beyoncé knows the ceiling is centuries thick.
And as few could forget, it happened at the 2009 MTV Music Video Awards, when Beyoncé lost to Taylor Swift for best female video, prompting Kanye West to interrupt Swift's acceptance speech.
Whatever you think of Kanye's grandstanding, the numbers are telling. The last black artist to win the Grammy for album of the year was Herbie Hancock, nine years ago. The last black woman to win album of the year was Lauryn Hill, in 1999. Only three black women have ever won the award for album of the year. It has been handed out 59 times.
In Beyoncé's case, the numbers are particularly striking. She is the most Grammy-nominated woman ever, with 62 nominations and 22 wins, but her win rate of 35% is markedly low. Alison Krauss, the white country singer who has 27 wins for 42 nominations, is almost twice as likely to win when nominated than Beyoncé.
Eighteen of Beyoncé's 22 wins have come in overtly racialized categories, such as R&B and rap. She has only one win in the "big three" categories – best album, best song, best record – despite 11 nominations in them. This year marks the third time Beyoncé has been nominated for album of the year. She has lost to Taylor Swift, Beck, and Adele.
As outrage erupted over Beyoncé's loss, the music critic Ann Powers offered some context on Twitter. "Grammy voters are recording industry pros: engineers, players. They like high craft. Adele was tailor made," she wrote. "I've had many people say to me, #LEMONADE was great but not as music," she added, suggesting that music industry insiders see albums like "Lemonade" as an achievement in pop art, but not necessarily in musicianship.
In response to a similar blow-up over Beyoncé's loss to Beck in 2015, Beck's defenders criticized her lyrics, production team, and instrument credits. The subtext: The highly produced music Beyoncé puts out is both unsophisticated (read: too black) and somehow less her own.
Even Adele, who later broke her trophy in half and gave part of its golden gramophone to Beyoncé, registered that "Lemonade" was the more deserving album: "I can't possibly accept this award," she said onstage. "This album for me, the 'Lemonade' album, was so monumental."
Indeed, the only person in the room who seemed unfazed by the loss was Beyoncé herself. Like many people of color unsurprised by the election of Donald Trump, she knows the ceiling is centuries thick and, it would appear, made of shatterproof glass.
Black women "experience pain and loss and often we become inaudible," she said in her acceptance speech for best urban contemporary album, so baldy a racist catchall category as to be largely meaningless. "My intention for the film and album was to create a body of work that would give a voice to our pain, our struggles, or darkness, and our history. To confront issues that make us uncomfortable. I feel it is vital that we learn from the past and recognize our tendencies to repeat our own mistakes."
Another year, and the Grammys are none the wiser.
John Vilanova (@JohnVilanova) is a doctoral candidate at the Annenberg School for Communication at the University of Pennsylvania and the managing editor of MusiQology.com.
Follow the Opinion section on Twitter @latimesopinion or Facebook
A cure for the common opinion
Get thought-provoking perspectives with our weekly newsletter.
You may occasionally receive promotional content from the Los Angeles Times.