Op-Ed: Punishing the PLO isn't going to win Trump any 'deal of the century'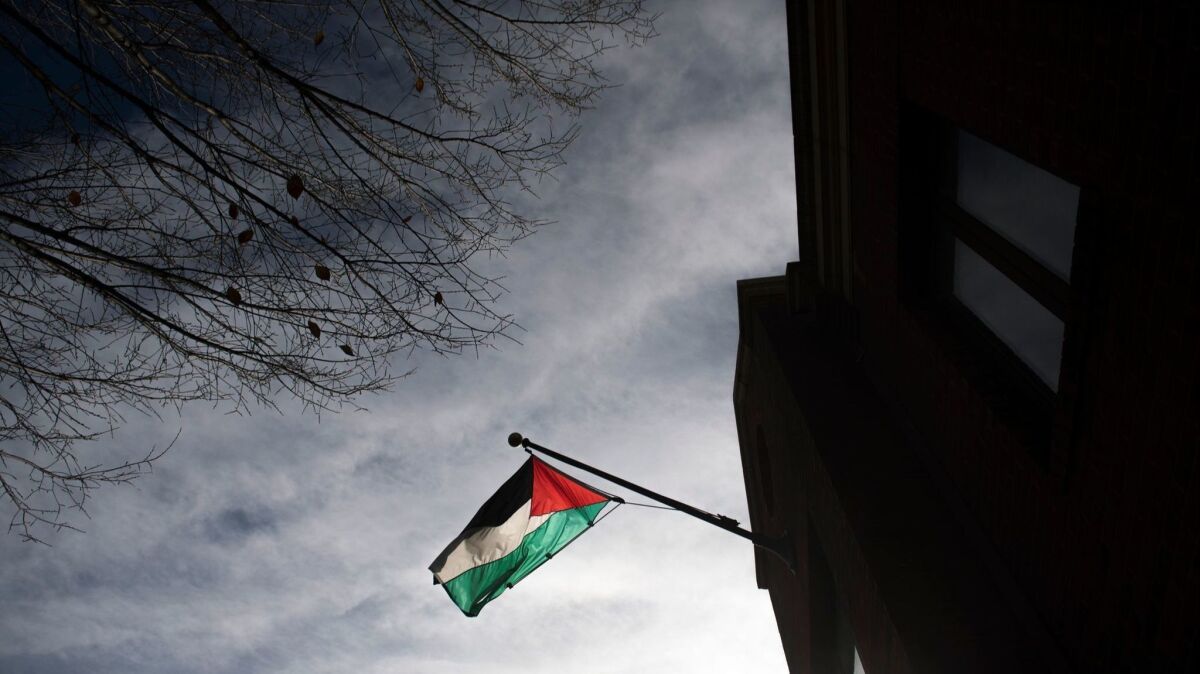 The Trump administration's decision to close the Palestine Liberation Organization's office in Washington this week is the latest in a series of punitive actions it has taken against the Palestinians. The purpose is clear: to force the PLO and its ailing octogenarian leader, Mahmoud Abbas, to restart peace talks with Israel, and, ultimately, to accept the administration's long-awaited peace plan. This strategy of coercion and collective punishment is bound to fail.
In a pre-Rosh Hashanah conference call with American Jewish communal leaders and rabbis last week, President Trump bluntly expressed the rationale behind the earlier decisions to slash U.S. funding to the Palestinian Authority and defund UNWRA, the United Nations agency responsible for Palestinian refugees. "I told them [the Palestinians], we're not paying you until we make a deal. If we don't make a deal, we're not paying," the president explained.
Trump apparently believes that the way to make the "deal of the century" between Israel and the Palestinians is to coddle the former and strong-arm the latter, primarily through financial pressure. Convinced that he has taken one hot-button issue off the table by recognizing Jerusalem as Israel's capital and moving the U.S. Embassy there, Trump is now trying to force the Palestinians to abandon longstanding demands for a capital in East Jerusalem and the right of return for Palestinian refugees.
The Trump administration should be trying to encourage Israelis and Palestinians to want to make peace with each other.
Abbas has so far responded by refusing to meet with Trump's envoys, Jared Kushner and Jason Greenblatt, nor, reportedly, with Trump himself unless he fires them. Such defiance is hardly surprising given Trump's unpopularity among Palestinians and their long history of stubborn resistance to Israeli coercion and American pressure. The Palestinians have rejected many peace plans as far back as late 1930s, and there is no reason to expect that they will capitulate now — especially since the Trump administration's still undisclosed peace plan is reportedly much more pro-Israel than any of its predecessors.
Instead of pressuring the Palestinians to make peace on Israel's terms — or more precisely, on Prime Minister Benjamin Netanyahu's terms — the Trump administration should be trying to encourage Israelis and Palestinians to want to make peace with each other.
Since the collapse of the Oslo peace process and the outbreak of the second Intifada, both sides have given up their hopes for peace. They deeply distrust each other. They're both convinced that the other side is not genuinely interested in peace — or, at least, is not willing to make the compromises necessary to achieve it.
Overcoming this mistrust is imperative. Ignoring the prevailing climate of opinion among Israelis and Palestinians — marked by high levels of hostility, suspicion, prejudice and mutually exclusive feelings of victimhood — will doom any peace initiative, even one that is reasonably fair to both sides.
The failure of the Oslo peace accords — the first of which was signed with much fanfare 25 years ago Thursday — provides a cautionary tale in this respect. Although there are many reasons the Oslo accords didn't lead to a permanent peace agreement (as even the Nobel Peace Prize committee expected they would), one important factor was the lack of public support for the major concessions that both sides needed to make. Without that, Israeli and Palestinian political leaders were reluctant to risk their jobs — and possibly their lives — by making compromises, especially on the future of Jerusalem and its holy sites.
But any peace agreement inevitably demands such concessions. It is essential, therefore, to build public support for that idea and to restore some hope among Israelis and Palestinians if there is ever again to be an atmosphere conducive to peacemaking. This means engaging in "peacebuilding," before peacemaking.
Enter the Fray: First takes on the news of the minute from L.A. Times Opinion »
Peacebuilding encompasses a wide range of civil society activities that promote communication, cooperation and reconciliation between members of warring groups. Peacebuilding can forge positive relationships between Israelis and Palestinians, promote greater understanding and empathy between them, and hence create constituencies for peace. It takes time, effort and money to improve attitudes and perceptions on both sides, but it can be done.
In fact, it's already happening in countless small ways through projects engaging Israelis and Palestinians, most of which are barely known and receive little funding. Many are dialogue and encounter programs, often involving women and youth, but a growing number of initiatives focus on joint activities addressing shared interests and concerns, such as economic development and environmental protection. These people-to-people projects can have a transformative impact, first on the lives of those who take part in them, then ultimately on the whole Israeli-Palestinian conflict if it stops being seen in a zero-sum manner.
Twenty years ago, another bitter, long-running conflict that was also believed to be intractable — the one between Protestants and Catholics in Northern Ireland — ended with the signing of the Good Friday agreement. What brought this about was not only high-level diplomacy (including some American pressure), but also years of well-funded peacebuilding projects connecting members of the rival communities.
Peacebuilding helped the Good Friday agreement succeed, whereas a lack of peacebuilding undermined the Oslo accords. If Trump wants to achieve the deal of the century, then his administration should invest in Israeli-Palestinian peacebuilding, not divest from the Palestinians.
Dov Waxman is a political science and international affairs professor at Northeastern University and the author of "Trouble in the Tribe: The American Jewish Conflict over Israel."
Follow the Opinion section on Twitter @latimesopinionand Facebook
---
Life is stressful. Our weekly mental wellness newsletter can help.
You may occasionally receive promotional content from the Los Angeles Times.