Op-Ed: Why won't UC health centers provide birth control without a prescription?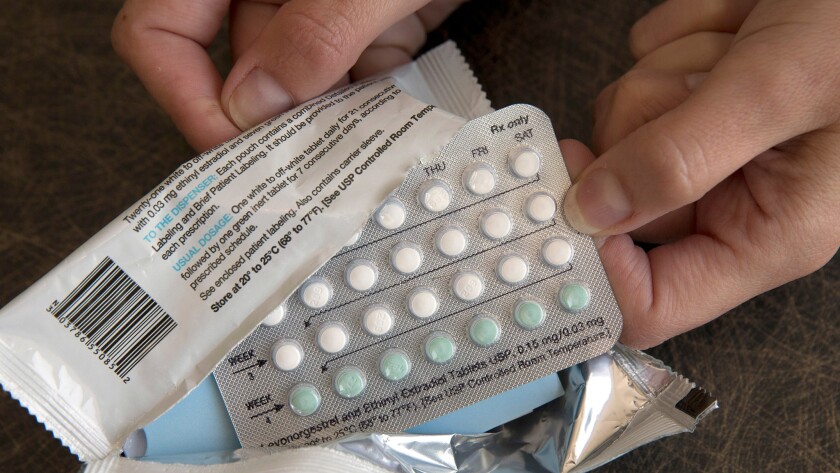 On Aug. 6, 2013, just weeks after Janet Napolitano was named the first woman president of the University of California, the institution offered its complete support for a bill, SB 493, known as the "pharmacist protocol." After unanimous legislative approval, Gov. Jerry Brown signed the bill into law, which permits pharmacists to furnish self-administered hormonal contraceptives (birth control) to women without a prescription from a physician. The law also outlines training standards to make implementation as practicable as possible.
Under the pharmacist protocol, women seeking birth control are no longer required to endure yearly pelvic exams or the wait times associated with them—which aligns with the medical consensus advising against annual exams for healthy women. It marks a turning point in feminist history, removing paternalistic barriers to women's agency over their bodies.
Yet nearly three years after President Napolitano's office supported the passage of the pharmacist protocol, no UC school has implemented it on campus or even made a sincere attempt to do so. Physician visits, and in many cases yearly pelvic exams, are still required, despite the well-known facts that unintended pregnancies are highest among college-age students 18 to 24 years old, and that half of all California pregnancies are unintended.
Privacy concerns for birth control are no different than any other medication.
As women students at UC Irvine School of Law who pay for the UC system's health plan and believe in public education, we are compelled to speak up. We were hesitant to comment publicly, especially in light of the offensive commentary and death threats aimed at Sandra Fluke for her advocacy regarding birth control at Georgetown University. But timely access to birth control is of paramount importance to women who may need it to prevent pregnancy, plan their menstruation, and control other important medical issues, such as endometriosis and primary ovarian insufficiency.
This is not our first attempt to engage with UC administrators about the pharmacist protocol. In May, we met on numerous occasions with the UC Irvine Student Health Center's Clinical Staff Committee and the director of UC Health. The committee assured us they would implement the protocol in the Student Health Center by August.
Despite these assurances, and after months of advocacy, which included our Birth Control Access Petition signed by hundreds of students and alumni, the Irvine Student Health Center only removed the pelvic exam requirement for obtaining birth control refills. Women are still forced to schedule and wait—sometimes months—for an initial visit.
This is a serious problem. Even the Irvine Student Health Center's administrative director has acknowledged that women's access to timely consultations and prescriptions has been hampered by primary care appointments. The UC system has a constitutional duty to provide services to students equally, yet its choice not to adopt the protocol in its health centers disparately affects women.
Why have UC Health administrators refused to implement the protocol that President Napolitano's office supported? They claim that the protocol will burden students with long pharmacy wait times, but they have not produced evidence to support this assertion. Besides, under the current system women students are burdened with long wait times for primary care appointments.
UC Health administrators also claim that the protocol will diminish women's privacy at the pharmacy window, but privacy concerns for birth control are no different than any other medication, according to HIPAA's Privacy Rule.
Finally, again without evidence, they claim that the protocol will require hiring more pharmacists. The UC system has had more than three years to set aside funding for the protocol—years in which there has been plenty of funding for unnecessary pelvic exams.
The pharmacist protocol is the only option that doesn't require women to jump through hoops to get to the pharmacy window. Incidentally, the UC system's failure to put this law into practice across its student health centers hurts low-income, rural, and first- generation women students. These students rely on the convenience and low cost of student health insurance plans. In order to take advantage of the pharmacist protocol, they bear the burden of finding transportation to participating pharmacies off-campus and paying higher prices. UC advocated on behalf of these students before the pharmacist protocol became law, but has now forgotten them.
The UC system's commitment to equality should not end in the admissions office. The University of California—and President Napolitano—must do better for women students. Women deserve equal access to reproductive health services, and the pharmacist protocol provides that.
Olivia Weber, Ali Chabot, and Laura Lively are third-year law students at UC Irvine School of Law.
Follow the Opinion section on Twitter @latimesopinion or Facebook
---
Life is stressful. Our weekly mental wellness newsletter can help.
You may occasionally receive promotional content from the Los Angeles Times.