Op-Ed: Mourning for Malibu like a local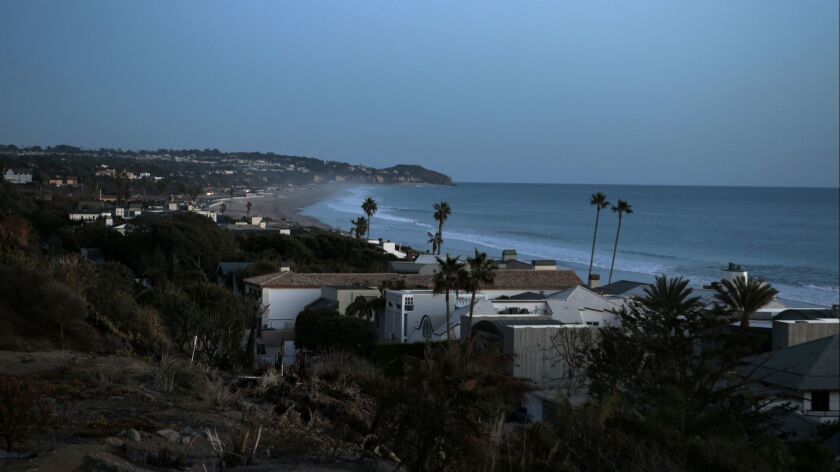 When the Woolsey fire jumped the 101, my wife and I were 40 miles away in West Hollywood. Our two daughters were busy with their college lives in Portland, Ore., and New Orleans. But at the moment that Kanan Dume Road was set aflame, those separate worlds all telescoped in on a seven-mile stretch of land that is among the most picturesque in the world: north Malibu. My wife Lynn and I had raised our kids there, but had moved away just earlier this year, empty nesters looking to downsize.
It was clear the Woolsey fire was yet another mega event, the "new abnormal" as our departing governor says. We sat there, stunned and quietly sobbing. Lynn was mourning the community that she loved, where she had forged relationships that she knew would endure. If I had to sort out my feelings at that moment, it would be some combination of rage, relief and survivor's guilt.
We'd left Malibu after 13 years for myriad reasons, but for me, selfish motives were at play. I wanted a shorter commute to work in Santa Monica; I wanted urban vitality and diversity; I wanted a decent meal at 2 a.m. if necessary. There was also Malibu's transformation into a tourist hive: A thicket of cars and people choked Pacific Coast Highway during the summer months. Malibu had lost its sleepy allure. I wanted out.
I felt terrible that we had abandoned Malibu for an ostensibly better place. There was, of course, no place better.
In the Alcoholics Anonymous literature, there is a word for this kind of thing. It's called a "Geographic" — the notion that whatever is making you unhappy can be solved by moving elsewhere. It never works. Any misery I blamed on Malibu was unfounded and misguided, a feint away from my own untreated depression. Now that there was the possibility that it would burn beyond recognition, I felt terrible that we had abandoned it for an ostensibly better place. There was, of course, no place better.
Malibu is out there, it's true. It's suffering the pains of a small city trying to accommodate a growing population. Fire is a fact of life. It's geographically remote, and a place apart in other ways. Yes, it's affluent, sometimes obnoxiously so. But what outsiders fail to grasp is that, at its heart, Malibu nurtures the best of you, the part that wants to revel in nature and cultivate community. People look out for one another there, and that's all anyone can ask for in a town.
I had left Malibu, another carpetbagger who'd failed to appreciate the gifts the city had given me. My daughters were inconsolable when we moved in January. They made quick business of packing up, as if to beat back their heartbreak. Now, it was loss compounded. But what of the house?
It became clear that the streets surrounding ours had burned. Calpine, Harvester, Busch — to hear these street names in this context was like hearing the names of old friends who had been injured together in a horrible accident. The neighborhood had been hit hard, but there was no way of knowing if the house had survived.
As the Woolsey fire continued its greedy land grab last weekend, the whole family watched TV from our various cities, remote and helpless. Would our old house be left standing? As a producer of reality TV, I know that "closure" is an artificial construct, but that's exactly what my family was now looking for.
We frantically scoured the endless flyby helicopter shots that told us nothing. Had Malibu Seafood on PCH had burned down? Vintage Groceries on Trancas was surely gone. And what about Point Dume Plaza, where Lily Castro had served breakfast burritos and fish tacos to generations of locals? That strip mall was the zocalo of north Malibu. It would be hard to fathom Malibu without it.
Enter the Fray: First takes on the news of the minute from L.A. Times Opinion »
Lynn and I were in a fugue state, incapable of articulating anything beyond resigned sighs. Hours went by without our realizing it. Then our youngest daughter, Allegra, FaceTimed us from Louisiana. She had been scouring the internet, crosschecking social media with news reports in an attempt to triangulate our neighborhood. After a sleepless day and a half, she'd found the house. It was intact.
I needed proof. Allegra pointed her phone at her laptop screen. It was one of hundreds of flyby shots we had been dumbly staring at since Friday. Then she hit the space bar and zoomed in. It was unmistakably the house, and it was still standing. The house behind it had burned down. So had another up the block.
It meant everything, and it meant nothing. We weren't, after all, among the locals — the evacuated, the suffering, those confronting so much loss, and those who are already at work trying to heal a community. That Sunday, wrung out and in need of a drive, I dug out a hat I'd put away and forgotten about after our move. LOCALS ONLY it said. I used to find the expression of Malibu exceptionalism off-putting. Not any more.
Marc Weingarten is a TV producer and writer. He is the author of "Thirsty: William Mulholland, California Water, and the Real Chinatown."
Follow the Opinion section on Twitter @latimesopinionand Facebook
---
A cure for the common opinion
Get thought-provoking perspectives with our weekly newsletter.
You may occasionally receive promotional content from the Los Angeles Times.