Op-Ed: America's biggest brands are increasingly multilingual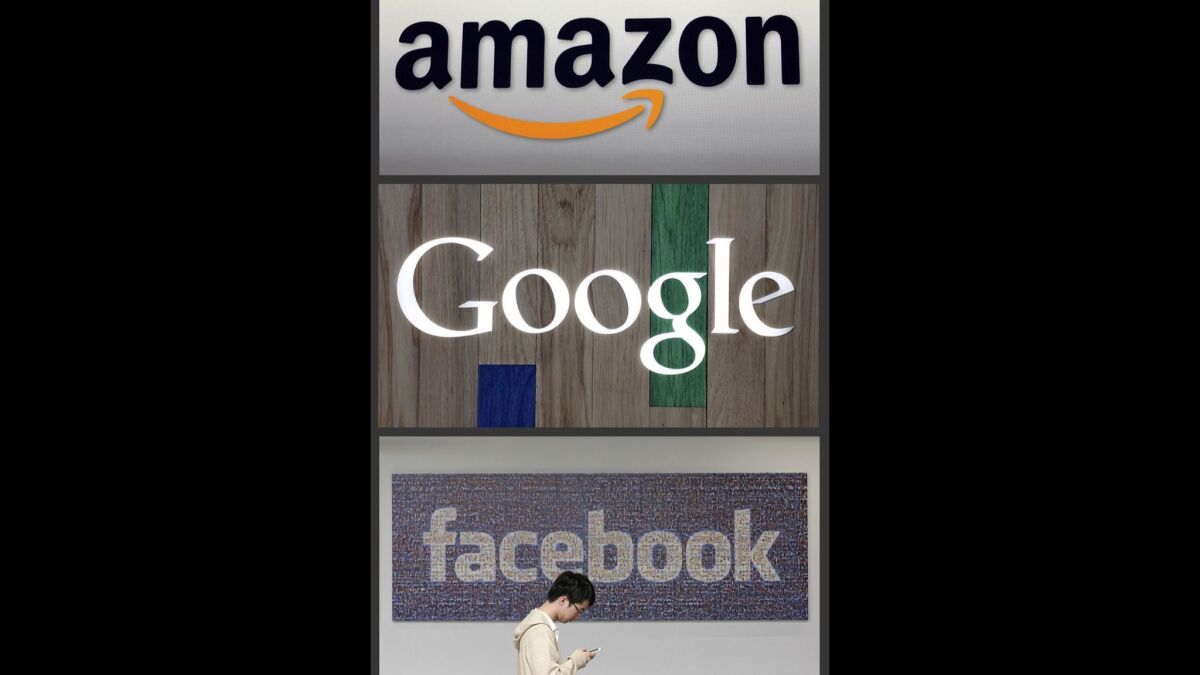 Over the past two years, despite tariffs and trade impasses, Brexit and the border wall, American companies have been expanding their global reach by increasing the number of languages they speak.
Consider Amazon. Since 2017, the company has added Czech, Hindi and Tamil to one or more of its websites in recent years. Amazon had five country-specific websites outside of the U.S. in 2003: Canada, Germany, France, Japan and the U.K. Today it operates 15 such sites, which together support 18 different languages.
Or take Netflix. Last year, the company added two more languages to its global website: Indonesian and French for its Canadian viewers. All told, Netflix has nearly doubled its linguistic reach over the past two years, from 17 to 26 languages.
Uber has added seven languages to its apps and websites in the past year alone. It has also launched an Uber Lite app for its customers in India and other emerging markets, where smartphones are less common and mobile networks less predictable.
The internet may connect devices, but language connects people.
It's not just tech companies that have invested in speaking more of the world's languages. Starbucks, MasterCard and the consulting firm Accenture have all become more multilingual in the past year, allowing them to communicate with hundreds of millions of additional customers around the world.
John Deere's website speaks in 32 languages, Ford speaks 42 languages and even Jack Daniel's is fluent in 23 languages.
American politicians may speak the rhetoric of isolationism, but American companies are speaking a different language — quite a lot of them. Through their websites, apps and other products, America's leading global brands now speak an average of 32 languages.
Some companies — including Google, Microsoft and Facebook — surpassed 32 languages years ago.
There are more than 4.1 billion internet users in the world, and fewer than a quarter of them are native English speakers. If you want to communicate with 90% of the world's internet users, your sites had better speak at least 40 languages. Google and Facebook each support a dozen different languages spoken in India alone.
One of the world's most multilingual businesses is not a company at all but a nonprofit: Wikipedia. It speaks more than 280 languages.
This expansion has been going strong for 15 years. I have been tracking global websites for that long, and rare is the year when more than a handful of companies reduce the number of languages they speak.
Sometimes companies overestimate the market they will find in a new country. That was the case with WalMart's expansion into Germany, and it withdrew from that country in 2006.
Other times, macroeconomic factors are to blame. A number of American companies, such as Ebay and Reebok, dropped their Greece-specific websites during that country's economic recession. But the larger trend remains one of growing multilingualism.
Enter the Fray: First takes on the news of the minute »
In one sense, this is not new. Although some would suggest that isolationism somehow harkens back to the good old days, those days never truly existed. The forces of globalization have been with us since the Silk Road.
But we used to be more isolated from one another. Before the internet, one had to leave the country in order to leave the country. We are now only a click away from languages we once had to cross an ocean to encounter.
This can be intimidating. But as America's biggest companies know, it's no time to pull back. Globalization may be messy, but it's not the enemy. We have far more to fear from ignorance.
When global companies add new languages to their products, they can assimilate into ever more regions of the world. They've got the right idea. The internet may connect devices, but language connects people. They've got the right idea. The internet may connect devices, but language connects people.
John Yunker is the author of "Think Outside the Country: A Guide to Going Global and Succeeding in the Translation Economy" and a co-founder of Byte Level Research.
Follow the Opinion section on Twitter @latimesopinion or Facebook
Life is stressful. Our weekly mental wellness newsletter can help.
You may occasionally receive promotional content from the Los Angeles Times.