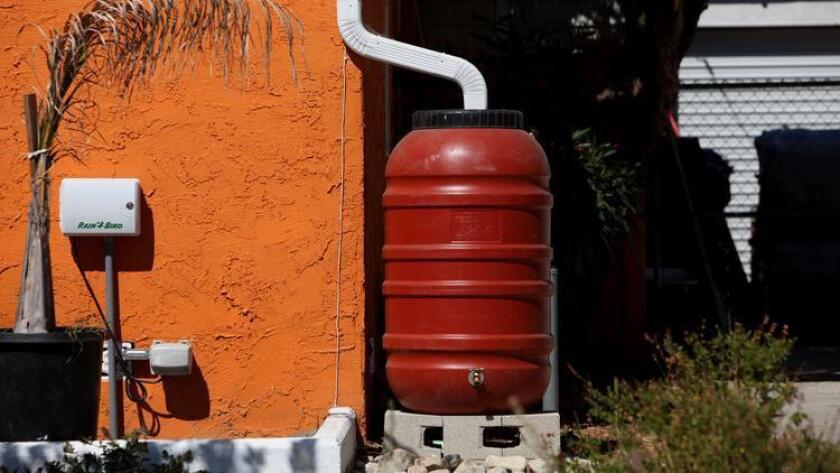 Guest blogger
I like recycling. I like innovative solutions to California's drought. And I like ice cold Coca-Cola. So I figured I'd love Mayor Eric Garcetti's announcement last week that the city will provide 1,000 free rain collection barrels -- and workshops on how to use them -- to residents around the city in partnership with Coca-Cola and Keep Los Angeles Beautiful.
Rain collection in the parched L.A.! Now there's a long overdue idea. And yeah, it's mildly dystopian that the donated materials are recycled 55-gallon corn syrup barrels, the sketchy ingredient in the company's sugary drinks, but beggars can't be choosers, right?
Judging from the city's HGTV-esque installation video, residents who were lucky enough to score a barrel stand to collect a lot of water for gardening and other "non-drinkable" activities -- assuming it rains again one day. One inch of rainfall on a 1,200 square foot roof can produce up to 700 gallons of water. My back of the envelope math concludes that, if L.A. someday returns to its historic average of around 15 inches of annual rainfall, 1,000 properly installed barrels could collect more than 10 million gallons of rain.
Coca-Cola has been doing these kinds of projects in communities around the world as part of its Water Stewardship plan. It says all the right things on its splashy website about how water is our most precious resource. That's because, by its own admission, "Water is to Coca-Cola as clean energy is to BP." Which is to say that Coca-Cola operations have wreaked havoc on the environment -- and now it needs to do something about it before the damage starts to jeopardize its reputation -- and its operations.
If you ask Coca-Cola, it's done a pretty good job of meeting its sustainability goals, although some observers are understandably skeptical that these kinds of corporate sustainability initiatives do much good. Certainly something is better than nothing. And the largest companies can be our largest levers for change -- even if it's just to protect their bottom lines.
Yet just like it's common sense to start collecting rainwater in L.A., it's also common sense to stop collecting your bottled water from one of the most drought stricken areas of the country. Coca-Cola draws its water from municipal systems in the Bay Area and elsewhere -- and it should be mentioned that Coca-Cola is not alone. Meanwhile, residents across the state face restrictions on usage.
So thank you, Coca-Cola, for the corn syrup barrels. Please drop more off before the next rain. (The first 1,000 are already spoken for.) Let's recycle more of those old containers and install one in every house in the city. I hope they collect so much water that by next spring, families around the city are running around their yards, having water fights with rainwater. It'll be like a Coke commercial.
But while you're hosing down those corn syrup barrels, why don't you also put some thought to how you can phase out bottled water operations in California and other water-stressed areas? Now that would be refreshing.
Chris Feliciano Arnold is a recipient of a 2014 Literature Fellowship from the National Endowment of the Arts. He has written essays for the Atlantic, Salon, the Millions, the Rumpus and Los Angeles Review of Books. Follow him on Twitter @chrisarnold.
Follow the Opinion section on Twitter @latimesopinion
---