CVS stubs out tobacco sales, a step other companies should take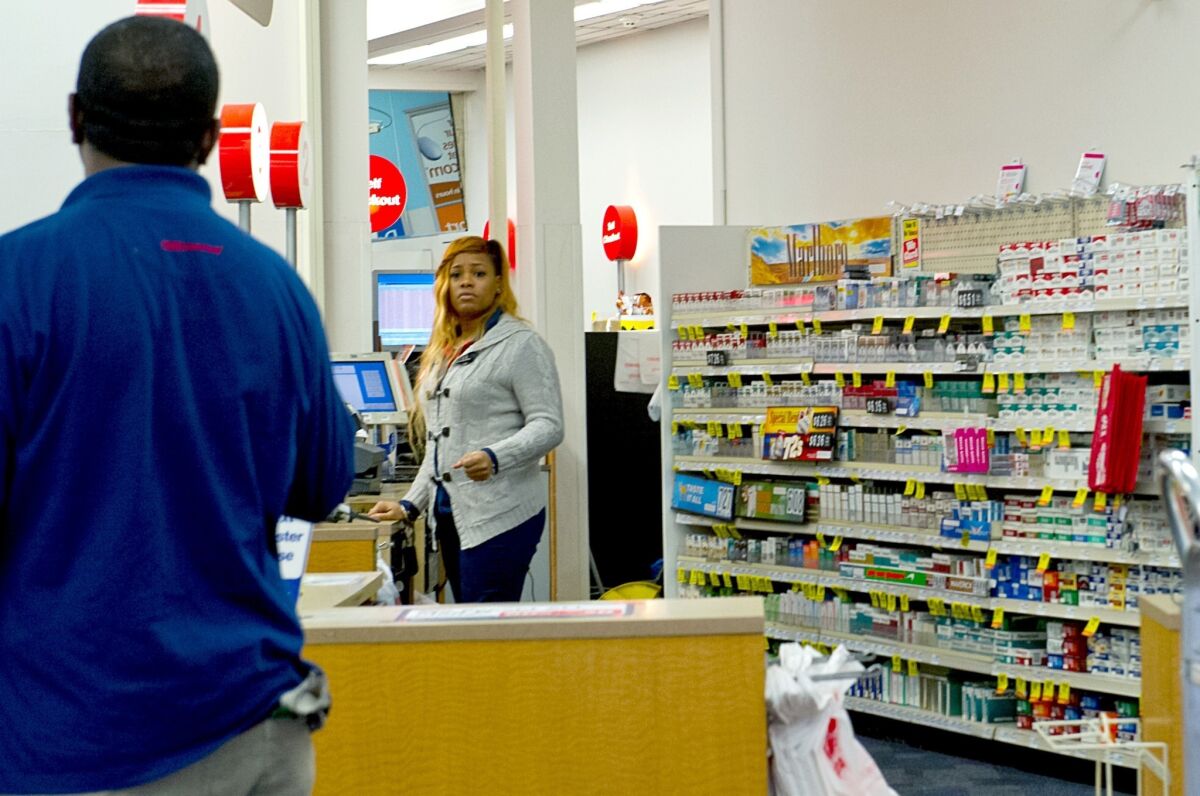 It's long struck me as odd that drugstores, the places where most of us get our prescriptions filled for all manner of illnesses, also are go-to spots for cigarettes. With the latter, drugstores worsen the nation's health; with the former, they profit from it. ... Wait, maybe there is a method to that madness.
Regardless, the CVS chain, owned by CVS Caremark, is doing the nation a service by ending the sale of tobacco products at its more than 7,600 retail outlets. And the chain is doing it for the right reasons: Tobacco kills and costs the nation a ton of money in healthcare costs.
CVS could continue to sell the products, which bring in a reported $2 billion in annual sales, and its decision not to should be lauded.
Other U.S.-based corporations should take note: A firm is making a decision based not on profit, but on what is the right and good thing to do for the communities in which it operates.
Let's hope this is contagious. As Health and Human Services Secretary Kathleen Sebelius pointed out in applauding CVS' move, "Nearly 500,000 Americans die early each year due to smoking, and smoking costs us $289 billion annually. Each day, more than 3,200 youth under age 18 in the United States try their first cigarette and more than 700 kids under age 18 become daily smokers. If we fail to reverse course, 5.6 million American children alive today will die prematurely due to smoking. This is unacceptable."
CVS cited those public costs in its announcement:
"Ending the sale of cigarettes and tobacco products at CVS/pharmacy is the right thing for us to do for our customers and our company to help people on their path to better health," said Larry J. Merlo, President and CEO, CVS Caremark. "Put simply, the sale of tobacco products is inconsistent with our purpose."
Merlo continued, "As the delivery of health care evolves with an emphasis on better health outcomes, reducing chronic disease and controlling costs, CVS Caremark is playing an expanded role in providing care through our pharmacists and nurse practitioners. The significant action we're taking today by removing tobacco products from our retail shelves further distinguishes us in how we are serving our patients, clients and health care providers and better positions us for continued growth in the evolving health care marketplace."
The move won a quick nod from the White House (which didn't mention the president's own occasional puff on the Oval Office patio), in a statement from President Obama:
"I applaud this morning's news that CVS Caremark has decided to stop selling cigarettes and other tobacco products in its stores, and begin a national campaign to help millions of Americans quit smoking instead. As one of the largest retailers and pharmacies in America, CVS Caremark sets a powerful example, and today's decision will help advance my Administration's efforts to reduce tobacco-related deaths, cancer, and heart disease, as well as bring down health care costs -- ultimately saving lives and protecting untold numbers of families from pain and heartbreak for years to come. I congratulate -- and thank -- the CEO of CVS Caremark, Larry Merlo, the board of directors, and all who helped make a choice that will have a profoundly positive impact on the health of our country."
ALSO:
The Coke ad got it right: America is beautiful, in any language
Keystone XL, a sorry symbol of a continued reliance on fossil fuels
Boston Marathon bombings: The death penalty still isn't appropriate
Twitter: @smartelle
Life is stressful. Our weekly mental wellness newsletter can help.
You may occasionally receive promotional content from the Los Angeles Times.