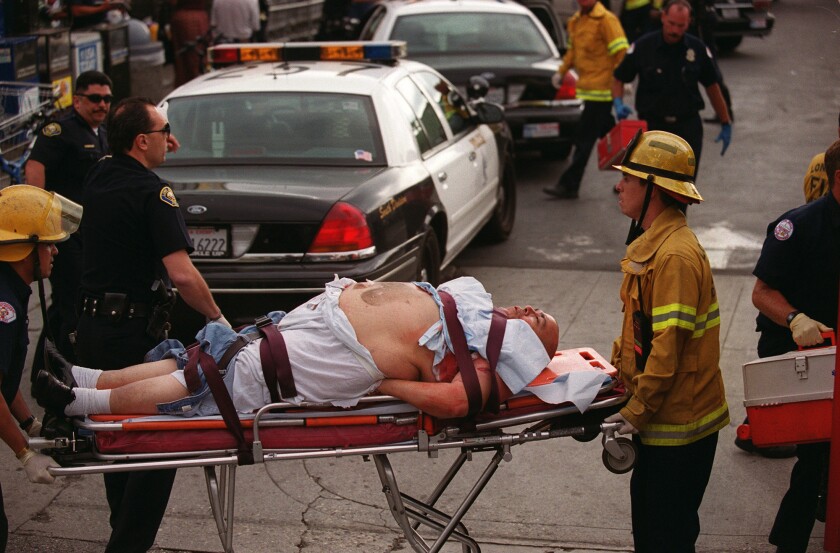 If you start to have shortness of breath while driving through Long Beach, you might want to keep driving before you call 911. Having a medical emergency inside the city limits could be especially pricey starting this week.
On Tuesday, the Long Beach City Council approved a "fire first responder fee" of $250 to help plug a general fund hole. This fee will be charged to people who are treated or evaluated by Long Beach firefighters for medical service. This is on top of the ambulance transport fee the city already charges.
The new fee is expected to raise $1.8 million a year, minus the $200,000 it would cost to hire staff to bill and collect from users — assuming, of course, that it doesn't discourage people from calling for help. It could, and that's the biggest concern with user fees for public service.
And although poor folks are eligible for hardship waivers, and insurance and Medicare can cover the fee, it is still likely to make some folks think twice about calling 911 for chest pains or another serious condition that could lead to death if not treated. A service that, by the way, citizens already are paying for with their taxes.
Sadly, Long Beach Fire Department is not the first in California to employ this creative financing scheme. Hopefully, it is the last. First responder fees are backward responses to the evolution of urban fire departments. Though they hardly fight fires anymore, thanks to huge advances in fire prevention, most fire departments still operate as if that's the main thing they do. It's not.
In fact, providing medical care is the majority of the job for California's urban fire departments, which have a medical call rate of between 80% and 90%. In Los Angeles, medical service account for nearly 90% of the emergency calls to the fire department. That's why the LAFD requires that all firefighters have some level of emergency medical training.
Really, it doesn't even make much sense to call them fire departments anymore. Something like the Emergency First Responder Department or the EMS, Rescue and Occasional Fire Department would be more fitting.
A name change might help elected officials and fire officials start seeing — and funding — emergency services in a more realistic way.
Meanwhile, if you can help it, have your heart attack in another city. (Except for Compton. But that's another story.)
Follow me on Twitter @marielgarzaLAT
---