Opinion: Are Georgetown students intolerant for agreeing with the pope?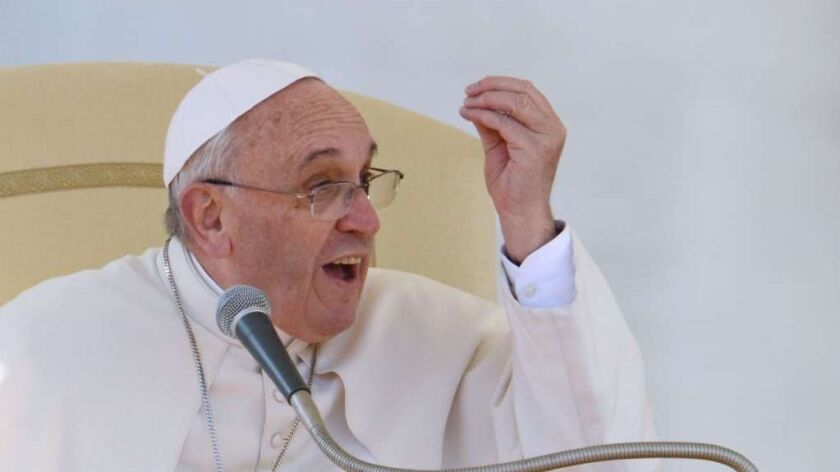 Can a student organization at a Catholic university get in trouble for adhering to the church's teaching that sex outside marriage is a sin?
The answer to that might seem as obvious as the answer to the question "Is the pope Catholic?" In fact, a group at Georgetown University that sees marriage as "a monogamous and permanent union between a man and a woman" faces the loss of official status for violating university rules.
The Washington Post reported this week that a group known as Love Saxa was the subject of a complaint that it had violated rules denying benefits to groups that "foster hatred or intolerance of others because of their race, nationality, gender, religion or sexual preference."
Love Saxa faces a hearing Monday before the Student Activities Commission at which it could lose a $250 subsidy and other benefits.
For some Georgetown students, that would be a righteous outcome. An editorial in the student newspaper, the Hoya, argued: "Saxa's advocacy of denying individuals' rights on the basis of their sexual orientations is inherently intolerant."
The editorial acknowledged that other groups on campus agreed with the traditional Catholic teaching about marriage, but noted that "actively and vigorously promoting this definition — one that is directly intolerant of the LGBTQ community — is not a primary focus of their missions, as it appears to be for Love Saxa."
That seems a fairly dicey distinction: The Catholic understanding of marriage — one that even Pope Francis of "Who am I to judge?" fame adheres to — is permissible, but only so long as it isn't actually preached?
The controversy swirling around Love Saxa has scrambled the usual divisions in the Catholic culture war over sexuality. Not surprisingly, the group is being defended by Robert George, the Princeton constitutional law professor and pillar of conservative Catholicism. But it also has received support from the Rev. James Martin, the Jesuit priest who has been savaged by conservative Catholics for advocating a more welcoming approach to gay Catholics.
"Why should a student group that espouses Catholic teaching respectfully be defunded by a Catholic university?" Martin told the Catholic News Agency. "As long as Love Saxa treats LGBT people (both on campus and off campus) with 'respect, compassion and sensitivity,' as the Catechism requires, then they should be able to have their say on campus."
Fascinating as the controversy at Georgetown is as an example of intra-Catholic tensions over gay rights, it also reflects a debate in higher education generally about whether student organizations that adhere to traditional religious views of sex and marriage should be scorned as intolerant or hateful. When those institutions are public, the Constitution is implicated and the courts can get involved.
That happened in 2010 when the U.S. Supreme Court upheld a decision by UC Hastings College of the Law to deny official recognition and access to school facilities to a chapter of the Christian Legal Society.
The organization required members to forswear "unrepentant participation in or advocacy of a sexually immoral lifestyle," which it defined as sex outside heterosexual marriage. The law school deemed that this policy amounted to excluding students based on their religion and sexual orientation.
The 5-4 decision turned on a narrow issue — whether it was constitutional for a university to require student organizations to admit "all comers." In his dissenting opinion, Justice Samuel A. Alito Jr. said the court should have confronted a broader issue — whether the Christian Legal Society was being discriminated against on the basis of its religious beliefs.
If Love Saxa loses its status as a student organization at Georgetown, it might make the same complaint. The twist will be that the beliefs that will have been its undoing are the beliefs of the church that formed their school's identity.
Follow the Opinion section on Twitter @latimesopinion and Facebook
---
A cure for the common opinion
Get thought-provoking perspectives with our weekly newsletter.
You may occasionally receive promotional content from the Los Angeles Times.