Why Islamic State targeted France instead of the U.S.
Sylvain Perriot stops to take a picture of the flag at half mast above the Presidential Palace in Paris. France's Sate of Emergency will continue, with flags at half mast.
(Carolyn Cole / Los Angeles Times)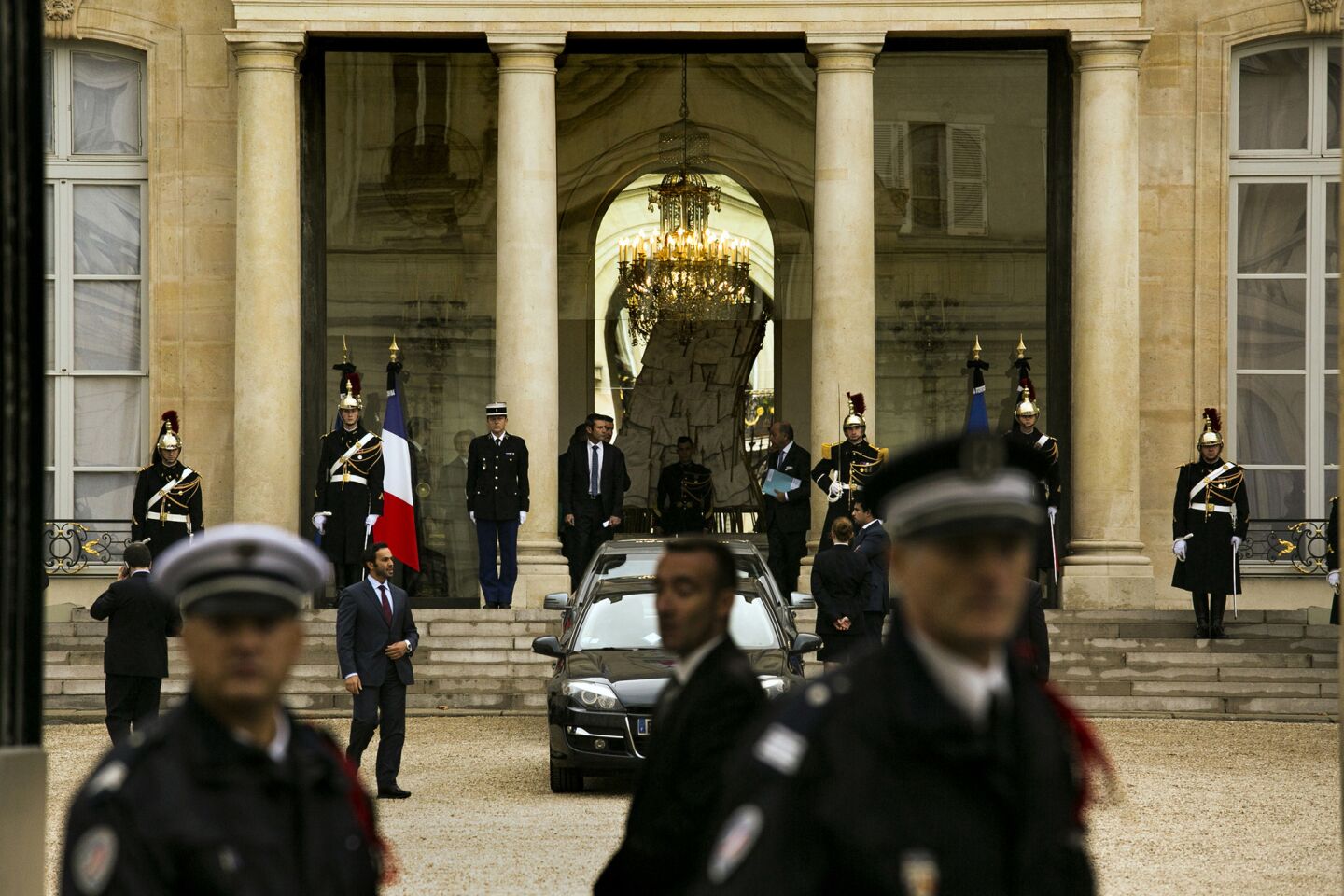 Looking inside the courtyard of the Presidential Palace, guards stand at attention for the departure of Secretary of State John Kerry after his meeting with French President Francois Hollande.
(Carolyn Cole / Los Angeles Times)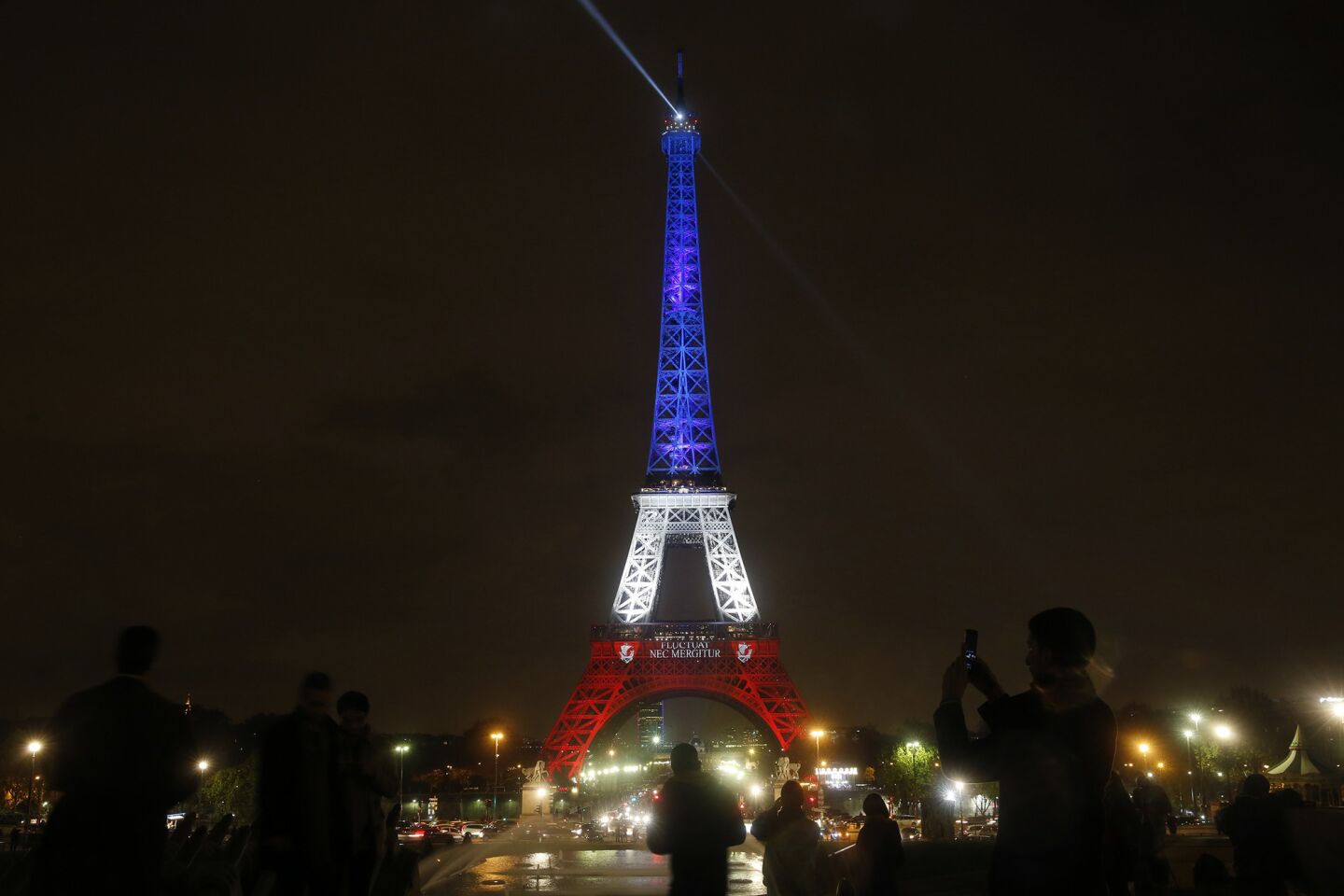 On the third day of national mourning, the Eiffel Tower was illuminated in the colors of the French flag after going dark.
(Carolyn Cole / Los Angeles Times)
On the third day of national mourning, people continue to gather in public places like the Place de la Republique, including Tao Cisse, age 5, and Maya Sutej.
(Carolyn Cole / Los Angeles Times)
People observe a minute of silence in front of the Le Carillon cafe in Paris on Nov. 16, paying tribute to victims of the terror attacks.
(Lionel Bonaventure / AFP/Getty Images)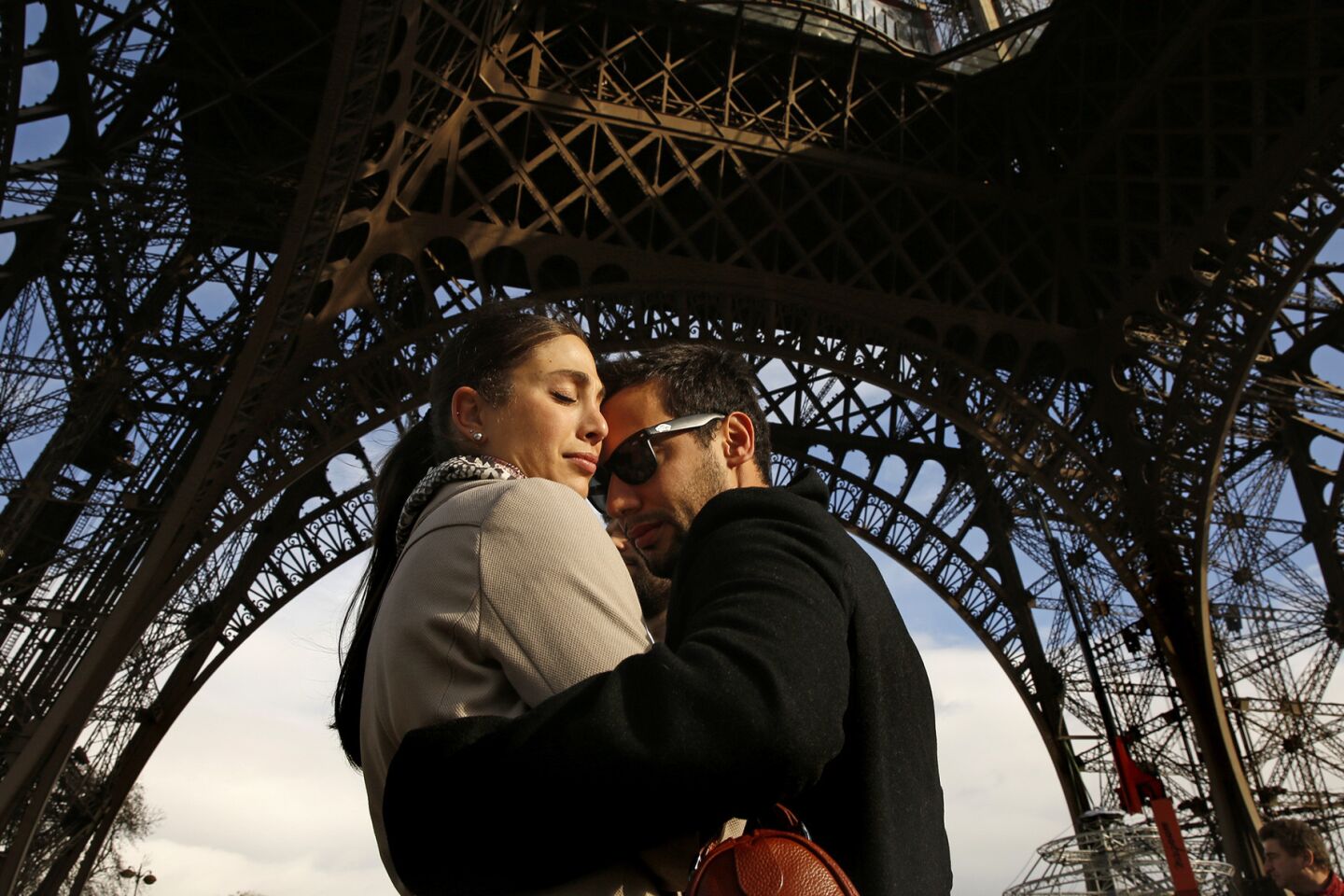 Paris residents take part in a Nov. 16 moment of silence under the Eiffel Tower in observance of those who died during the terrorist attacks three days earlier.
(Carolyn Cole / Los Angeles Times)
French President Francois Hollande, center, stands with government officials to observe a minute of silence Nov. 16 at the Sorbonne University in Paris.
(Stephane De Sakutin / AFP/Getty Images)
Members of the French Foreign Legion stand guard near the Eiffel Tower on Nov. 16.
(Carolyn Cole / Los Angeles Times)
A Paris shopkeeper stays inside Sunday as soldiers guard the street where she works.
(Carolyn Cole / Los Angeles Times)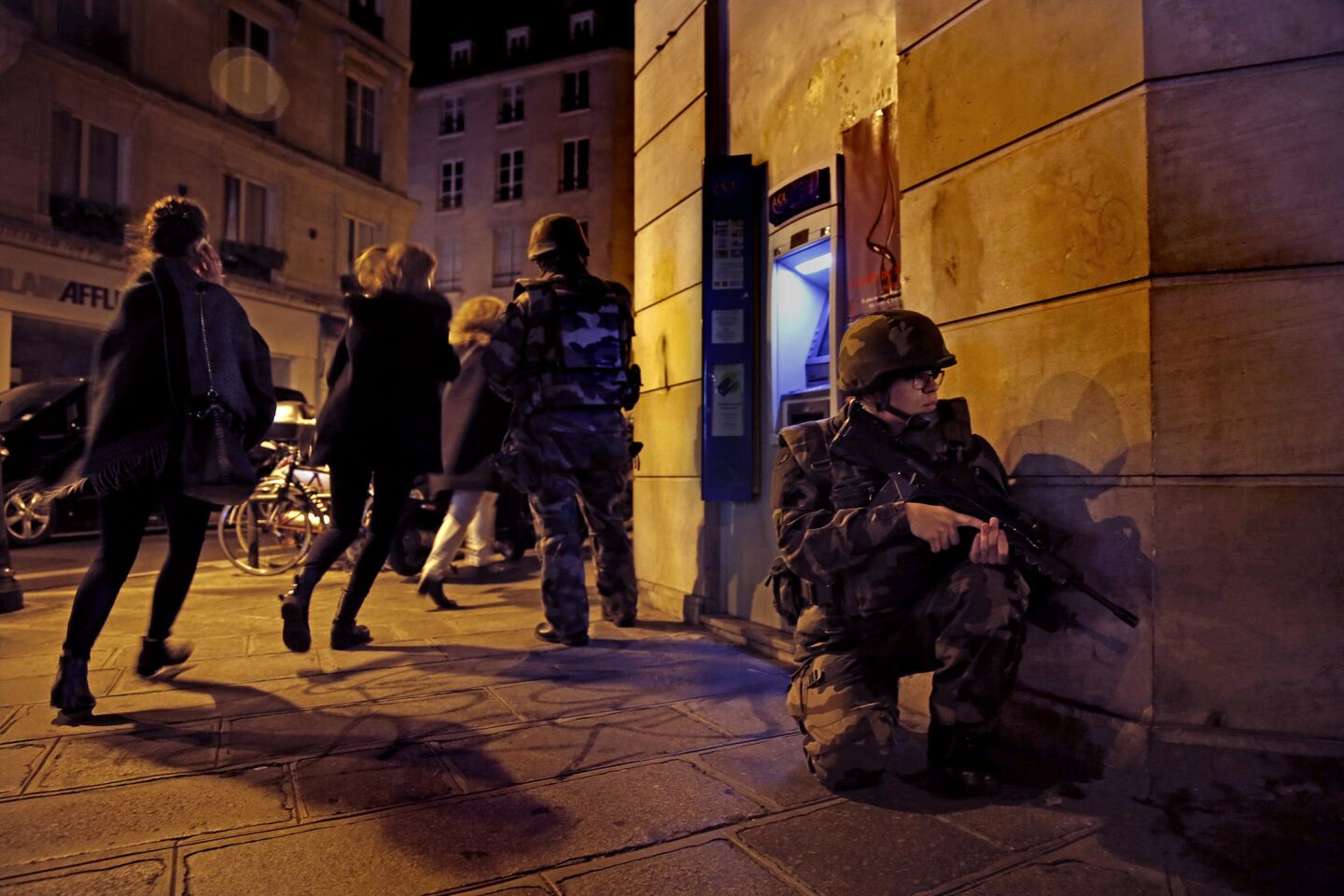 Women run past French soldiers as panic spread through the streets of Paris when rumors spread of another possible terrorist attack, which turned out to be a car left running in the street.
(Carolyn Cole / Los Angeles Times)
Prelates arrive to celebrate a Mass in memory of the attack victims at the Notre Dame cathedral.
(LIONEL BONAVENTURE / AFP/Getty Images)
An emotional crowd gathers in front of Le Carillon restaurant.
(Carolyn Cole / Los Angeles Times)
The glasses and silverware remain on the table where bullets were fired at Cafe Bonne Biere.
(Carolyn Cole / Los Angeles Times)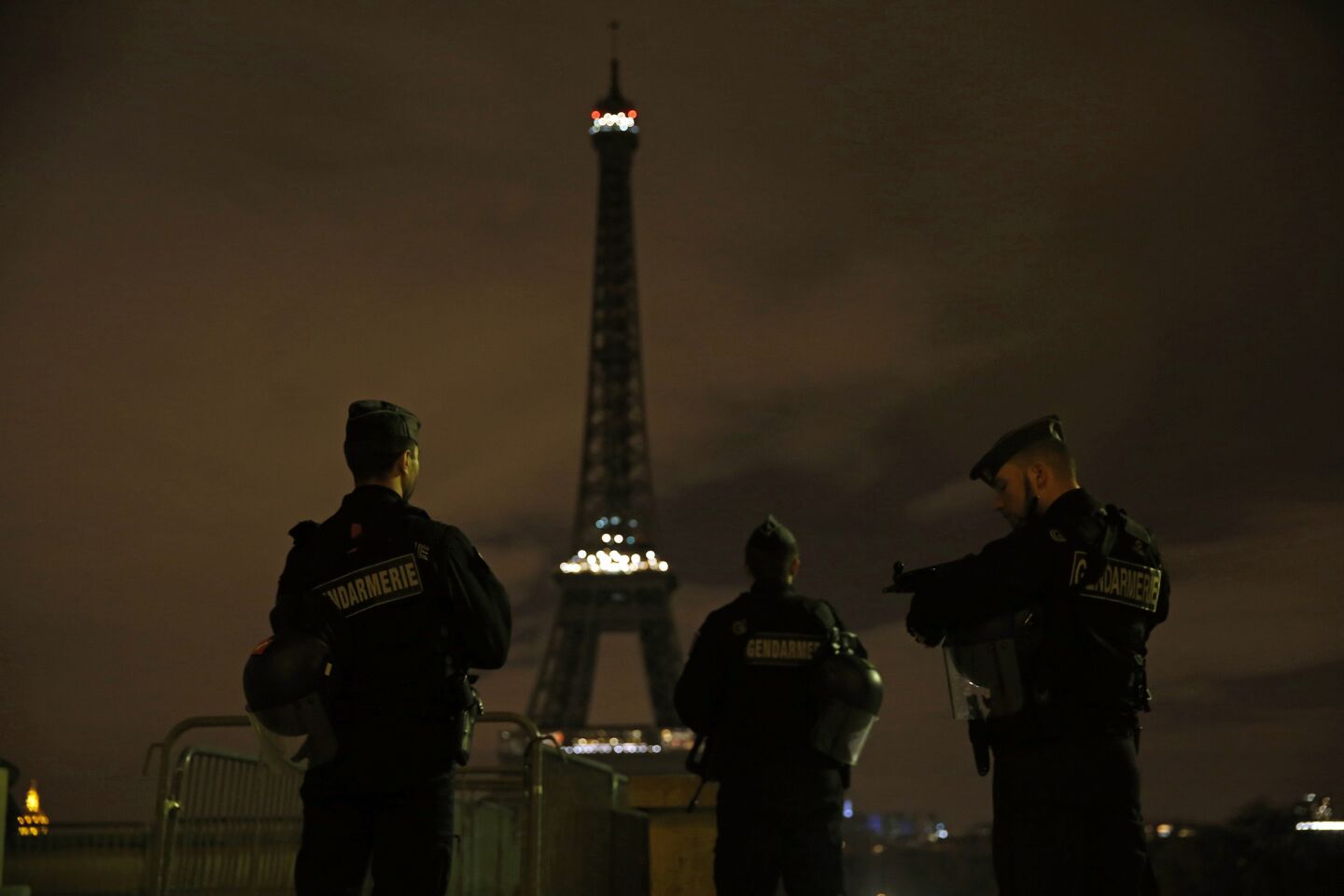 Armed police stand guard Nov. 14 near the Eiffel Tower, which was kept dark in honor of those who died in the terrorist attacks.
(Carolyn Cole / Los Angeles Times)
Mourners place flowers and candles outside the Bataclan theater in Paris.
(Carolyn Cole / Los Angeles Times)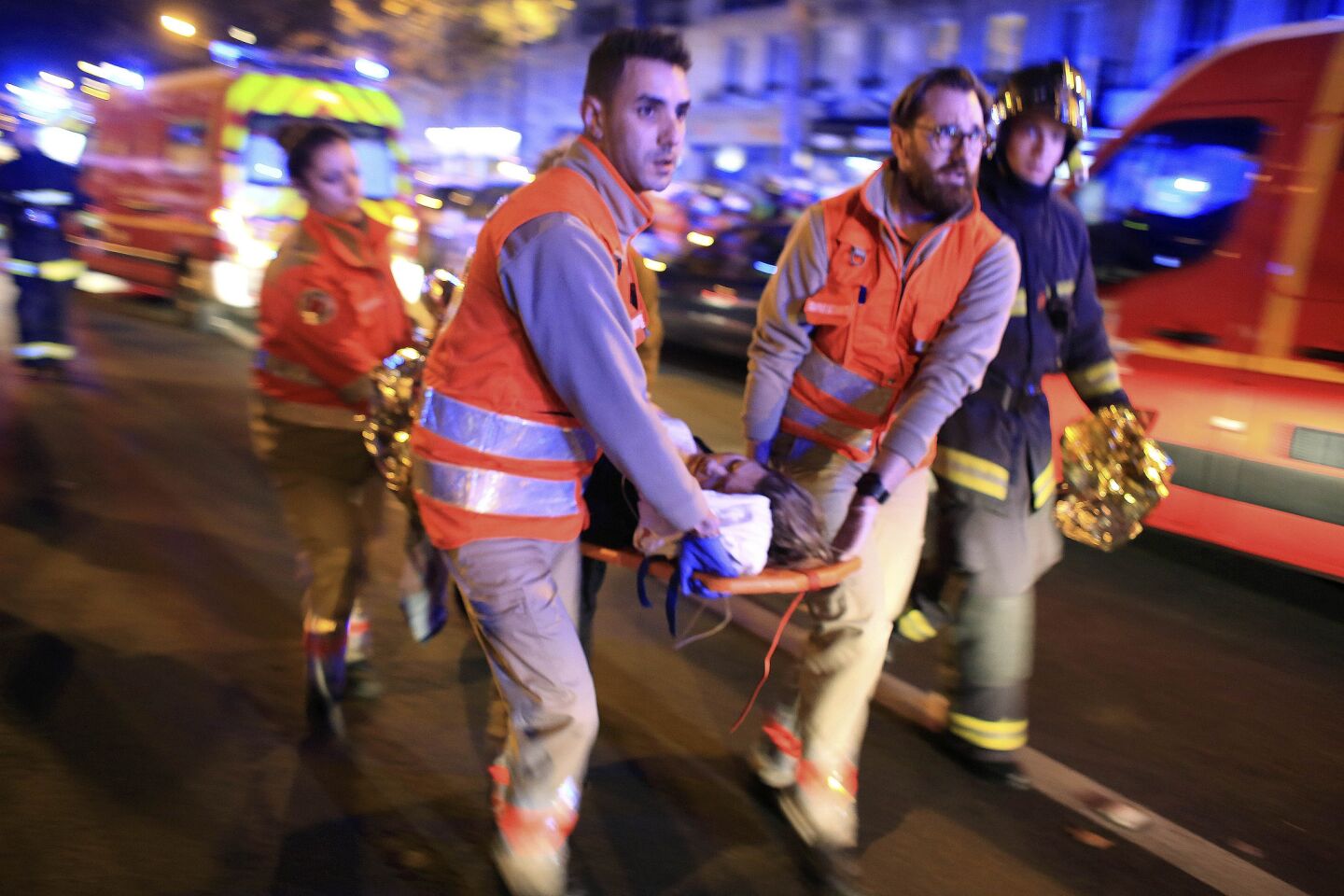 A woman is evacuated from the Bataclan theater after the shootings in Paris.
(Thibault Camus / Associated Press)
People lie on the pavement near the Cafe Bonne Biere in Paris following a series of attacks.
(ANTHONY DORFMANN / AFP/Getty Images)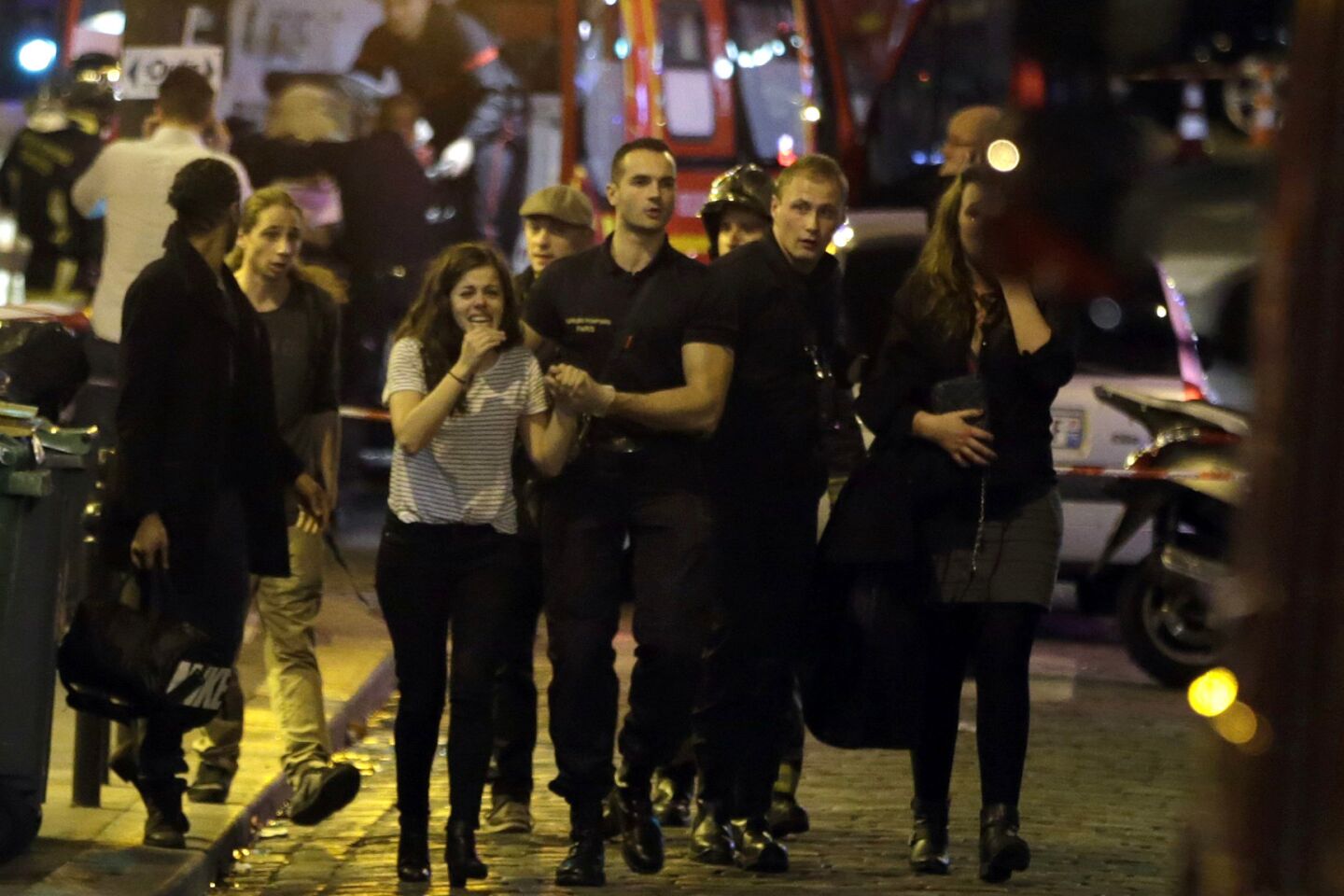 Rescuers evacuate people following an attack in Paris, where there were also reports of an ongoing hostage crisis at a concert venue.
(Kenzo Tribouillard / AFP/Getty Images)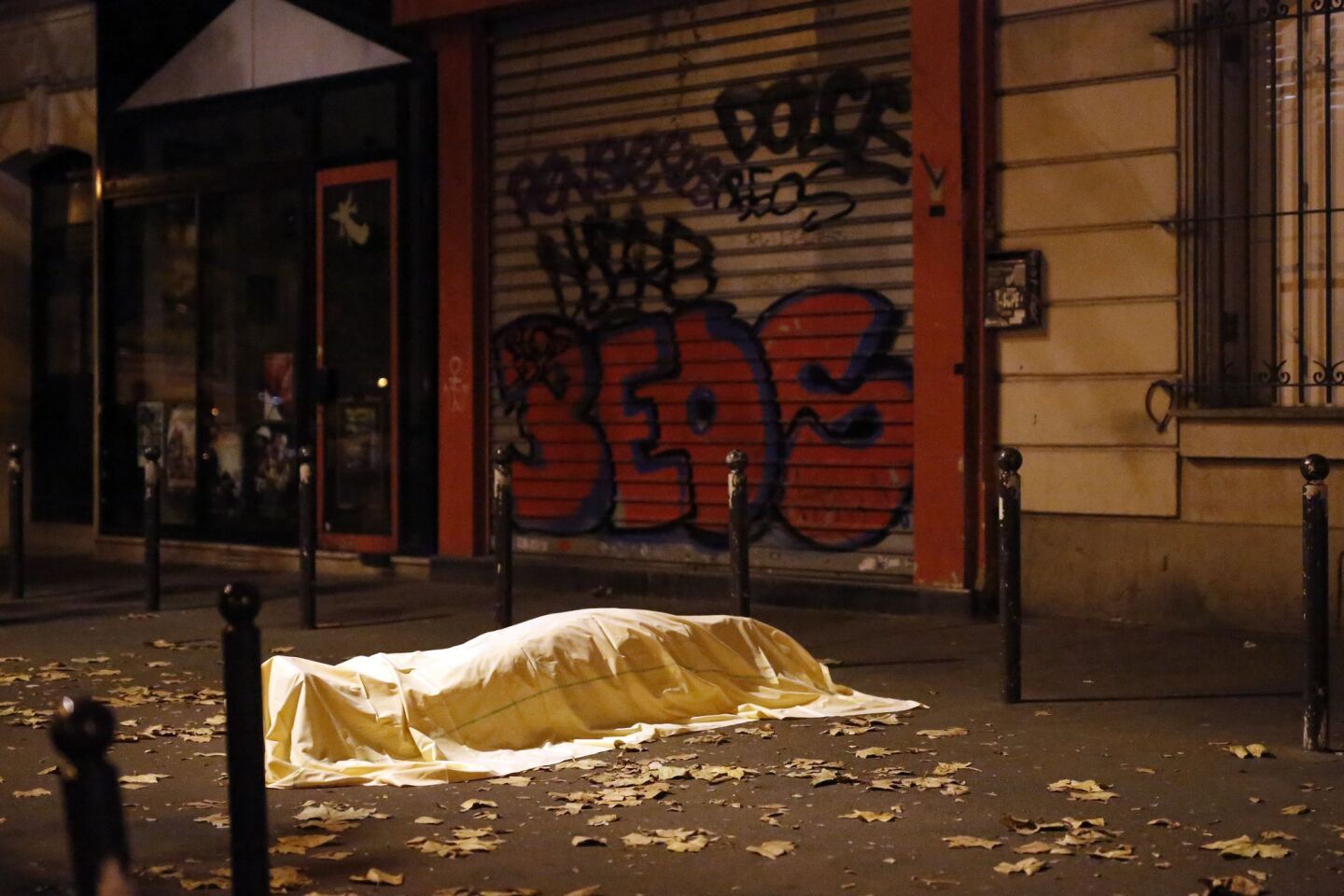 A victim lays dead under a blanket outside the Bataclan theater in Paris.
(Jerome Delay / AP)
Hundreds of people spilled onto the field of the Stade de France stadium after explosions were heard nearby during a match between the French and German national soccer teams.
(Christophe Ena / Associated Press)
Reporting from Washington —
The chilling takeaway from Friday's terrorist attacks in Paris is that Islamic State has expanded its theater of operations beyond the Middle East. But that doesn't mean the group is about to unleash a wave of attacks on the United States.
The Homeland Security Department said Friday it knows of "no specific or credible threats of an attack on the U.S. homeland."
Until Friday, Islamic State had focused on seizing territory in the Middle East. Granted, its members have also attacked targets in Turkey, Lebanon and Egypt – but those are all countries bordering Islamic State's homeland. And individual Islamic State sympathizers have attacked civilians in Europe, but never in an operation that large or complex. (The January attack on the satirical newspaper Charlie Hebdo was carried out by followers of Al Qaeda, not Islamic State.)
SIGN UP for the free Opinion newsletter >>
Why France? Analysts suggest two reasons.
First, Islamic State leaders have designated France as the European country they hate most.
"If you can kill a disbelieving American or European, especially the spiteful and filthy French … then kill him in any manner or way you can," the group's top spokesman, Abu Mohammed al-Adnani, told supporters last year.
France has been an enthusiastic participant in the U.S.-led coalition that is bombarding Islamic State positions in Syria and Iraq. And French officials were among the first to adopt the insulting Arabic name "Daesh" for the group.
Second, Islamic State has a practical reason to focus on France: With the largest Muslim population in Western Europe, it has become Europe's biggest potential source of Islamic State recruits. U.S. officials have said that only a few dozen Americans have made their way to Syria to join the group – compared with more than 500 French citizens.
When I interviewed French terrorism experts in Paris last summer, they told me Islamic State was deliberately trying to provoke anti-Muslim repression in France as part of a recruiting strategy.
"What they want is reprisals," Jean-Pierre Filiu, a Middle East expert at Paris' Institute of Political Sciences, told the radio network France Inter on Saturday. "They want us, in Paris and in France, to kill Muslims…. They want a civil war in France."
None of this means that the United States is immune from danger; far from it. The Paris attack confirms that Islamic State's threats of violence against the West should be taken seriously. But the most acute danger lies in France and other European countries, not here.
MORE ON THE PARIS ATTACKS
Paris attacks: What is the sensible response to this horrific act?
In debate after Paris attack, Hillary Clinton finds foreign policy a strength
President Obama faces difficult choices in response to Paris terror attacks
Life is stressful. Our weekly mental wellness newsletter can help.
You may occasionally receive promotional content from the Los Angeles Times.