Opinion: North Hollywood/Zev Yaroslavsky station? Stop the political madness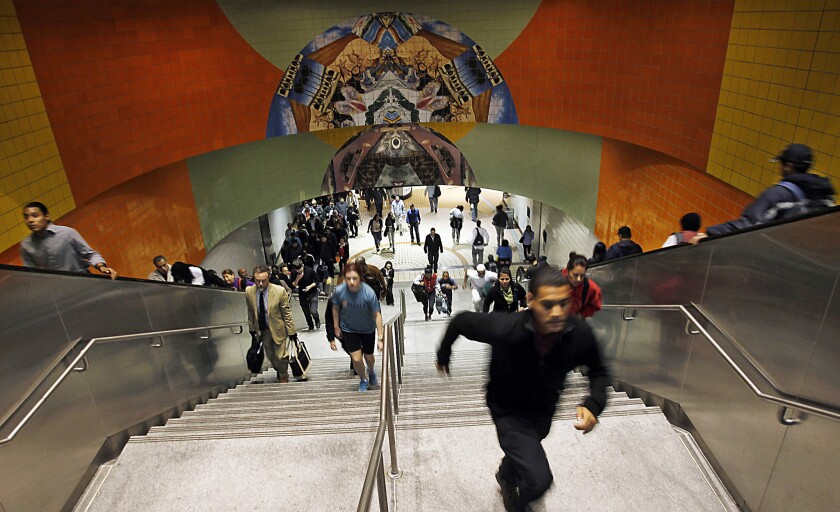 A Metro committee on Thursday backed a plan to rename two rail stations after termed-out Los Angeles County Supervisors Zev Yaroslavsky and Gloria Molina. If approved by the full Metro board -- which still includes the two supervisors -- on Oct. 2, the Red Line terminus would be called the North Hollywood/Zev Yaroslavsky station and the Gold Line would get the East Los Angeles Civic Center/Gloria Molina station.
Seriously? Not only are these long, unwieldy station names that will mean absolutely nothing to the vast majority of transit riders, but the decision to rename the stations smacks of self-congratulatory back-slapping among politicians. Yaroslavsky and Molina should say, "Thanks, but no thanks."
No wonder Metro's political leaders keep talking about the need for another half-cent sales tax for transportation. The agency will have to build a lot more rail lines if every board member is going to get their own station name.
The authors of the renaming motions say the two supervisors have each served on the Metropolitan Transportation Authority board for two decades, have been strong advocates for public transportation and helped steer the agency through the development of several new transit lines. But that was their job. That's what the public elected them and paid them to do. Does that justify naming a station after them?
If so, we can soon look forward to the Chatsworth Amtrak/Metrolink/Michael D. Antonovich station on the Orange Line and the Pacific Coast Highway/Don Knabe station on the Blue Line, named in honor of those supervisors who are termed out in 2016.
And while they're at, why not give some credit to the former Los Angeles mayor who pushed for the Measure R half-cent sales tax with a station on the Expo Line? The Los Angeles Trade-Technical College/Orthopedic Institute for Children/Antonio Villaraigosa station has a nice ring to it.
Too bad riders wouldn't get to hear that tongue-twister announced on the train. Metro staff note "that even when station names are named after people, the geographic names are the ones commonly used in announcements on buses and trains and on maps and agency literature."
For more opinions, follow me @kerrycavan
---
A cure for the common opinion
Get thought-provoking perspectives with our weekly newsletter.
You may occasionally receive promotional content from the Los Angeles Times.