Opinion: Why did Melania and Ivanka Trump cover their heads for the pope but not the Saudis?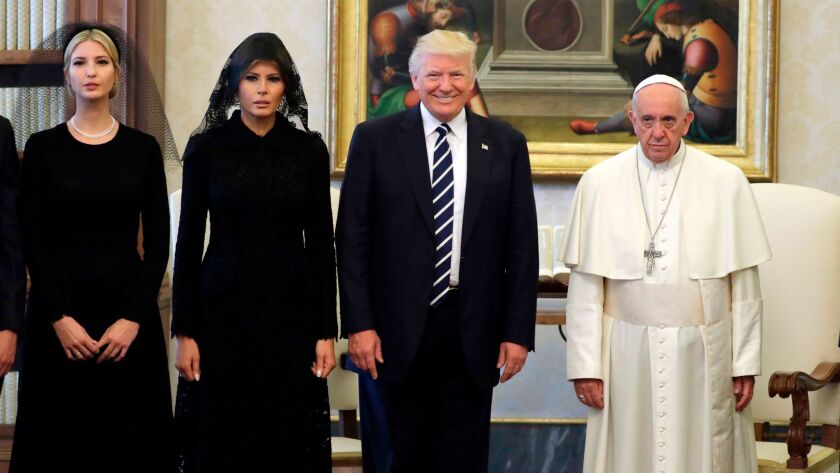 It's caused a bit of a stir among observers of fashion and culture that both Melania Trump and Ivanka Trump wore veils on their heads to meet Pope Francis — but went bare-headed in Saudi Arabia.
If there were any stops on President Trump's whirlwind "If It's Tuesday, This Must Be Belgium" world tour where scarves would be worn, it seemed that it would be Saudi Arabia. If only Saudi officials' embrace of the Trump women's uncovered heads was a sign of change in their repressive standards for Saudi women who must cover up from head to toe in public. Unfortunately, that's not the case. This appeared to be nothing more than a politic move to not force their customs on the wives and daughters of a powerful foreign ally.
Interestingly, First Lady Michelle Obama didn't wear a scarf on her visit to Saudia Arabia in January 2015 — provoking Donald Trump to scold her on Twitter. No word from Michelle Obama on Twitter about the Trumps' wardrobe choices.
And if ever there were a pope who wouldn't care about strict traditions for something as superficial as dress, it would be Pope Francis. Yet, there was Melania Trump cloaked in black with a black lace mantilla, or veil, awkwardly shrouding her hair. Next to her, in photos, was Ivanka Trump in a black headband of a hat with a spray of black netting — one of the more creative versions of traditional hatwear for a visit with the pope.
A spokeswoman for the first lady stated that, per protocol, women were "required" to wear long sleeves, formal black clothing and a veil covering the head. (Michelle Obama dressed similarly for a 2009 meeting with Pope Benedict XVI.)
In fact, chances are the Trumps made a choice to be more conservative than necessary. It does seem that Pope Francis is liberalizing the Vatican dress code a bit. "Things have become more relaxed over the last few years; there are no hard and fast rules," a spokesperson for the Vatican was quoted as saying in an article in the British paper, the Telegraph.
For example, Queen Elizabeth II wore a lilac coat and matching hat to meet Pope Francis in 2014. Prince Charles' wife, Camilla, the Duchess of Cornwall, wore a cream-colored dress and— gasp — no hat or veil when the couple met with the pontiff last month.
Of course, President Trump had gotten off to a rocky start with the pope last year, when Francis said people who want to build barriers instead of bridges are "not Christian" and candidate Trump blasted the pope for his "disgraceful" comments. Given that history of disrespect on Trump's part, it's not surprising that Trump's wife and daughter would want to look as respectful to the pope as possible.
Follow the Opinion section on Twitter @latimesopinion and Facebook
---
A cure for the common opinion
Get thought-provoking perspectives with our weekly newsletter.
You may occasionally receive promotional content from the Los Angeles Times.