Readers React: DWP union boss' veiled threat to L.A. ratepayers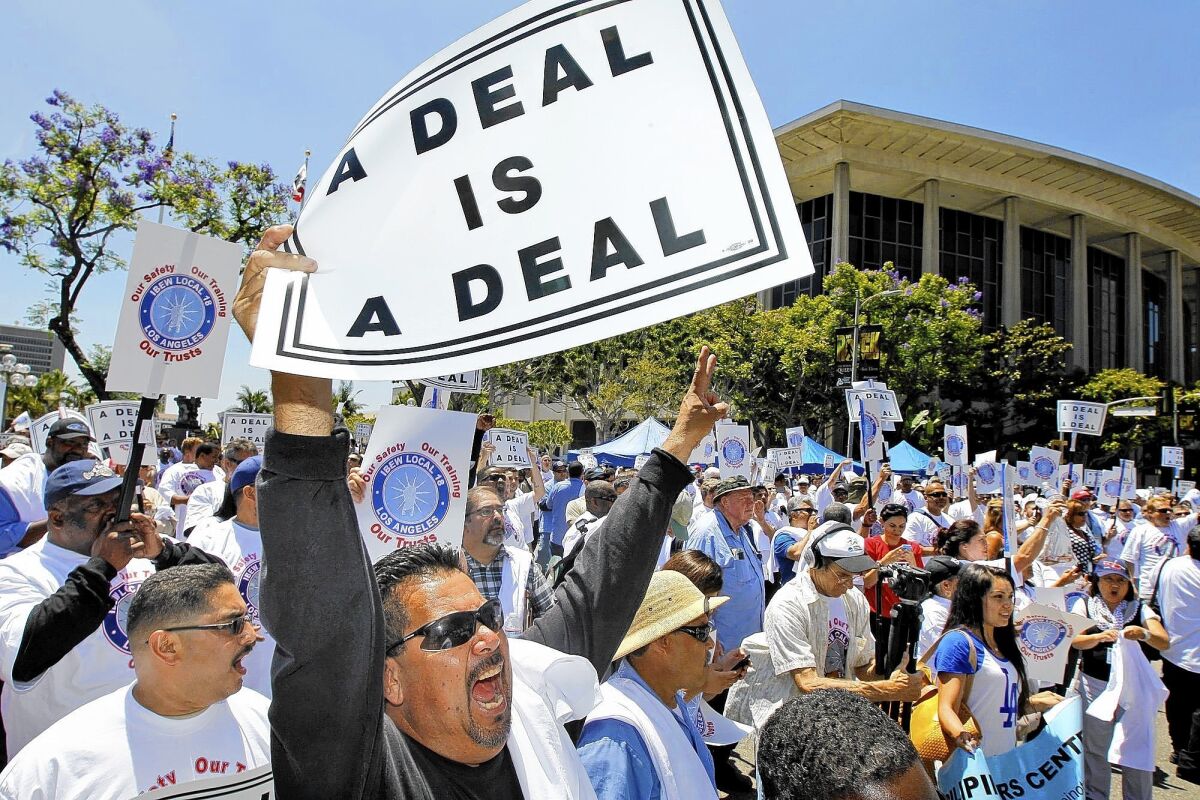 Kudos to L.A. Mayor Eric Garcetti, Controller Ron Galperin and City Atty. Mike Feuer for trying to bring accountability and transparency to the Department of Water and Power. However, the veiled threat issued by Brian D'Arcy, the business manager for the International Brotherhood of Electrical Workers Local 18, should be of concern to all Angelenos. ("DWP union boss warns city not to withhold payments to nonprofits," June 17)
D'Arcy's behavior has been troubling since last year, when The Times reported on the black hole of $40 million provided to two DWP-affiliated nonprofits — funded by L.A. utility ratepayers — whose books he has refused to open. Now he is threatening all DWP customers if he doesn't get the annual $4 million from the city stipulated by the labor contract.
I am pleased to see our leadership stand firm to ensure that past monies given to these DWP nonprofits are accounted for before we sink in another $4 million. Angelenos' water and power should not be held hostage by anyone.
Rebecca Beatty
Sherman Oaks
D'Arcy gives every impression of being guilty of massive corruption and of fleecing the city's ratepayers. His lack of transparency and refusal to be held accountable are unacceptable.
He is doing a huge disservice not just to the ratepayers whose money he's taken but also to dues-paying union members everywhere who don't deserve to see unions weakened further by union-busting business foes in reaction to his lax and unscrupulous practices.
D'Arcy says the city is asking for trouble if it withholds funds; I'd say trouble is long overdue where record-keeping and auditing are concerned.
Linda Kranen
Carlsbad
---
Life is stressful. Our weekly mental wellness newsletter can help.
You may occasionally receive promotional content from the Los Angeles Times.