The Obamacare exemptions that aren't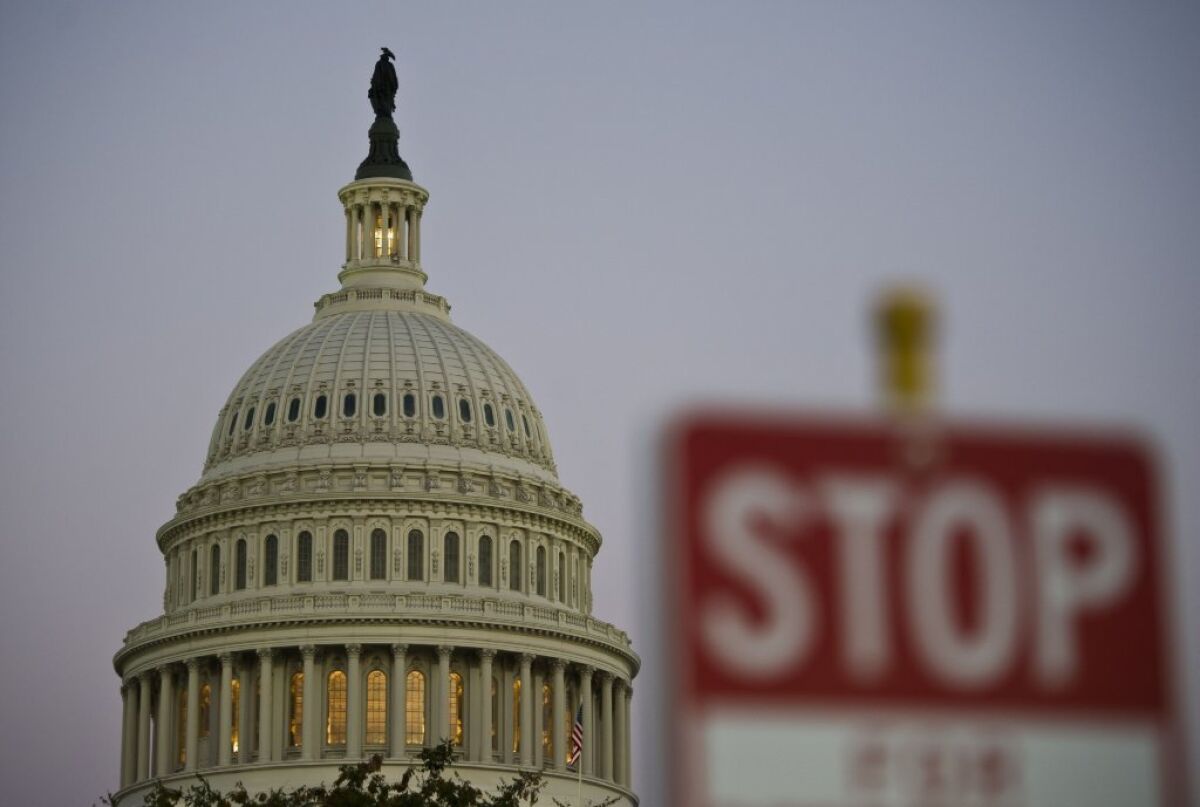 Numerous readers have written The Times to criticize President Obama and congressional Democrats for championing an unpopular healthcare reform law while, the writers say, exempting themselves from it. For example, Daniel A. Cowell of Monrovia wrote: "No one (especially those in Congress) can realistically expect the president to budge on Obamacare. This bill is his lifeblood, his legacy. Yet still, is it asking too much for him to not exempt himself, as well as Congress, from his own health law?"
Regular readers of The Times' Opinion pages will know that, among the few letters published over the last week that have blamed the Democrats for the government shutdown (a preponderance faulted House Republicans), none made the argument about Congress exempting itself from Obamacare.
Why? Simply put, this objection to the president's healthcare law is based on a falsehood, and letters that have an untrue basis (for example, ones that say there's no sign humans have caused climate change) do not get printed.
Editorial writer Jon Healey explains why this claim in the debate over the healthcare law is off-base:
Obamacare, formally known as the Patient Protection and Affordable Care Act, doesn't do what reader Daniel A. Cowell and others have said it does.
The law treats the president and the rest of the executive branch the same way it treats anyone else covered by a group health plan that was in place before the Affordable Care Act was enacted. Such plans are exempted from some of the law's requirements, but they do have to eliminate their caps on lifetime payouts and, by next year, their annual benefit caps.
For lawmakers and their aides, the act goes an important step further: It requires them to buy insurance through the new state exchanges.
In other words, it kicks them out of the federal employee health plan.
The exchanges weren't supposed to sell coverage to large employers (such as Congress) before 2017, creating a problem that drew the ire of lawmakers from both parties. If they and their staff had to buy insurance as individuals, the government would no longer be able to pay any part of the cost (it currently pays about 75%). That would amount to a significant pay cut.
In response, the administration's Office of Personnel Management — the federal government's human resources agency — ruled Sept. 30 that lawmakers and their office staff could buy coverage through the exchange for small businesses in Washington, and the government could continue to pay the same portion of those employees' insurance costs.
They would not be eligible for premium subsidies, however.
That ruling subjected Congress to the same rules faced by every other employer using a small-business exchange. Those exchanges are slated to open gradually to larger businesses in the coming years.
ALSO:
Letters: Going after Michelle Obama
Letters: Pro and con on Pope Francis

Life is stressful. Our weekly mental wellness newsletter can help.
You may occasionally receive promotional content from the Los Angeles Times.