Opinion: L.A.'s affordable housing solution is in granny flats and guest homes, not high-priced developments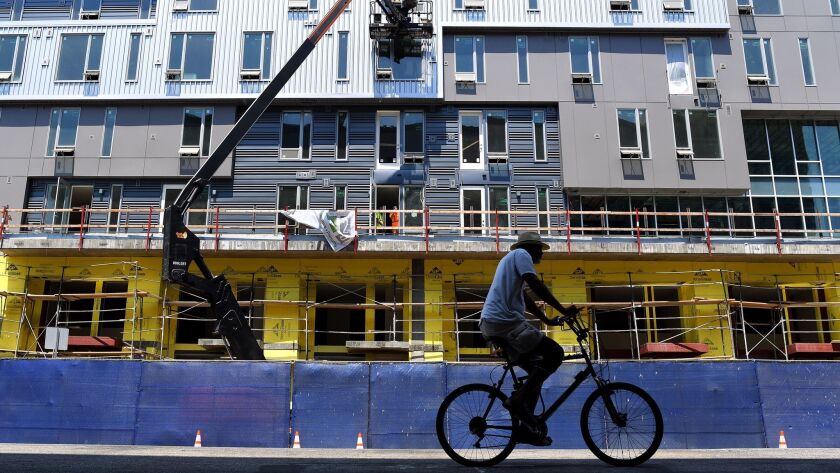 To the editor: I am disappointed by The Times' support of high-density housing near transit stops as a way to solve the "affordable" housing crisis. Getting people out of their cars plus giving them affordable housing are two separate issues and should be treated as such. ("L.A. obviously needs dense housing along the Expo Line. Why isn't the city planning for it?" editorial, Nov. 9)
Why not build affordable housing in neighborhoods where people actually live now rather than where we want them to live?
Let's continue allowing granny flats and guest houses in neighborhoods that are not close to transit. Let's allow spot zoning in residential neighborhoods for duplexes, triplexes and small-lot townhome developments — yes, with parking spaces.
A guest house that can be rented offsets the high cost of a single-family home and may put home purchases within reach for people of modest means. A guest house will surely rent for much less than a fancy new apartment in, say, downtown Los Angeles.
Let's stop trying to cram more people into areas that were never meant for high density in the first place.
Judy Graff Fisher, Studio City
..
To the editor: There are not enough affordable units being produced in Los Angeles today. Developers are focusing on apartment construction because people have been priced out of buying homes.
Developers don't want to lose money here, so they're not offering affordable units in the quantity necessary to reverse the housing crisis in Los Angeles. This is truly what is fueling the increase in homelessness.
The city should mandate 50% affordable units in every apartment complex that is built in Los Angeles.
Mindy Taylor-Ross, Venice
Follow the Opinion section on Twitter @latimesopinion and Facebook
---
A cure for the common opinion
Get thought-provoking perspectives with our weekly newsletter.
You may occasionally receive promotional content from the Los Angeles Times.