Readers React: Edythe Broad: Don't rush to judgment on ALOUD at the L.A. Central Library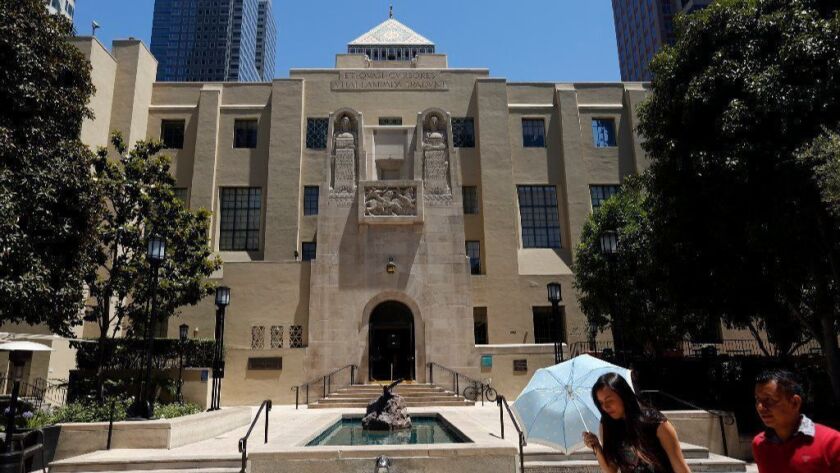 To the editor: I am writing to voice my support of the Library Foundation and its president, Ken Brecher, in light of recent staff changes at ALOUD.
ALOUD is a program of the private, nonprofit Library Foundation. It is an unpleasant truth that nonprofit leaders sometimes have to make difficult staffing decisions. While there has been a great deal of emotion expressed about the departure of ALOUD staff, it is irresponsible and harmful to both the former employees as well as the organization and its staff to make assumptions about why those decisions were made.
Brecher will not comment publicly on internal staffing decisions. The outspoken critics who are calling for transparency may not like the answer, but it is standard practice.
Remember, ALOUD is just one part of an organization that is the primary supporter of numerous library programs. Now, more than ever, communities need the resources provided by public libraries. Rather than threatening to rescind donations or stop attending programs, we should wait to see what comes next and, in the meantime, continue to support the Los Angeles Public Library, whose free programs, resources and services reach millions of people in this city.
Edythe Broad, Los Angeles
The writer is co-founder of the Eli and Edythe Broad Foundation, which is a funder of the Library Foundation.
..
To the editor: When my mother was young, she rode the streetcar downtown to the Central Library. When it was rebuilt after the 1986 fire, I took my parents there for a tour by Louise Steinman, the recently ousted head of ALOUD. My mother made it downtown again for at least one ALOUD event, and talked about it for months after.
Following my parents' deaths, I made a donation to the Library Foundation in their name. As a performer and writer born in downtown L.A. and reared in the eastern suburbs of Los Angeles County, I have observed Steinman's development of ALOUD with enormous admiration.
Though I no longer live in L.A., I return there frequently and have attended several ALOUD events. Steinman's dismissal by the organization she has spent 25 years developing is a shocking example of institutional arrogance.
The Library Foundation's board should apologize to the entire L.A. cultural community for its clumsy, divisive and shortsighted action in firing Steinman and her associate Maureen Moore.
Jeff McMahon, Tempe, Ariz.
Follow the Opinion section on Twitter @latimesopinion and Facebook
---
A cure for the common opinion
Get thought-provoking perspectives with our weekly newsletter.
You may occasionally receive promotional content from the Los Angeles Times.