Readers React: Anti-Semitism never goes away, but it really flares up with a truth-attacking nationalist in the White House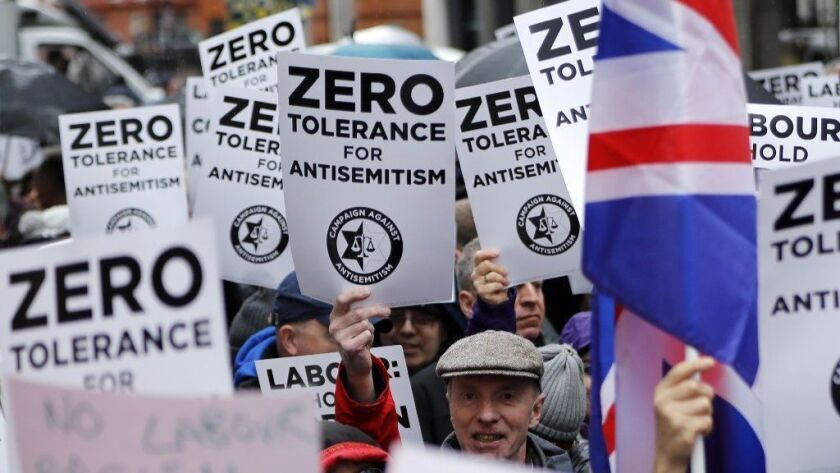 To the editor: Steve Oney's op-ed article on Jewish industrialist Leo Frank's lynching in 1915 amid anti-Semitic hysteria and attacks on journalism provided clarity.
Demagoguery is thriving due to the irresponsible rhetoric of a nationalist president. The knee-jerk reaction that mainstream media are fake news provides a basis to avoid facts and incite people to commit acts motivated by bias.
Anti-Semitism will be part of society, particularly in times of flux because people need scapegoats. There has been progress in America, but complacency is not in order. The horror of the murder of 11 innocent worshipers in Pittsburgh reminds us that we are all vulnerable to misguided people armed with hatred and ammunition.
The need for vigilance starts with each one of us. We must do something to fight this form of domestic terrorism. Rants about fake news and attacks on the mainstream media as enemies of the people do not help.
Steven A. Ludsin, East Hampton, N.Y.
The writer is a former member of the President's Commission on the Holocaust.
..
To the editor: The implication that the president's rhetoric bears some responsibility for the shooting of Jews in Pittsburgh is off base. Hatred of the Jews has always been a problem.
About 10 years ago, I was attempting to park my car at Costco in Culver City. When I asked a man loading his car if he was about to vacate his spot, I was told to park somewhere else, so I did.
Later, when I walked by him on my way to the entrance, the man — probably in his 50s or 60s — shouted at me, "When was the last time you got laid?" Shocked, I turned around; he was close enough to me to notice the Star of David that I was wearing.
Then he said, "Oh, you're a Jew — they should have got you all at Auschwitz."
Others near the entrance tried to console me. It was the first time in my long life someone ever wanted me dead for who I was. Pittsburgh reminded me of this once again.
I am sure this man is not alone in his hate. It never goes away.
Marcia Jacobs, Culver City
Follow the Opinion section on Twitter @latimesopinion and Facebook
---
A cure for the common opinion
Get thought-provoking perspectives with our weekly newsletter.
You may occasionally receive promotional content from the Los Angeles Times.