Opinion: Stephen Bannon studied Nazi propaganda. What does that mean for the country?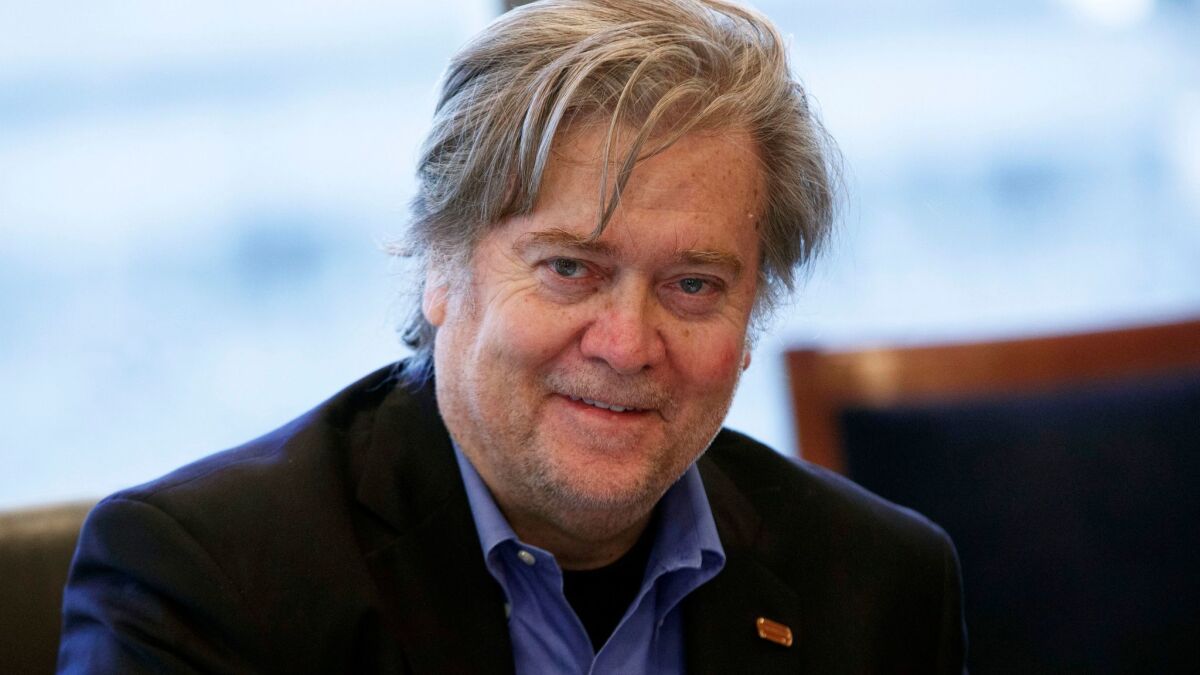 To the editor: Stephen K. Bannon, President-elect Donald Trump's chief strategist, seems to have copied Upton Sinclair. The celebrated author's "It Can't Happen Here," first published in 1935, is obviously the manuscript from which Bannon crafted Trump's campaign. ("Stephen Bannon found inspiration in ancient thinkers, Ronald Reagan and Nazi propaganda," Dec. 9)
While not a particularly enjoyable read, "It Can't Happen Here" does an excellent job reinventing this country's checks and balances into a form of Nazism. Bannon's praise of Leni Riefenstahl, the Third Reich's famed propaganda filmmaker, speaks volumes for what he expects of Trump.

For the record:
4:56 a.m. Jan. 27, 2023A Dec. 14 letter to the editor incorrectly said the book "It Can't Happen Here" was written by Upton Sinclair. In fact, the book was written by Sinclair Lewis.
Sinclair's book is a warning to the world that unless we are ever vigilant in protecting human rights and democratic institutions, demigods will win.
Gloria J. Richards, Simi Valley
..
To the editor: I am an out lesbian, Jewish and a liberal. I have known Bannon since Andrew Breitbart died in 2012, and he is anything but racist and homophobic.
Bannon read Nazi propaganda. Very unfortunately, the Nazis were successful for a time, and as any student of history knows, it is worth studying how they were able to gain power.
Bannon reads many perspectives. To excoriate him for being a bright intellectual is to not understand him, and The Times needs to do more to comprehend why this man chose the path he did.
Ellen Ratner, Los Angeles
..
To the editor: I am not surprised by Bannon's embrace of Riefenstahl. As a matter of fact, her film "Triumph of the Will" was used extensively in training psychological operations troops being sent to Vietnam.
At Fort Bragg, N.C., in the summer of 1967, the film was the subject of our first class. Three weeks later, it was repeated in its fullness in our final class, with the admonition to "go to Vietnam and emulate this in your work there."
The experience helped transform me from a Goldwater Republican to a fierce antiwar activist.
Roger Steffens, Echo Park
..
To the editor: This article seems to show Bannon as a deep-thinking, well-read intellectual who has experienced both sides of the political spectrum. He keeps a photo of President Reagan over his desk, as many of us have done. I wonder if there are any film students who do not admire Riefenstahl's cinematic skills.
Bannon has made no secret of his political philosophy, but still he is being vilified. At the end of this article his former writing partner, Julia Jones, is quoted as saying, "He never even talked about a person's race or religion." So why is he constantly shown to be some kind of merchant of evil?
The Times should allow Trump and his appointees to be evaluated on the quality of their work and stop searching for reasons to vilify them before their initial labors.
Bob Curran, Hollywood
Follow the Opinion section on Twitter @latimesopinion and Facebook
---
Life is stressful. Our weekly mental wellness newsletter can help.
You may occasionally receive promotional content from the Los Angeles Times.