Opinion: Betsy DeVos' shameful failure to protect students from predatory for-profit colleges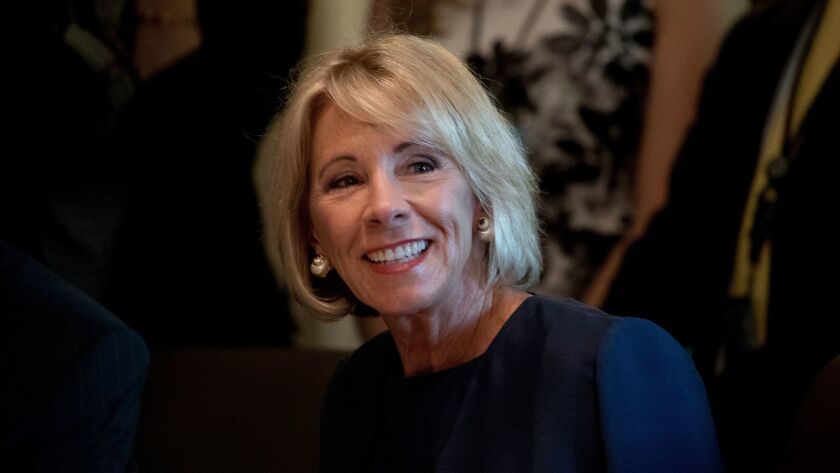 To the editor: As a credentialed teacher in a local school district, I admit to being skeptical of Education Secretary Betsy DeVos' commitment to public education. Her affinity for charter schools is well known. ("It's Betsy DeVos' job to protect students from predatory for-profit colleges. She should do it," editorial, July 10)
However, the actions detailed in your editorial go beyond the pale. Not only is DeVos not qualified on any level to propose educational policy, but by suspending Obama administration rules intended to provide relief to debt-laden students who were essentially defrauded by for-profit colleges, she also has proved herself prejudicial against students and honest institutions of higher learning everywhere.
Like the public reaction to proposed healthcare and immigration policies, there needs to be an equal and compelling resistance to another one of President Trump's right-wing outrages. We should not have to wait until the 2020 presidential election to rid ourselves of these destructive policies.
Tim Geddes, Huntington Beach
..
To the editor: There's been a lot of talk lately about loan relief processing delays at the U.S. Department of Education. I am a military veteran who has been waiting for months to hear about my application.
When I enrolled in the International Academy of Design and Technology, the school promised me credits that would transfer anywhere and encouraged me to borrow thousands before I even knew what kind of classes I would be taking. When I tried to transfer, I found out that my credits were worthless to other schools.
The school later changed its name to Sanford-Brown and then closed its doors. I graduated with useless credits, and accumulating interest has left me about $100,000 in debt. I have a great job using the skills I learned in the military, but I can't improve my quality of life or buy a home because of my loans.
I've applied to the Department of Education for "borrower defense to repayment," which is supposed to provide relief to students such as myself who were defrauded. Months later, I've heard nothing from the government, and I don't know where else I can get help.
After serving my country, I think I deserve better than to be cheated out of my future.
Stephanie Stiefel, Playa del Rey
..
To the editor: I am a retired adult education teacher who worked for more than 30 years in the Los Angeles Unified School District. I spent countless hours of that time warning my immigrant students about the predatory tactics used by many of these for-profit colleges.
Some schools recruited students by telling them that their English proficiency would not matter in their classes. They made wildly inflated claims of job availability and high earnings. Some told students that the government would pay for the education without mentioning that they would be receiving a loan that must be repaid.
The real shame of all this is that the LAUSD (and many other public education systems) provide much better vocational training at a fraction of the cost of these for-profit career colleges. This fact remains, for reasons that perplex me, one of the best-kept secrets about public education.
DeVos and her retinue of voucher pushers will bring the same reality to elementary and secondary education if they are allowed to.
Robert Michael LaCarr, Los Angeles
Follow the Opinion section on Twitter @latimesopinion and Facebook
---
A cure for the common opinion
Get thought-provoking perspectives with our weekly newsletter.
You may occasionally receive promotional content from the Los Angeles Times.