Readers React: No, the media aren't whipping the public into a frenzy over the 737 Max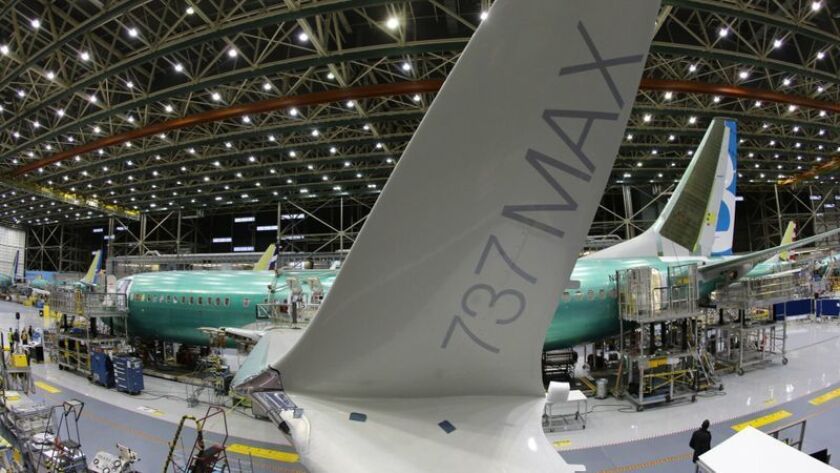 To the editor: I was shocked that a letter writer, a retired airline pilot and U.S. Air Force captain, blamed the media for the "mass hysteria regarding the problems with the 737 Max and crucifying Boeing Co." over the Federal Aviation Administration's belated grounding of the troubled Boeing 737 Max.
According to Ethiopia's transport minister, information recovered from the flight data recorder about the crash of Ethiopian Airlines Flight 302 indicated "clear similarities" to the Lion Air Flight 610 accident five months prior. Satellite information also showed similar erratic flight paths during the six minutes that the two planes were in the air before they crashed.
The letter writer argues, correctly, that the primary rule of piloting any plane is "maintain aircraft control, and then (and only then) analyze the situation and take proper action."
That seems to be exactly what the crews in both incidents were trying to do: control their doomed Boeing 737s. No, the news media were not responsible for the other nations' and the FAA's decisions to ground the Boeing planes.
Dienyih Chen, Redondo Beach
..
To the editor: The recent Boeing 737 Max crashes have something in common with the Airbus A330 crash while on the way from Brazil to Paris in 2009.
In the rush to remove pilots from the cockpit, the manufacturers are putting in extra software to think for the pilot. This requires that all of the sensors work perfectly. They don't.
We don't need to fear the planes, but the airlines need to go back to the old way of training. Pilots must take responsibility.
Larry Severson, Fountain Valley
The writer is a former military pilot and airline captain.
Follow the Opinion section on Twitter @latimesopinion and Facebook
---
A cure for the common opinion
Get thought-provoking perspectives with our weekly newsletter.
You may occasionally receive promotional content from the Los Angeles Times.