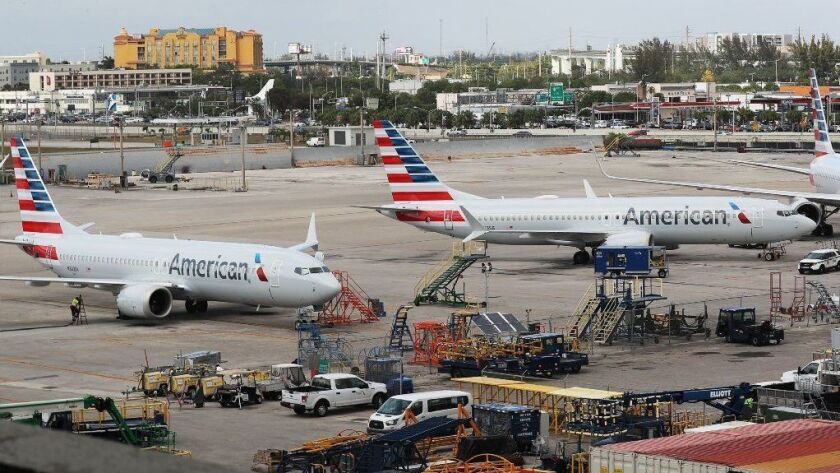 To the editor: I am extremely disappointed with the news media for creating a mass hysteria regarding the problems with the 737 Max and crucifying Boeing Co. at the same time.
Yes, apparently there is a problem with Boeing 737 Max, resulting in two recent crashes. This is further evidenced by the multiple complaint writeups by the pilots who fly them — but ironically, the greater number of writeups without a succeeding crash demonstrates that it is not an inevitable fatal flaw.
Attempting to analyze the source of the problem while flying the airplane is not the primary rule of piloting any airplane, which is this: First, maintain aircraft control, and then (and only then) analyze the situation and take proper action. This procedure sequence must have been followed by every pilot who experienced the malfunction and continued the flight safely.
What the media should be focusing on is the training of the crews that may not have followed the correct sequence.
The grounding of the 737 Max is in response to an unjustified, media-created panic, and it sullies Boeing's reputation. It will do nothing to protect the public.
Jean-Claude Demirdjian, Los Angeles
The writer is a retired airline pilot and U.S. Air Force captain.
..
To the editor: It's an outrage to America's flying public that the Federal Aviation Administration waited several days to finally take necessary grounding action. But it's not the only guilty one.
The chief executives of Boeing and of each U.S. airline flying the 737 Max also should have taken immediate steps to safeguard passengers. Scores of other countries took the lead and put peoples' safety and peace of mind ahead of company PR and profits.
Shamefully, Boeing CEO Dennis Muilenburg called the president to vouch for the jets earlier this week — this after 346 lives were lost in two crashes within five months. No matter how long it takes, a thorough investigation is called for to ensure that the issue is finally resolved.
Tom Stapleton, Glendale
Follow the Opinion section on Twitter @latimesopinion and Facebook
---