Readers React: Addressing church sex abuse is not about 'healing.' It's about protecting Catholics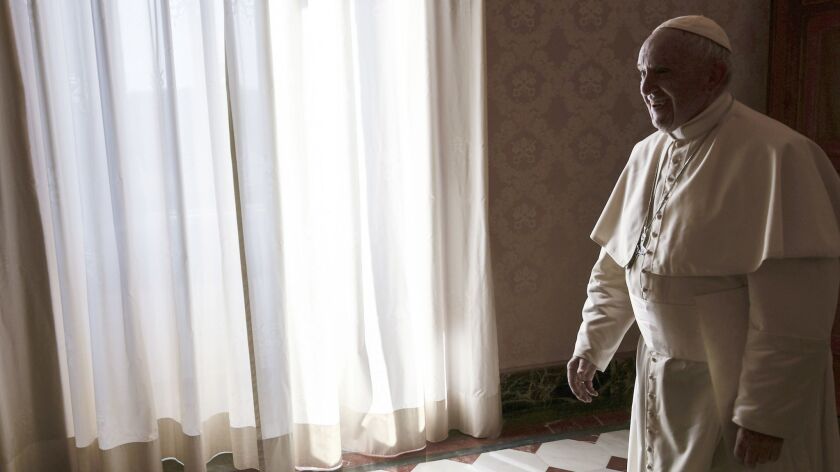 To the editor: Your editorial about the Roman Catholic church abuse and cover-up crisis nailed it with this one line: Pope Francis "needs to recommit his papacy and the church he leads to protecting the faithful."
All too often, church officials and observers talk of the need for healing. This implies that the bulk of the child sex crimes are behind us, which is questionable at best. Even if that were true, adults can recover from childhood trauma.
But only the Catholic hierarchy can take tangible steps to safeguard the vulnerable in parishes today. Sadly, it demonstrates little willingness to do this.
Joseph C. George, Sacramento
The writer is an attorney and a psychologist who specializes in child sex abuse cases.
..
To the editor: I was baptized in the Roman Catholic church and attended Catholic school. During that time, missionary priests would visit our parish and we would be marched over to the church from the grade school to listen to these so-called men of God twice a day.
I vividly recall one of these priests screaming at the top of his lungs to us grade-school children: "If you die in the state of mortal sin, you will go to hell."
That priests, monsignors, auxiliary bishops, bishops, archbishops, cardinals and possibly even the pope have protected these criminals is a heinous act far more grievous than the "mortal sin" we children were warned about.
Kudos to Archbishop Carlo Maria Vigano for bringing this subject into the open.
Joann M. Duray, Playa del Rey
..
To the editor: A larger issue that needs to be addressed is the tradition of clerical celibacy, which came by way of the monastic movement.
Going back to the apostles, Peter himself had a wife, and Paul said in I Corinthians Chapter 7 that "because of cases of immorality, every man should have his own wife, and every woman her own husband." Later in that chapter, Paul says that celibacy is a spiritual gift that not everyone has. This is consistent with what Jesus said in Matthew Chapter 19.
To enforce celibacy on those who do not have the "gift" could be a major part of the problem.
Ken Savage, Palm Desert
Follow the Opinion section on Twitter @latimesopinion and Facebook.
---
A cure for the common opinion
Get thought-provoking perspectives with our weekly newsletter.
You may occasionally receive promotional content from the Los Angeles Times.