Opinion: Charles Manson is the reason there is a death penalty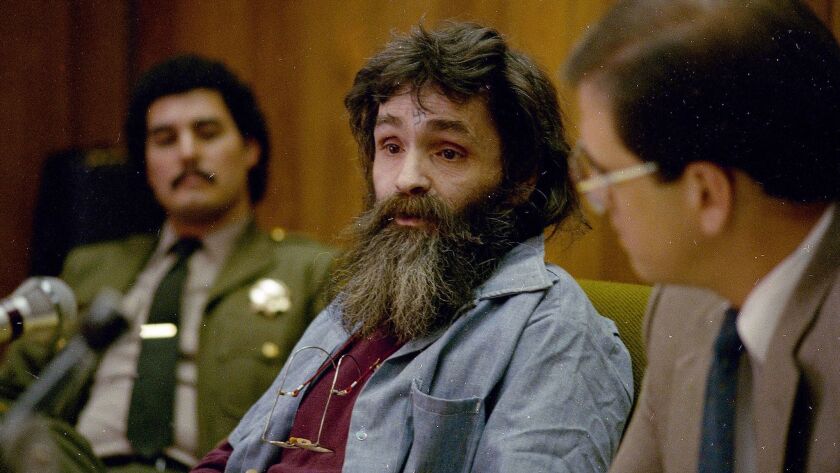 To the editor: The news that Charles Manson, one of the most vicious, depraved and infamous killers, has died in prison at the ripe old age of 83 causes me to wonder how many millions of dollars have been spent over the past almost half century to keep him alive and to provide for his needs and desires: legal representation for his trial and countless ludicrous and bizarre efforts to argue for parole, for his housing, food and healthcare needs. ("Charles Manson, mastermind of 1969 murders, dies at 83," Nov. 19)
The death penalty should not be used indiscriminately and it should be applied without bias. It is tragic for society and for his victims that it was not possible to apply it to Manson and those who carried out the evil he perpetrated.
In many ways, Manson got the last laugh. He lived for decades after his victims died untimely and grisly deaths, he was the object of freakish curiosity, and he was supported to the tune of an immense amount of tax dollars by decent, honorable individuals who contributed something to society.
Oren Spiegler, Upper Saint Clair, Pa.
..
To the editor: We have long enjoyed singling out individuals to punish for crimes in which we as a society are complicit. As a product of what The Times' obituary describes as "parental neglect, a failed foster care system and barbaric juvenile justice institutions," how surprised can we pretend to be by the emergence of a Charles Manson?
I don't excuse his violence, racism or exploitation of the weak-minded, but I think it's important to recognize our role in his creation. Our cities, our schools, our prisons — they all helped to form Manson.
As disturbed an individual as he was, I find an uncomfortable ring of truth to his words: "I am only what you made me. I am only a reflection of you."
Kevin Moran, Costa Mesa
..
To the editor: I wonder how much it cost the people of California to feed, house, bathe, clothe and medicate Manson for 45 years.
Was it worth it? Is it really in the people's best interest to keep a deranged killer like him alive? Is that what righteous indignation and moral superiority is?
I would think that the morally superior thing to do is execute, if for no other reason than to prompt others of his kind to at least ponder the consequences of their actions. From just a long-term financial standpoint, the gain did not justify the cost when Manson showed absolutely no sense of remorse, let alone rehabilitation, in the time he was incarcerated.
Lincoln Gable Riley, Los Angeles
Follow the Opinion section on Twitter @latimesopinion and Facebook
---
A cure for the common opinion
Get thought-provoking perspectives with our weekly newsletter.
You may occasionally receive promotional content from the Los Angeles Times.