Readers React: Democrats aren't embracing socialism. They're trying to improve healthcare and stop climate change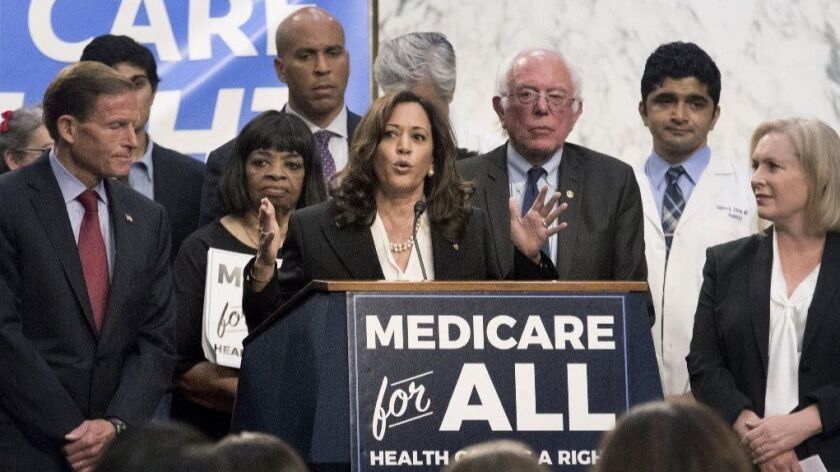 To the editor: Unlike columnist Jonah Goldberg, I am not afraid of the Democrats' "wild-eyed fantasy of an agenda that would cost trillions, destroy whole industries and serve as a Trojan horse for socialism."
Not doing enough to combat climate change terrifies me. I much prefer destroying "entire industries" to not doing enough to preserve a livable planet. Inaction itself will cost trillions. We can spend those trillions now and preserve our planet, or spend them later in an ultimately futile attempt to preserve our way of life.
As for doing away with private insurers, medical insurance companies do not provide healthcare, they provide money for their owners and executives. They are a main reason the U.S. spends far more per person on healthcare than any other industrialized country while getting worse outcomes and not covering everybody.
Regarding socialism, the happiest people in the world live in socialist nations. What is there to fear?
Tom Hazelleaf, Seal Beach
..
To the editor: It is far too early to declare that the Democrats can lose the 2020 presidential election.
They are merely engaging in the time honored process of trial ballooning, putting out a gaggle of contenders and a bevy of bold ideas to let the public get a taste of all the offerings.
By early 2020 the smart solutions and candidates will eventually survive the political sieve and be ready to challenge who or whatever the Republicans put forth.
Barbara Jackson, Cerritos
..
To the editor: Goldberg is one of my heroes, but I wish he'd stop giving the Democrats advice. If they want to run losers in 2020, why try to dissuade them?
Now the party is on the bandwagon for socialism. If the choice for president is between a narcissistic dope and a saboteur, I think most people would go for the dope. At least he gets a few things right.
Patrick M. Dempsey, Granada Hills
..
To the editor: Any presidential candidate who tries to get us out of our inferior healthcare system and into the better one should be congratulated and encouraged. Why does Goldberg treat this as a "horror"?
Similarly, the best climate scientists of the world have been warning us for two decades that the Earth is warming up and that if we don't stop sending more carbon dioxide into the atmosphere we are headed for an unparalleled catastrophe. And we don't have much time left.
Again, those who want to do something about that should be supported, but for Goldberg this is another "horror." It's Goldberg's column that is horrible and needs to be rethought.
Jean Lecuyer, Los Angeles
Follow the Opinion section on Twitter @latimesopinion and Facebook
---
A cure for the common opinion
Get thought-provoking perspectives with our weekly newsletter.
You may occasionally receive promotional content from the Los Angeles Times.