Readers React: The absurd idea that Albert Einstein wouldn't have been hired by UCLA because of diversity rules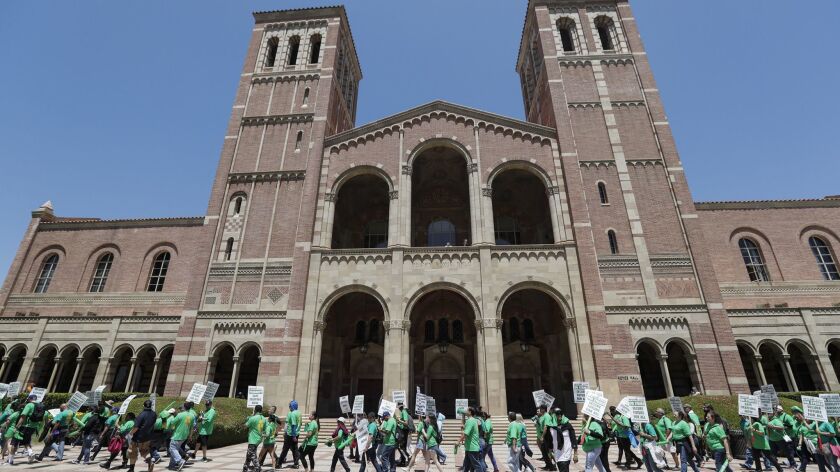 To the editor: Heather Mac Donald raised the question of whether Albert Einstein would have been hired by UCLA today given the institution's focus on diversity, equity and inclusion.
Mac Donald offers a false choice between excellence in research and demonstrated concern about serving a diverse student population. We can and must do both.
If UCLA could get Einstein, it would do well to hire him: He brings a strong physics background and an understanding of civil rights issues. Breaking his own self-imposed rule, he agreed to speak at and accept an honorary degree from Lincoln University, a historically black college in Pennsylvania, in 1946.
There, he declared that "the separation of the races is not a disease of colored people, but a disease of white people. I do not intend to be quiet about it." And Einstein brought experience lecturing in physics to students of color.
He was a dream candidate for higher education.
Shirley M. Malcom, Washington
The writer is director of education and human resources programs at the American Assn. for the Advancement of Science.
....
To the editor: As a graduate of a liberal arts college, I have read several mission statements over the years, but never have I seen such a misguided application of one as what's going on at UCLA.
Faculty members must be silently fuming. The personal commitment they must make to diversity is akin to having to take a loyalty oath.
UCLA students are adults who should be engaged in meeting the challenges of more rigorous course work, not social engineering. I'm all for civility, empathy and community service rather than on fixating on oppression and victimization.
UCLA is clearly overreaching here. The next plea for more funds to avoid a tuition hike will fall on this taxpayer's deaf ears.
A. R. Atkins, Santa Ana
..
To the editor: Like climate change, diversity as a driver of scientific accomplishment gets doubted through the mendacious denial of facts. Comprehensive analysis demonstrates the critical role of diversity for inventiveness and success in science, engineering and other fields.
The United States vastly exceeds the closest country in Nobel laureates, and most recipients were under-represented minorities by heritage or outlook. Grudgingly accepted by our universities, they still found in our nation's relative inclusiveness a better opportunity to get a foothold and pursue their science.
But how many more have we missed? The UCLA faculty understands the fact of diversity as a driver of scientific discovery. To fulfill the university's societal role, it is foolish and immoral for faculty to make less than a personal commitment to diversity as a strategy to maximize scientific progress.
Dr. Jonathan Braun, Los Angeles
The writer chairs the Department of Pathology and Laboratory Medicine at UCLA.
..
To the editor: As a college professor, I can say that Mac Donald's article reflects what is really happening at universities.
Rather than focusing on the actual subjects — mine is the French language — teachers must address different learning styles. In other words, we must create a "comfort zone" for everybody.
From inclusion and diversity to sensitivity training, the new requirements seem endless. College is college, take it or leave it.
Christine Peterson, Woodland Hills
Follow the Opinion section on Twitter @latimesopinion and Facebook
---
A cure for the common opinion
Get thought-provoking perspectives with our weekly newsletter.
You may occasionally receive promotional content from the Los Angeles Times.