Readers React: Echoes of 1968's East L.A. student walkout resonate in today's protests for better gun laws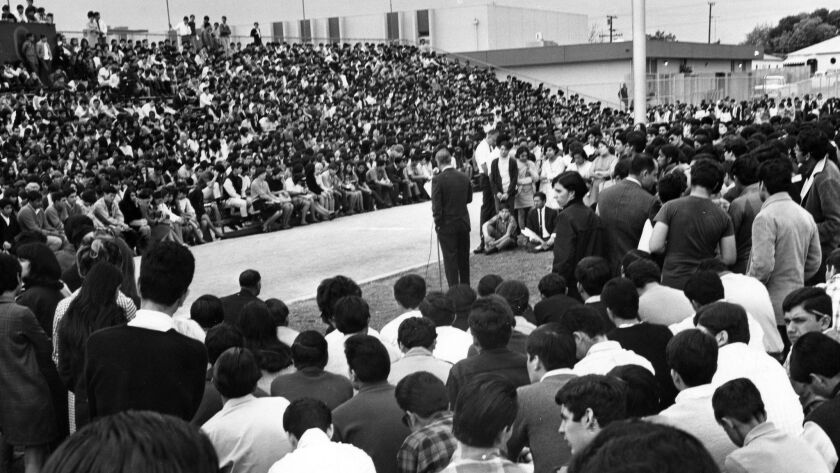 To the editor: On March 5,1968, Mexican American high school students from East Los Angeles walked out of class to protest substandard education, racist teachers and police beatings. These Chicano students did what adults failed to do: Take action. ("East L.A., 1968: 'Walkout!' The day high school students helped ignite the Chicano power movement," March 1)
While walkouts seldom bring about change by themselves, what was clear about the East L.A. protest was that Latinos who speak up and work together can be a catalyst for positive change.
Today's high school students are also doing what adults have failed to do: Demand stronger gun control laws. How many more young lives do we need to lose at schools before our elected officials understand we must push for tougher gun control laws? As a father of two teenagers, I pray every morning that my kids are safe when they go to school. I want them to express their voices loud and clear at the upcoming nationwide walkout on March 14.
Maybe these walkouts will spark a wider movement toward stronger gun laws and living more peacefully together. Let's not forget the victims and everyday people who should never have to live in fear when they go to see a movie, attend school or worship at church.
Luis Alfredo Vasquez-Ajmac, Redondo Beach
..
To the editor: I experienced the long-term impact of how Garfield High School treated many of its students.
After excelling academically in San Rafeal, Calif., I moved with my family to East Los Angeles. Garfield enrolled me in electric shop, office practice and nonacademic classes over three years.
Despite serving on the student council, being elected the student body president and attending Boys State, I didn't qualify for a four-year college. So, I graduated from barber college.
Working as a barber, I attended night classes over 12 years at East L.A. College, Cal State Los Angeles and Southwestern Law School. I was 35 and married with five children when I was admitted to the State Bar in 1971.
Since then, in my law practice I have represented Pacific Bell, the Metropolitan Water District, Southern California Edison and the Los Angeles County Metropolitan Transportation Authority.
Joseph Avila, Montebello
..
To the editor: Your article, "The president was polarizing, even crude. The shocking became routine. Somehow, we survived 1968 — or did we?" states that the words of Robert Kennedy's famous speech in Indianapolis in April 1968, informing a shocked, largely African American crowd of Dr. Martin Luther King's assassination, and concluding with a moving appeal for nonviolence, "went unheeded."
This ignores the crucial fact that while riots protesting King's assassination broke out in more than 100 cities across the U.S. that night, Indianapolis was not one of them. This poignant moment is in fact commemorated in the Landmark for Peace Memorial in that city, where half-figures of King and Kennedy reach toward each other near a plaque inscribed with Kennedy's moving words.
Larry George, Santa Monica
..
To the editor: Thank you for your articles looking back on the tumultuous year of 1968. As a high school and college teacher of United States history for 40 years, I always spend time with my students on this pivotal year. Many good books have been written about it.
Personally, I was affected as a student in Lakewood in 1968. The East L.A. student movement brought about a free speech forum at Lakewood High School that year.
Michael Pazeian, Garden Grove
Follow the Opinion section on Twitter @latimesopinion and Facebook
---
A cure for the common opinion
Get thought-provoking perspectives with our weekly newsletter.
You may occasionally receive promotional content from the Los Angeles Times.