Readers React: Does Scott Pruitt actually believe his ignorant claims about 'secret' science at the EPA?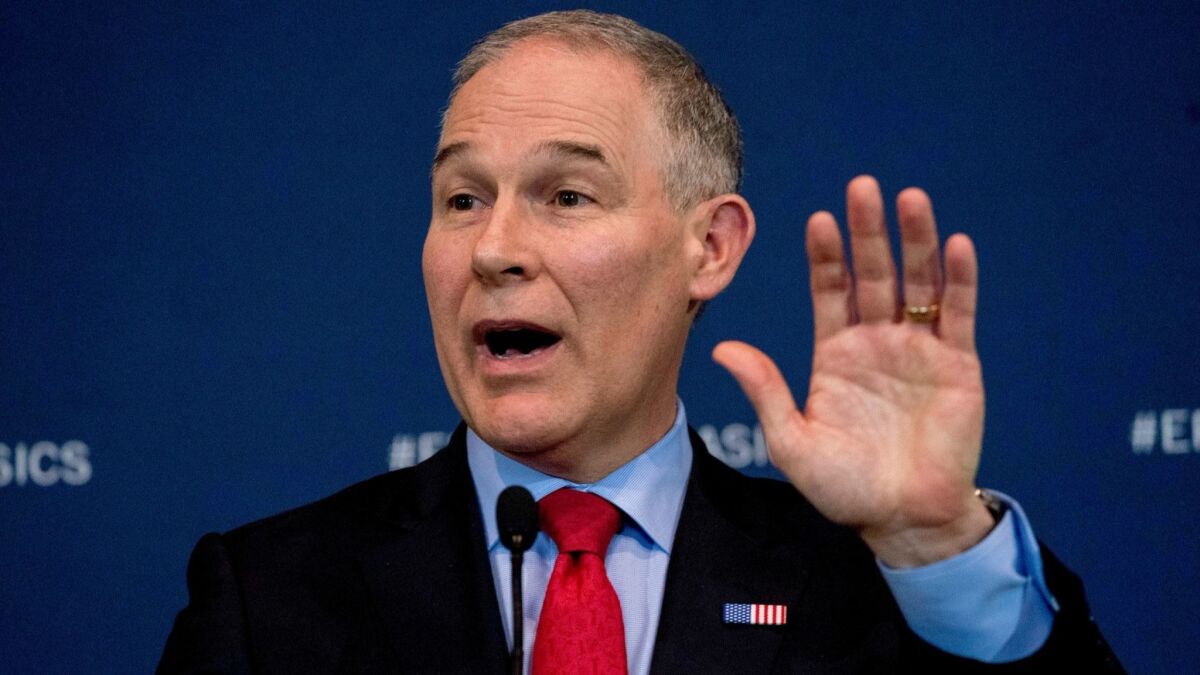 To the editor: Environmental Protection Agency chief Scott Pruitt objects to the citing of research that he says is not fully transparent. His position reflects a catastrophic ignorance both about how science works and how rules on access to patient records protect individual privacy. ("Trump's EPA proposes to block regulators from considering a wide range of scientific studies," April 24)
There are two safeguards at work in this kind of health-related research. Research institutions have human research committees that ensure clinical data are collected and stored in a way that protects an individual's identity. This does not mean that other researchers could not obtain access to these data to test the validity of the conclusions. It also does not mean that skeptical researchers could not go back to the same health record sources and create their own data sets, while also protecting privacy.
There is nothing secret about the way this kind of research is conducted. Scientists make their careers by correcting widely accepted research conclusions. They also risk destroying their careers by falsifying their results and then being found out.
For Pruitt to formulate public policy based on his ignorance of the way science works has serious consequence for us all. It speaks to the foolishness of appointing someone who has no real science background to administer the EPA.
John Coie, Santa Barbara
The writer is a professor emeritus of psychology and social and health sciences at Duke University.
..
To the editor: As we all know, many of these health studies are written by environmentally motivated academics and research organizations that might not want sunlight shining on the legitimacy of their results.
It's a case of "trust, but verify." You can't verify if the data are kept secret. Pruitt correctly says, "The ability to test, authenticate and reproduce scientific findings is vital for the integrity of the rulemaking process."
Trent Sanders, La Cañada Flintridge
..
To the editor: For many years, the tobacco industry defended itself against the scientific proof that cigarettes were a health hazard. Its executives, under oath, testified to Congress that the conclusions of scientists were false.
But thanks largely to the efforts of Surgeon General C. Everett Koop, the truth won out and smoking went from glamour-stick to pariah. Our government stood up for the betterment of the people.
Now, the EPA is ignoring its mission and putting industry profits ahead of public well-being by using the nefarious-sounding, headline-grabbing term "secret science."
If we Americans can't have an agency that protects our physical environment and personal health, at least be honest and call it what it has become: the Industry Protection Agency.
Linda Shahinian, Culver City
Follow the Opinion section on Twitter @latimesopinion and Facebook
Life is stressful. Our weekly mental wellness newsletter can help.
You may occasionally receive promotional content from the Los Angeles Times.