Readers React: False accusations of rape are a much smaller problem than the rampant sexual assault of women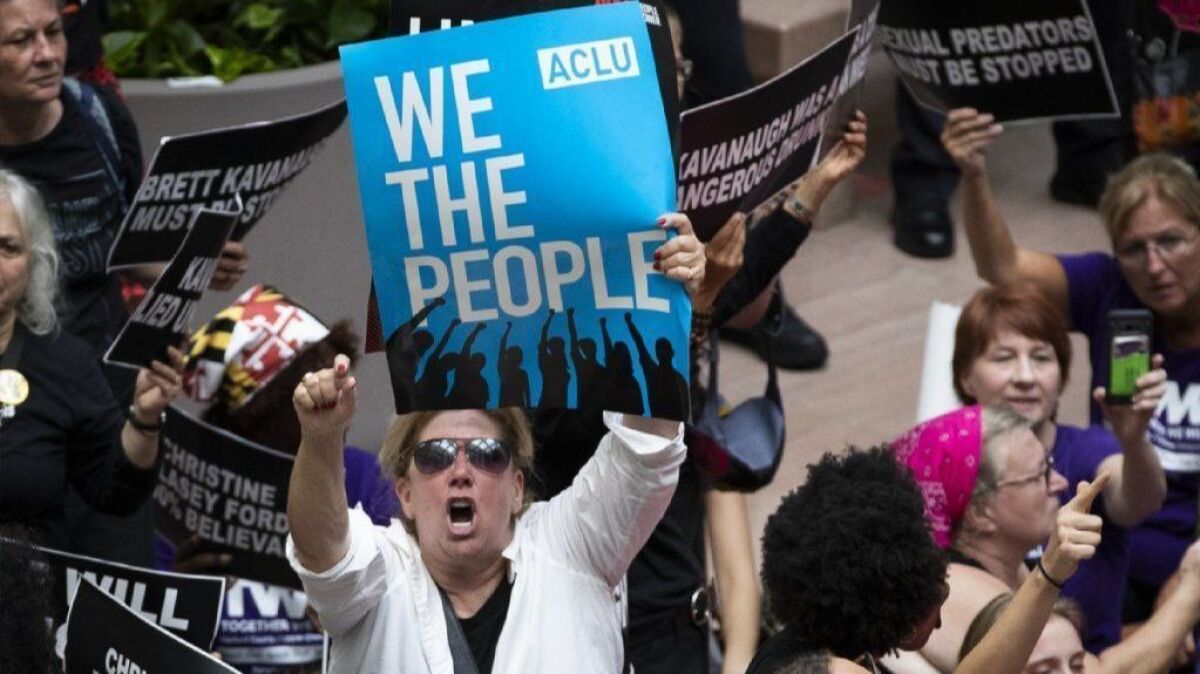 To the editor: Cathy Young is concerned about false claims of sexual assault against men.
It is estimated that about one-third of rapes are reported to the police, and only a small percentage of the accused are prosecuted. A rape victim is in no way guaranteed her day in court.
Up until 1978, a rape victim's sexual history was used as evidence in rape trials. That evidence is not available to jurors anymore, but character judgments and scrutiny of the victim's behavior at the time of the attack are common defense tactics.
Social media is lit up with stories discrediting Brett Kavanaugh's accuser Christine Blasey Ford. Our president mocked her while his supporters clapped and cheered. He called the women who confronted Sen. Jeff Flake (R-Ariz.) as "rude elevator screamers."
It is estimated that between 2% and 10% of rape allegations are false. The sad truth is that false rape charges have chiefly been levied against African American males in the spirit of racism.
Kavanaugh has nothing to worry about.
Bethia Sheean-Wallace, Fullerton
..
To the editor: Young's statement— that there is no way to really know how many women lie about sexual assault — has to be true. Yet, it seems a bit late, like planting Charlie Brown's Christmas tree after the forest has burned down.
As fun as it has been to shoot so many rich and famous men out of the sky, let's pause and consider that many still claim innocence, and in many cases, there was no corroborating evidence.
Time will be our best judge of #MeToo. My view is that history really does repeat itself.
Stan Brown, Victorville
..
To the editor: Young does not even consider the existence of male victims of sexual assault, who are also often ignored or not believed when they come forward with allegations. Questioning the credibility of accusers seems to be an equal-opportunity occurrence.
Yes, in this country, everyone is innocent until proved guilty. That applies to both the accused and the accuser. In every one of these scenarios in which allegations are made, we must proceed from the assumption that the allegations are true, and that the claims of innocence from the accused are true.
Then we investigate, and let a court do its best to get to the truth of the matter. It's not fair to insist that we give the accused the benefit of the doubt while at the same time not allowing their accusers the same.
James Riley, Woodland Hills
Follow the Opinion section on Twitter @latimesopinion and Facebook
---
Life is stressful. Our weekly mental wellness newsletter can help.
You may occasionally receive promotional content from the Los Angeles Times.