Readers React: How John Roberts set the stage for Republican voter suppression and gerrymandering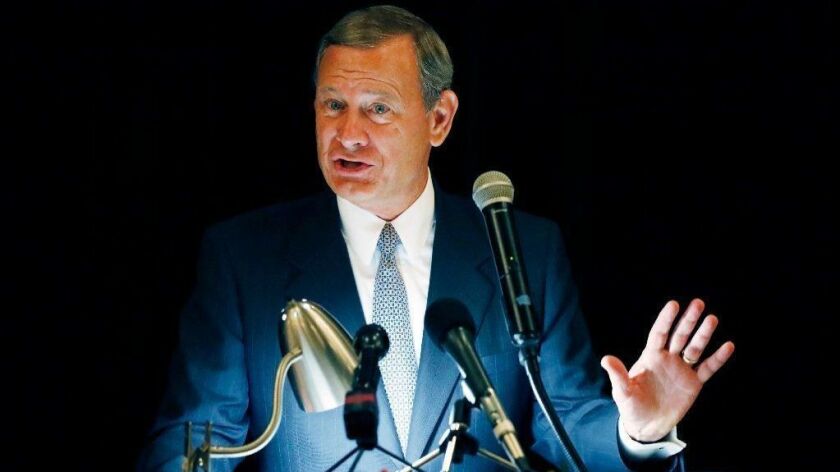 To the editor: Lopsided partisan representation survives in some states in spite of equal vote totals between the two parties because of the brazen attempts by the Republican Party to unconstitutionally set electoral boundaries according to party affiliation instead of population numbers.
Supreme Court Chief Justice John Roberts will forever be known as the man who gutted the Voting Rights Act in 2013 by eliminating the rule of oversight on states setting their own voting restriction activities.
Shortly after that decision in 2013, several states dominated by Republican politicians enacted voter suppression laws, disenfranchising hundreds of thousands of low-income voters and effectively those of color. Furthermore, the court has favored Republicans in gerrymandering cases.
Roberts has ensured that democratic ideal of "one citizen, one vote" is now dead in states with Republican Party dominance. Is he proud of his legacy?
Marcy Bregman, Agoura Hills
..
To the editor: At its heart gerrymandering is undemocratic. It wastes votes of the majority of citizens. To support this practice is to support the tyranny of the minority.
A quick solution that renders gerrymandering impotent is to implement proportional terms of service. Under this system, any candidate with a vote count in excess of 30% of the total would be obligated to serve in office a time period relative to his or her vote percentage.
Third-party candidates may feel emboldened, and the total number of "wasted" votes would be minimized. This could be accompanied by longer terms and more frequent censuses.
Desperate times require desperate solutions.
Jim Benson, Altadena
Follow the Opinion section on Twitter @latimesopinion and Facebook
---
A cure for the common opinion
Get thought-provoking perspectives with our weekly newsletter.
You may occasionally receive promotional content from the Los Angeles Times.