Democrats could have done even better in the midterms if it weren't for gerrymandering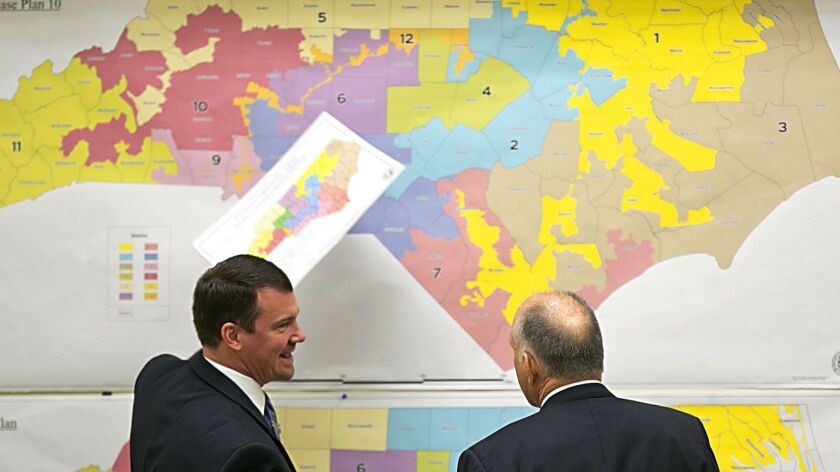 Reporting from Washington —
Lopsided Republican electoral majorities in North Carolina, Ohio and Wisconsin survived intact after the midterm elections, thanks to heavy partisan gerrymandering and despite the Democratic wave that flipped control of the House.
No House seats changed hands in North Carolina or Ohio, even though the total votes in those states were closely split between the two parties. Thanks to gerrymandering, Republicans will still hold 10 of 13 House seats in North Carolina, and 12 of 16 in Ohio.
"The blue wave did not breach the sea wall here," said Bob Phillips, executive director of Common Cause North Carolina.
In Wisconsin, the results were starker. Republicans kept supermajority control of the state Assembly, even though 54% of voters cast ballots for Democrats. Wisconsin voters also elected Democrats in all the major statewide races and reelected U.S. Sen. Tammy Baldwin, a Democrat.
Two years ago, a three-judge federal court ruled Wisconsin's election map was unconstitutional because it "entrenched" Republicans in power for a full decade, regardless of which party won more votes. But the Supreme Court set aside that ruling in June on the grounds that the plaintiffs had standing to challenge the boundaries only of the district where they lived, not the statewide map.
Gerrymandering is hardly a new phenomenon, but party leaders have been more brazen in recent years in drawing election maps that give them a near lock on the legislature or the congressional delegation. They can do so by concentrating the likely voters from the opposite party into a few districts while giving their candidates a comfortable margin in the majority of districts. If the gerrymandering works as planned, the party that drew the map will hold the most seats even if it loses most of the votes.
And that's what happened this month, said Michael Li, a redistricting expert at the Brennan Center at New York University. "Rarely do we get to test something like this, but this shows that gerrymandering works. The states with most the extreme gerrymanders survived a tsunami."
Overall, Democrats picked up at least 37 seats in the House after winning about 53% of the popular vote nationwide, compared with 45.3% for Republican candidates.
But Li said most of the switched seats came in states like California, where an independent commission drew a map to make for more competitive elections, or in states like Pennsylvania, where a state court ordered a new and less partisan map.
In California, the surge for Democrats was just enough to oust Republicans who had held seats in Orange County. "The commission drew districts that were more compact and kept communities together. And people there shifted toward the Democrats this year, but Republicans could win back those seats in the future," Li said.
In Pennsylvania, like in Ohio, North Carolina and Wisconsin, Republicans won full control of the state in the 2010 midterm election and used their power to draw a favorable map once the 2010 census data were available. The new map helped Republicans win 13 of 18 seats in the House, even when President Obama won reelection in 2012 and carried Pennsylvania. That lopsided margin held up in 2014 and 2016.
But earlier this year, the Pennsylvania Supreme Court struck down the map as unconstitutional and ordered a new map for this year's elections. On Nov. 6, Pennsylvania elected nine Democrats to the House and nine Republicans. Statewide, about 53% of the voters cast ballots for Democrats. "They would not have won much had the map not been redrawn by the courts," Li said.
Nearby in Ohio, the map was unchanged, and so were the House seats. Republicans won 52% of the state vote and held 75% of the congressional delegation.
In the year ahead, North Carolina is likely to be the focus of the next Supreme Court battle over partisan gerrymandering. Last year, a three-judge panel struck down the state's congressional map as a partisan gerrymander that deprived Democrats of an equal vote. But Republicans appealed, and the Supreme Court set aside that ruling and allowed the election to proceed under a map first drawn in 2011. It included three districts that concentrated Democratic voters and gave a Republicans a majority in the rest.
Earlier this month, about 48.9% of North Carolina's voters across all 13 congressional districts voted for Democrats. However, one Republican incumbent, Rep. Walter Jones, ran unopposed. If his district is excluded, 51.7% of the state's votes were cast for Democrats in the other 12 districts. But nine of those districts elected a Republican.
Common Cause and the League of Women Voters had sued, alleging the election map was an example of partisan gerrymandering. And GOP leaders did not deny that.
When the election map was revised slightly in response to a finding of racial gerrymandering, the Republicans said they would leverage as much political gain as possible. "We want to make clear that we are going to use political data in drawing this map. I'm making clear that our intent is to use the political data we have to our partisan advantage," said Rep. David Lewis. "I propose that we draw the maps to give a partisan advantage of 10 Republicans and three Democrats because I do not believe it's possible to draw a map with 11 Republicans and two Democrats."
In October, former U.S. Solicitor Gen. Paul Clement filed an appeal asking the Supreme Court to hear the case of Rucho vs. Common Cause and throw out the gerrymandering claim. He argued no voter's rights have been violated. "Voters do not suffer cognizable injury from the lack of proportional representation in the Legislature," he wrote.
The court may also consider again a case from Maryland where Democrats are accused of shifting hundred of thousands of voters to turn a Republican district into a Democratic one.
The justices have listed the North Carolina appeal to be considered for the first time on Dec. 7.
Twitter: DavidGSavage
---
Life is stressful. Our weekly mental wellness newsletter can help.
You may occasionally receive promotional content from the Los Angeles Times.