Opinion: The party of Lincoln, updated for the 2017 GOP tax plan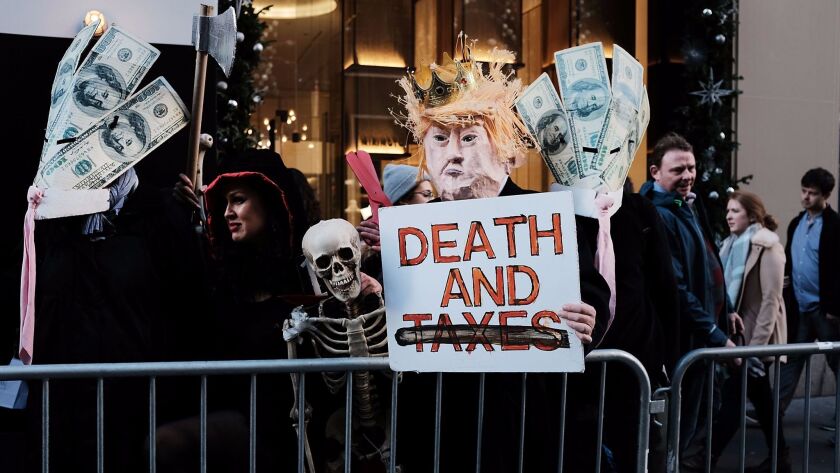 To the editor: Here's the score:
Several days ago our Congress brought forth on this country a new tax plan, conceived in partisanship, and dedicated to the proposition that all states aren't created equal. We are now engaged in a great con job, testing whether that tax plan, or any tax plan so conceived, and so dedicated, can long endure.
We are met here in the great state of California. We are asked to dedicate a large portion of our tax deductions to their final resting place that that tax plan might live. It is altogether unfair and improper that we should do this. But in a larger sense, we cannot negotiate, we cannot invalidate, we cannot contest this plan — the Republican men and women of Congress have foisted it upon us far above our poor power to add or detract. The rest of the country will little note, nor long remember the pain inflicted here, but we Californians will never forget what Congress did here.
It is for us Californians, rather, to be dedicated to the great task remaining before us. That from these lost cherished write-offs, we take increased devotion to the cause for which they gave the last full measure of devotion. That we here highly resolve that these deductions shall not have died in vain.
That this nation, under God, shall have a new birth of income equality, and that this government of the wealthy, by the wealthy and for the wealthy, shall not perish from the Earth unchallenged.
Mark McCloud, Newhall
..
To the editor: The Republicans' chronic lying to the American public has reached a new low with their tax bill. With a straight face, House Speaker Paul Ryan (R-Wis.) claims that "the entire purpose of this tax bill is to cut middle-class taxes."
So why doesn't he just cut middle-class taxes?
The Republicans say corporations will use their tax savings to raise workers' salaries. But of course there's no provision in the bill to require corporations to do this; indeed, for the past several years corporations have been flush with cash, and there's little evidence that they've used it to increase worker' salaries significantly.
Judging from their record profits and high stock prices, corporations are doing just fine. Judging from the rapidly increasing maldistribution of wealth in the United States, the rich are doing just fine. Neither needs a tax cut.
If we really want to cut taxes on the middle class, let's cut taxes on the middle class.
Alexander Astin, Los Angeles
..
To the editor: Recently in my psychiatric office, an 11-year-old boy presented me with a photo of himself in a Halloween costume dressed as Robin Hood. When I asked him what he knew of Robin Hood he responded that he was the opposite of President Trump.
How, I asked. Robin Hood stole from the rich and gave it to the poor, whereas Trump steals from the poor and gives it to the rich, he said.
From the mouths of babes, as they say.
Ronald Onkin, MD, Encino
..
To the editor: I find it unconscionable that Trump, who has consistently refused to release his tax information to the American people, is pushing a Republican tax plan that will take from many Americans and give to the rich.
Then again, this is to be expected from someone who is more comfortable on the golf course than striving to be an effective leader.
To all who have had enough of this insanity, let your voices be heard through your votes.
Doris K. Reed, Los Angeles
Follow the Opinion section on Twitter @latimesopinion and Facebook
---
A cure for the common opinion
Get thought-provoking perspectives with our weekly newsletter.
You may occasionally receive promotional content from the Los Angeles Times.