Opinion: Hoping for fewer school shootings doesn't work. More gun control might.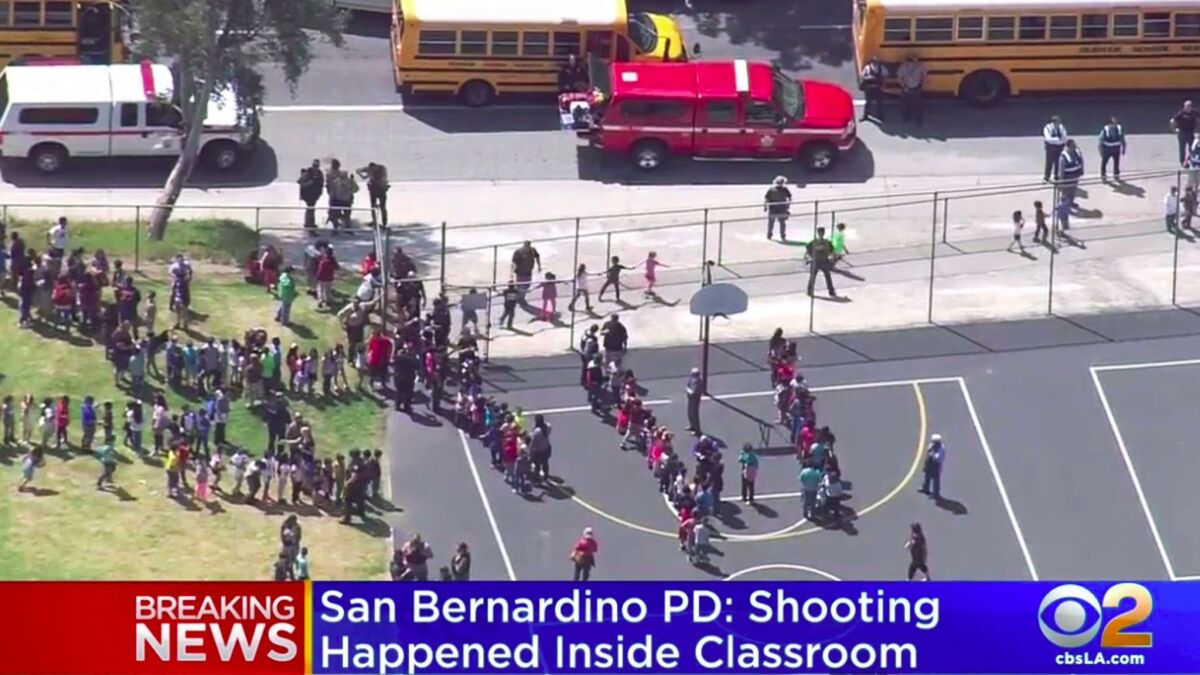 To the editor: My heart and deepest sympathies go out to the family of the 8-year-old child killed in San Bernardino through no fault of his own, and to the other child injured as the result of the same incident. ("If you're shocked by the San Bernardino shooting, you haven't been paying attention," editorial, April 11)
How many more children have to be unwitting victims because as a nation we will not seriously address gun control? Has gun violence become so common that we have lost sight of the need to do something about it?
Gun control is not about eradicating the 2nd Amendment; it is about establishing guidelines for owning these weapons and outlawing those kinds that are good for only one thing: killing a lot of people.
As is displayed on a daily basis, ignoring an issue will not make it go away. We either deal with the problem or the problem will continue to deal with us.
Doris K. Reed, Los Angeles
..
To the editor: Your editorial advocating keeping guns out of the hands of domestic abusers should be a call to action.
Last week, our national coalition, Prosecutors Against Gun Violence, stood in Manhattan with lawmakers from diverse states to support pending bills to do just that. Our organization previously joined with the Coalition for Risk-based Firearms Policy to produce a template for how changes in state statutes and law enforcement protocols could save lives across the nation by removing abusers' firearms at an early stage.
In Los Angeles, my office has taken aggressive action to enforce strong laws already on the books and work with our community partners to inform the public about how to use these laws to protect themselves and their families. These enhanced protocols are the result of teamwork between the Los Angeles Police Department and my office to ensure that every safeguard is afforded to victims of domestic violence.
Mike Feuer, Los Angeles
The writer is city attorney of Los Angeles.
..
To the editor: This article says, "As details emerged, it was clear the shooting was domestic violence, not terrorism." ("Murder-suicide in San Bernardino classroom: 'He just shot everywhere,'" April 11)
But how clear was that, really? The personal targeting doesn't change the fact that it was part of a violent ideology intended to intimidate women into submission.
The killing of about 1,000 women every year in this country by their estranged husbands or ex-boyfriends — and almost never the other way around — reflects an insistence that women don't have the right to choose their mates or have a life of their own. I call that terrifying.
Robert Watson, Los Angeles
Follow the Opinion section on Twitter @latimesopinion and Facebook
---
Life is stressful. Our weekly mental wellness newsletter can help.
You may occasionally receive promotional content from the Los Angeles Times.